When confronted by a gunman at his Colorado school earlier this week, teenager Kendrick Castillo made good on a commitment he had made long ago in the event of an active shooter on his campus: He decided to rush the gunman, taking a fatal shot that gave his classmates a chance to save themselves.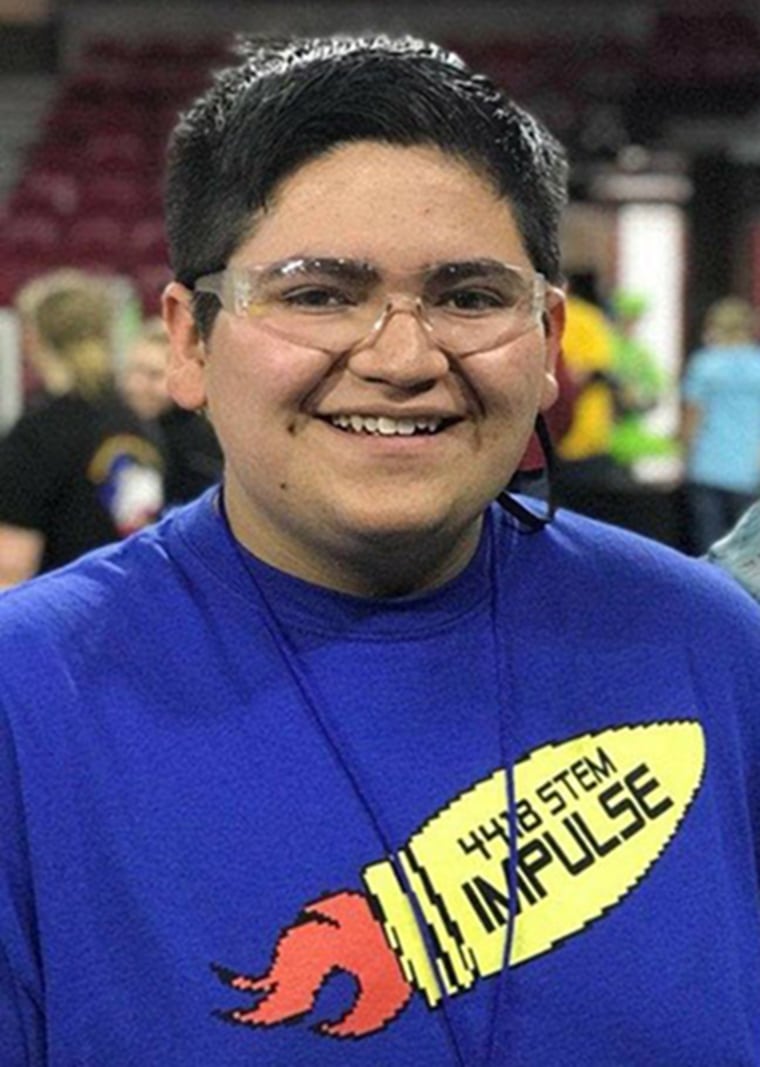 The move has been widely hailed as an act of heroism. But some school safety experts and psychologists fear it's indicative of a growing pressure that American schoolchildren feel to neutralize threats at their schools — an unfair expectation that they say sometimes puts students in danger where it may not already have existed.
They say the feeling of needing to fight back stems primarily from an active shooter response protocol embraced by many schools and workplaces called "Run, hide, fight," which encourages those in the path of an armed intruder to flee or hide by doing things like using furniture to barricade doors, and as a last resort, to attack the assailant.
Not all safety experts support this type of training. Ken Trump, president of National School Safety and Security Services, does school security training for pre-K through 12th-grade schools, but encourages educators to do lockdowns or use other alternatives to "run, hide, fight," one of several protocols known as an options-based training.
"A number of experienced school security experts have been warning very strongly against options-based training, and recent incidents leave me with even greater concerns that some people are setting up their kids to be martyrs," he said, referring to Castillo's death and a University of North Carolina at Charlotte student who also lost his life last week when he confronted a shooter to save others.
Options-based trainings, which also include the Alert, Lockdown, Inform, Counter, and Evacuate, or ALICE protocol, don't "factor in age and developmental factors," Trump said.
"We're asking children to make executive decisions, life-and-death decisions: Do we attack or not? Do we run or do we lock down?" he said. "We're asking them to make executive decisions where science tells us that their brains haven't fully developed."
B.J. Casey, a professor of psychology at Yale University who has studied the adolescent brain, said when adrenaline is pumping, it can lead a person to make rash decisions.
But because brains still develop well into an individual's early 20s, adolescents are particularly vulnerable to being "much more reactive or impulsive" when under threat, and are still developing the ability to think through the "future consequences of their actions," particularly in emotional situations, she said.
That might make them especially at-risk of responding to a deeply traumatic incident such as a shooting without thinking through their actions first, she said, although she added that in the case of Castillo, it seemed to be a "case of protecting peers and also a fight-or-flight response."
Still, some experts say students have been conditioned to be overly eager to fight when confronted with a gun in school.
Michael Dorn, executive director of the nonprofit school safety consulting firm Safe Havens International, said sometimes, when a gun is brought onto a school campus, the person carrying it does not intend to carry out a shooting. Sometimes it's a student who just wants to "show off" the gun, he said, or other times, perhaps the armed individual wants to create a hostage situation, but does not have a plan to actually fire the weapon.
"We have had students and educators shot moving to attack when the person was not firing, had not fired," he said.
The "run, hide, fight" protocol is too oversimplified, Dorn said. He encourages that educators should be trained on various scenarios and how to deal with them, including doing lockdowns and reverse evacuations, where students quickly file inside when a shooting happens on the playground or somewhere else outside.
Amy Klinger, founder and director of programs of The Educator's School Safety Network, pointed out that while heroes who confront gunmen often make headlines, the chances of getting shot at school are still so rare that it's hard to study whether fighting back against the assailant is always the right move.
She said she suspected that some cases in which people attack gunmen were purely based on instinct as opposed to a planned-out action as a result of active shooter training instituted at the school. She said it is important to emphasize ways to escape or hide from gun violence if you are within firing range of a shooter but not so close that you could tackle the gunman.
"There's a difference between standing here and thinking, 'this is happening in front of me,' versus 'I am down the hall and I am supposed to go run down the hall and take down the shooter,'" she said. "When you have no option but to die, then something needs to happen, but to say that in a room full of students all of us are going to charge, no. Maybe in that situation, you're more likely to survive by climbing out the window, or running the other direction."
All of the experts said Castillo was heroic in his actions and Trump, of National School Safety and Security Services, said he was encouraged that media attention has been paid to "the heroes and not the shooters."
"But I'm starting to question whether in doing so, we're unintentionally setting up the message to kids that this is how we should respond," he said. "I'm really worried that we're setting our kids up to be martyrs."