Though citizens of Maine and Massachusetts voted to legalize recreational marijuana almost 16 months ago, legislative roadblocks mean there is still no legal way to buy or sell it in those states.
That has would-be users frustrated.
While Massachusetts is expected to provide entrepreneurs' licenses for recreational storefronts at some point this summer, Maine politicians — most notably Gov. Paul LePage — have stalled recreational sales.
The slow-moving process toward a legal marijuana market has led to the growth of gray market sales as a work-around.
"There is frustration among advocates and individuals who want to operate marijuana businesses," said Marijuana Policy Project Executive Director Matt Schweich, who served as the director of the legalization campaigns in Maine and Massachusetts. "There are individuals who have invested heavily in businesses who thought they would be able to operate sooner and many of them are left in challenging positions."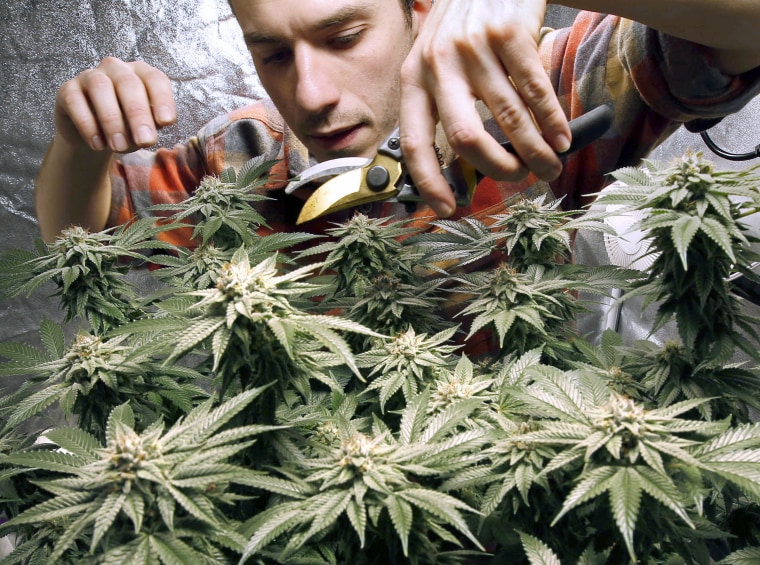 On Thursday, a bill that would have further delayed Maine's recreational marijuana legalization law was blocked in the statehouse with a bipartisan 81-65 vote. Those who voted against maintaining LePage's moratorium are hoping that this will spur the legislature to action and force the governor's hand.
"The referendum passed in Nov. 2016. We are coming up on the end of our session. It is our job and duty to get something done," said State Rep. Theresa Pierce, according to Maine Public Radio. "I don't want to kick the can down the field. I don't think a lot of people want to do that. So I'm hopeful we can find that compromise and move forward." Pierce, a Democrat, chairs the state's special committee working to implement marijuana regulations.
Related: Californians embrace new pot law with ribbon cuttings and long lines
Nonetheless, many practical needs for full implementation remain unaddressed. The state still has not produced licenses or policies for prospective stores, or decided how to regulate and tax the market. This past Thursday should have been the start of legal sales.
Nine states and Washington D.C. have legalized recreational marijuana, but Maine, Vermont, D.C. and Massachusetts still do not have state-licensed storefronts. Vermont's legislature legalized marijuana in early January, making it the first state to do so without a public referendum.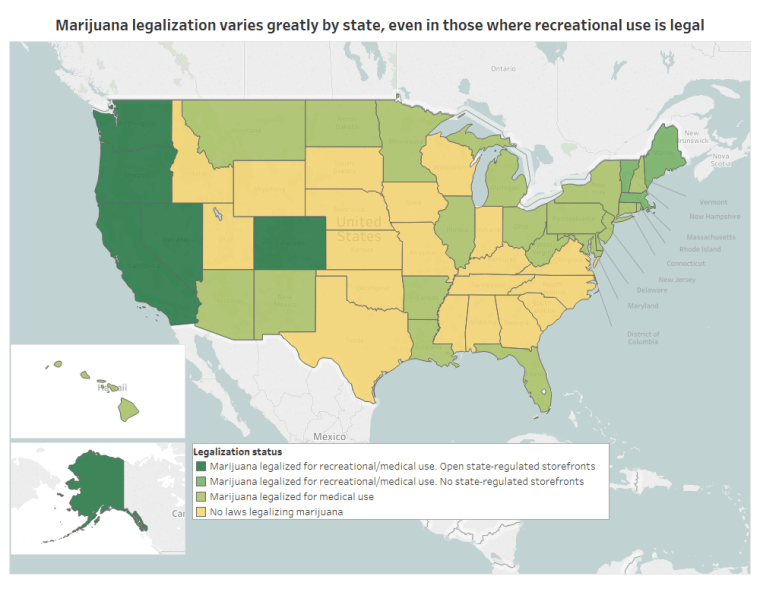 In the absence of a decision, a bustling gray market has developed.
As the Associated Press reported on Thursday, a number of delivery businesses now exist in which individuals can purchase over-priced items that come accompanied with a "gift" of marijuana.
For instance, a business in Massachusetts named Duuber sells marijuana-themed T-shirts through its website. For $120, an individual can order a "Marijuana Tshirt — Grandaddy Kush small." According to the Associated Press, ordering the t-shirt would lead to a delivered garment and a parcel of weed.
The individuals behind "Duuber" did not respond to NBC News' multiple requests for comment.
One Maine marijuana entrepreneur, however, told NBC News that he quit his job and moved back to his home state with the expectation that Maine would provide licenses in a timely fashion after voters elected to legalize cannabis. That has not been the case, and he and his partners have sunk hundreds of thousands of dollars into a potential enterprise that remains paralyzed.
Law enforcement oversight has slackened for cannabis, which has put entrepreneurs in a position to sell via this gray market — or even the profitable black market across state lines.
Related: San Francisco plans to wipe out thousands of older marijuana convictions
"Enterprising growers are trying to move their product because the risk is relatively low," said the Maine businessman, who wished to remain anonymous because he fears legal and financial ramifications for his investment in the marijuana industry. "It's actually quite easy to abuse the current system to sell cannabis in the current black market."
"It's an improvement over putting people in jail for cannabis related offenses," he added, "but the longer you do go with legalization without legal sales, you should just expect that black market sales accelerate."
Meanwhile, consumer spending on the budding legal industry — recreational and medical pot — reached $8.6 billion in 2017, according to Arcview Group, an Oakland, California venture capital firm focused on the marijuana market.
And though Attorney General Jeff Sessions chose to rescind a policy that allowed the marijuana industry to blossom during the Obama administration, it seems that many states are still inclined to explore legalization, which will further open markets across the country.
"It is clear, if anything, the administration's decision galvanized support among those who are advocating for marijuana reforms," Deputy Director of the National Organization for the Reform of Marijuana Laws Paul Armentano said.
Armentano noted recreational marijuana pushes in New Hampshire, New York and New Jersey state governments. Voters in Michigan will also consider a recreational ballot initiative in November, and Utahans will vote on a medical marijuana initiative at the same time.
"It certainly did nothing to abate momentum at the state level," Armentano said.