Subway received one "serious" complaint regarding Jared Fogle in 2011, but did nothing at the time because it didn't mention criminal sexual behavior, the sandwich chain revealed as part of an internal investigation.
Fogle agreed last month to a deal with federal prosecutors in which he will plead guilty to possessing child pornography and traveling to pay for sex with minors — allegations that stunned many after he gained notoriety as the face of Subway in 2000.
Read NBC News' coverage of the Jared Fogle case
The former pitchman is accused of engaging in sexual acts with at least one of 14 minors — some as young as 16 — who came into contact with him, according to court documents.
Subway said it reviewed more than 1 million comments submitted to its customer relations team and interviewed past and current franchisees to determine whether something could have been done to prevent Fogle.
In the 2011 complaint submitted to Subway's website, "there was nothing that implied anything about sexual behavior or criminal activity involving Mr. Fogle," a company brand spokesperson said in a statement. "We regret that this comment was not properly escalated or acted upon."
After the allegations came to light, Subway announced that it was splitting ways with Fogle.
"The harm he caused so many is inexcusable and we continue to extend sympathies to his victims and their families," the spokesperson said.
Related: Porn-Sniffing Dog Helped Bring Down Subway Star Jared Fogle
Subway spokeswoman Kristen McMahon told The Associated Press that the company received the "serious" complaint from Rochelle Herman-Walrond, a former journalist from Florida. She revealed publicly to WWSB-TV in Sarasota last month that she also took her concerns to the FBI and secretly recorded her phone conversations with Fogle for more than four years to assist the agency's investigation.
McMahon said the 2011 complaint "expressed concerns about Mr. Fogle," but declined to elaborate on the nature of the complaint.
Neither Herman-Walrond nor Fogle's lawyers responded to phone messages left Friday night seeking comment.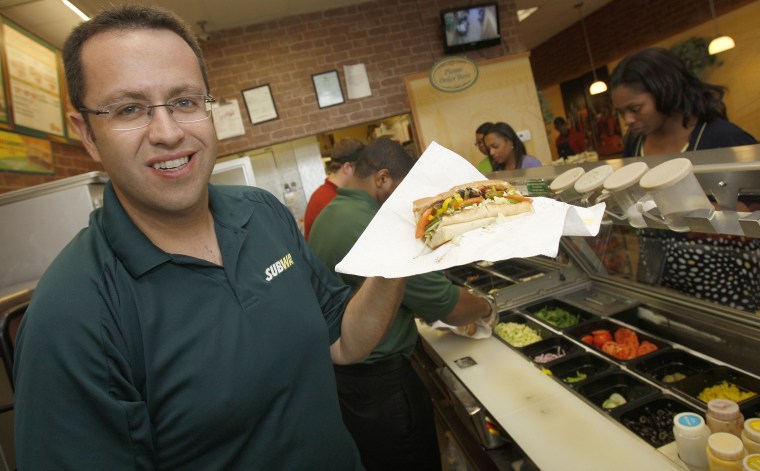 Authorities in Indiana, where Fogle lives, would not say whether Herman-Walrond was part of their investigation into him. But Fogle's plea agreement mentions that witnesses in Florida, Georgia and Washington state provided recordings and information it says show Fogle "repeatedly discussed with them his interest in engaging in commercial sex acts with minors or stated that he has done so in the past."
Separately, a lawyer for former Subway franchisee Cindy Mills said she alerted an executive in charge of the company's advertising in 2008 after Fogle began talking to her about paying for sex with minors. The attorney said Mills also shared her concerns with a regional Subway contact in Florida, where she is based.
The executive, Jeff Moody, has denied being aware of Fogle's criminal sexual conduct. The company has said it does not have a record of any complaints by the former franchisee.
Attempts to reach Mills' attorney on Friday were unsuccessful.