A Los Angeles judge on Thursday sentenced disgraced music mogul Suge Knight to 28 years in prison for a fatal hit-and-run, bringing a curtain down on one of the most successful careers in hip-hop history.
The 53-year-old icon is set to spend at least two decades behind bars for killing one man and injuring another when he ran over them at a Compton burger stand in 2015.
By pleading no contest to voluntary manslaughter, Knight avoided a murder trial — and a possible life sentence.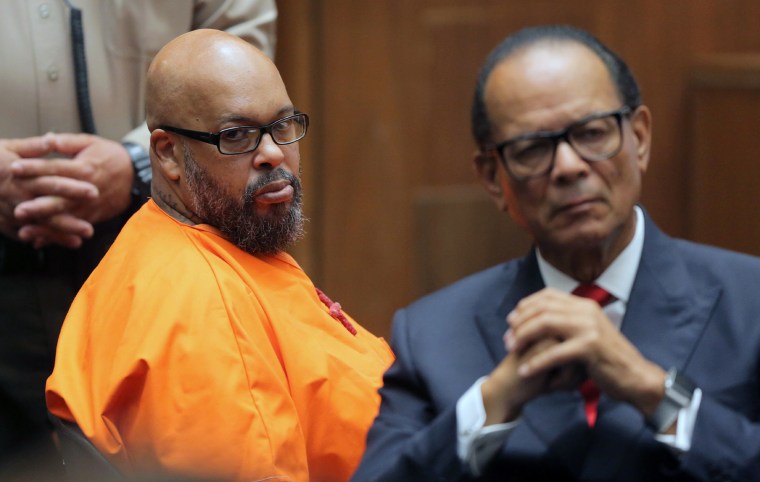 In addition to time Knight has already served in jail and if he picks up maximum good behavior credits, the music mogul could be eligible for parole in 20 years, officials said.
The deadly Jan. 29, 2015, confrontation at Tam's Burgers was caught on surveillance cameras, showing Knight backing his pickup truck over Cle "Bone" Sloan before going forward and plowing into Terry Carter, 55, a longtime businessman who built custom lowriders.
Knight then drove off and Carter died from his injuries.
Sloan, a long-time Compton native, worked as a consultant on the N.W.A. biopic "Straight Outta Compton."
A letter from Carter's widow, Lillian, was read to the court by the victim's sister, Jessica Carter.
She told the judge when her husband's name is plugged into an internet search engine, there's nothing about his role as a community leader or businessman.
"What you do see is (video of) the defendant killing my husband," the widow's letter said. "He was so much more than the guy who the defendant killed with his truck. He as my husband, my best friend, my provider."
Carter said she was devastated seeing Knight smiling and waving at loved ones during his various court appearances.
"I will never witness Terry smiling at me again," according to the widow. "All interactions with Terry ended on Jan. 29, 2015. All we have is memories."
Los Angeles Superior Court Judge Ronald S. Coen told Carter's loved ones: "Let me tell you. My heart goes out to you."
Knight, wearing an orange jail jumpsuit, white sneakers and a cross hanging from his neck, looked back at the courtroom gallery briefly before he was led away by a bailiff.
Knight — listed as 6-foot-4 and 325 pounds in jail records — has been been plagued by various health issues for the past few years. He's been suffering from blood clots, had an emergency appendix operation in 2016 and was rushed from jail to the hospital earlier this year for an undisclosed ailment.
Before pleading no contest in September, Knight had claimed self-defense.
In the deal struck by Knight and prosecutors, two pending cases against the mogul were dropped — a 2014 robbery and charges that he threatened the director of "Straight Outta Compton."
Knight was angry at the director over not being paid for his likeness as used in the blockbuster movie chronicling the early 1990s rise of N.W.A.
Knight is one of the seminal figures in hip-hop history, having founded Death Row Records and developed the careers of stars like Dr. Dre, Snoop Dogg and Tupac Shakur.
He was also a central figure in the deadly rivalry between West Coast and East Coast rappers. Knight was in the car with Shakur when he was killed during a drive-by shooting in Las Vegas in 1996.
Knight eventually lost control of Death Row Records after it went into bankruptcy.