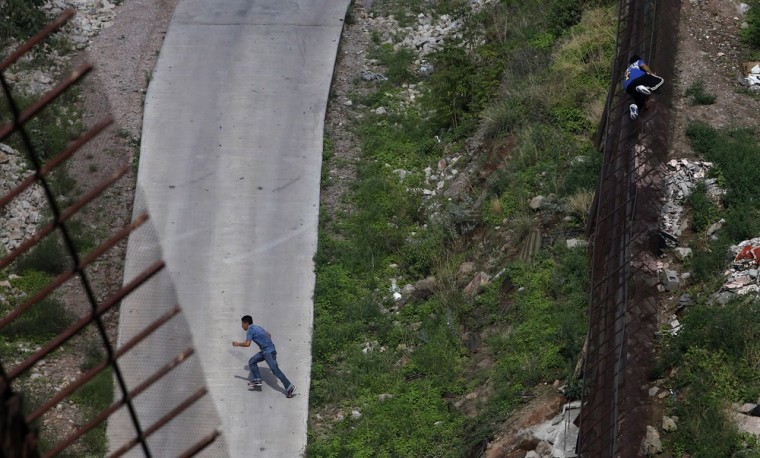 The southwestern U.S. border has become an increasingly lethal snare: Brutal heat, desert freezes, harsh currents, poisonous snakes and sporadic gunfire are killing a rising number of undocumented migrants who are picking progressively treacherous routes to elude extra federal patrols. 
And the "border surge" — a Senate proposal to double U.S. agents on the Mexican boundary and extend 700 miles of fencing — would squeeze even more incoming migrants onto perilous and scorching overland paths, likely boosting the death toll of crossers from the 477 who perished attempting to enter America during 2012, experts say.
"People are going into more dangerous areas. It's probably very difficult to carry water the farther out you're going," said Stuart Anderson, executive director of the National Foundation for American Policy, an Arlington, Va.-based group that researches immigration issues. He authored a March study that showed the death rate among people trying to illegally traverse the Mexican border soared by 27 percent last year while overall migration from Mexico continued to decline.
"These aren't camping trips. People aren't preparing. Or, they may be taken in by smugglers … and that's not the same as a family going together where they really care about what happens to one another," Anderson said.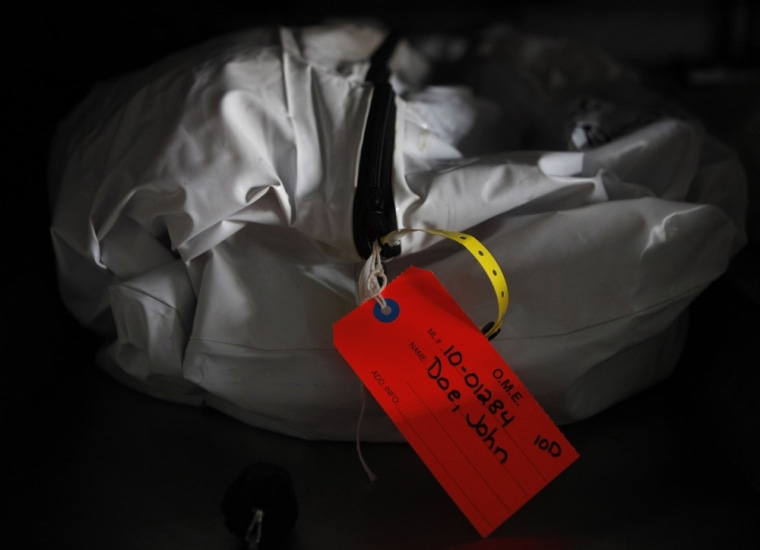 Harsh weather and desolate terrain combine to cause the most common form of death on the border: a nasty blend of dehydration plus either overheated or over-chilled bodies, according to a University of Arizona study published this month that examined data from the Pima County (Arizona) Medical Examiner's Office.
Among the 171 undocumented migrants who died last year while scaling the mountain-and-canyon-dotted border southwest of Tucson, 46 percent expired due to "exposure" to the elements, the Arizona report determined. About eight in 10 were from Mexico.
"There's nobody out there, nowhere to go for help. So a lot of times we'll be out there, driving a dirt road or walking a remote trail, and encounter people who are lost, sick or injured — in pretty in bad shape — and who were praying someone would come by," said Greg Boyce, spokesman for No More Deaths, a volunteer-aid group based in Arizona. Their volunteers include nurses, doctors and emergency medical technicians.
During their search excursions near Tucson, group members sometimes summon medical helicopters and ambulances to rush the sickest undocumented migrants to local hospitals. They occasionally work in tandem with some of the 900-plus U.S. Customs and Border agents who are trained in trauma treatment, Boyce said. (Last year, Border Patrol officers made 1,333 rescues at or near the southwest boundary, according to federal figures). Boyce's group also leaves containers of water throughout that vast area — thousands of gallons to date. 
"The really tough cases involve somebody who is not in an acute emergency, but their health is suffering. They've already been out there two or three days and they've got another two or three in the desert until they reach a safe place," Boyce said. "We know if they keep walking, their health will deteriorate.
"In some cases, we'll encourage people to turn themselves into the Border Patrol — if they want, they can try another day; it's better than dying out there," he added. "But our advice sometimes goes unheeded. They're desperate."
At the southern tip of Texas near Brownsville, most of the undocumented migrants who cross the border come from Central America, said Adam Isacson of the Washington Office on Latin America, a human-rights group. They skirt through the Rio Grande Valley, which is perched along the northern bank of the Rio Grande river that divides the United States and Mexico. 
Deaths in that area also rose in 2012, Isacson said, and some causes included snakebites and drownings in the swift currents of irrigation canals that wind through that sector or in the waters of the Rio Grande. But hundreds of those crossers were found dead well inside Texas, north of Brownsville and in a town called McAllen, halfway toward the coastal city of Corpus Christi. 
"On that primary highway north (of the border), there's a Border Patrol checkpoint so the smugglers drop everybody off the road to get around that. It's probably only about a 10- to 12-mile walk through this scrub-land but that's where they're dying," Isacson said. "Most of these migrants have been held in a safe house for several days, maybe even on the U.S. side of the border, but have been poorly fed and not given much water.
"In that area, it's flat and there's lots of bushes and mesquite that obscure your view. So people get lost. They end up going in circles," he added.
Gunfire, kidnappings
Bullets also fly on the border. According to Isacson's tracking: "There have been as many as 20 cross-border shooting incidents in the last few years." U.S. Customs and Border Protection officials confirmed that during the past two years there have been eight such fatal incidents involving their agents or officers.
One case involved friendly fire. In October 2012, Border Patrol Agent Nicholas Ivie, 30, was fatally shot after he and two fellow agents responded to something or someone triggering one of the thousands of ground sensors that dot parts of southeastern Arizona. An investigation found that when Ivie opened fire on two other agents, apparently mistaking them for smugglers, they returned fire and killed him.
And in rare situations, abductions occur along the border. In May, armed gunmen kidnapped U.S. Marine Armando Torres III in Mexico — along with the Marine's father and uncle — shortly after Torres exited south Texas to visit his father's ranch in neighboring La Barranca, Tamaulipas. As of June 15, the FBI reported it was conducting an international probe.
On June 4, Mexican soldiers rescued 165 people who had been kidnapped about three weeks earlier by a drug cartel and held in a small home along the U.S. line. Among the victims were 150 migrants from Central America who had planned to cross the border in the Rio Grande Valley. 
As Congress appears set to clamp down even harder on the U.S.-Mexico border with bolstered patrols and fencing, human-rights advocates like Isacson and Boyce contend that deaths among illegal migrants will spike as more of those people choose to head even deeper into the remote, desert scrub and higher into the mountains as they hike to enter America. Temperatures along those routes can reach 110 degrees. 
"If they're going to double border patrol, they should at least quadruple or quintuple the portion of border patrol that is doing search and rescue," Isacson said. "That would save some lives." 
According to Customs and Border spokesman Bill Brooks, that agency already "has taken significant steps" to prevent the deaths of border-crossing migrants. 
"Most notably, (those steps include) the Border Safety Initiative (BSI), a humanitarian, bi-national strategy, designed to reduce migrant deaths and make the border safer for agents, border residents, and migrants, by training agents as first responders, EMTs and paramedics," Brooks said in an email.
But if twice as many Border Patrol agents soon begin roaming the boundary — should the Senate bill becomes law — will the risk of migrant shootings by agents also rise?
"If Border Patrol's manpower doubles, and it doesn't improve its current training and procedures for use of force and for dealing with abuses, then it's very likely that we'll see more episodes of violence and shootings," Isacson said.
"There's really not enough for a doubled force to do — something that's been completely ignored in this debate," Isacson added. "The number of border-crossers apprehended per Border Patrol agent is now 19 per year. In 2000, it was 10-times that, 192 apprehensions per agent. In 1993 it was 327 ... There will be far less to guard against if the force doubles."
Homeland Security Secretary Janet Napolitano said, however, that "common sense immigration reform legislation" must include measures that would tighten border security — along with crackdowns on employers that hire undocumented workers and a streamlining of the legal-immigration system. 
"The border security amendment agreed to by a bipartisan group of Senators is in line with that criteria," Napolitano said in a June 21 statement. "It will devote important additional resources to the robust border security system this Administration has put in place and strengthen what was already an unmatched piece of border security legislation."  
Related stories: