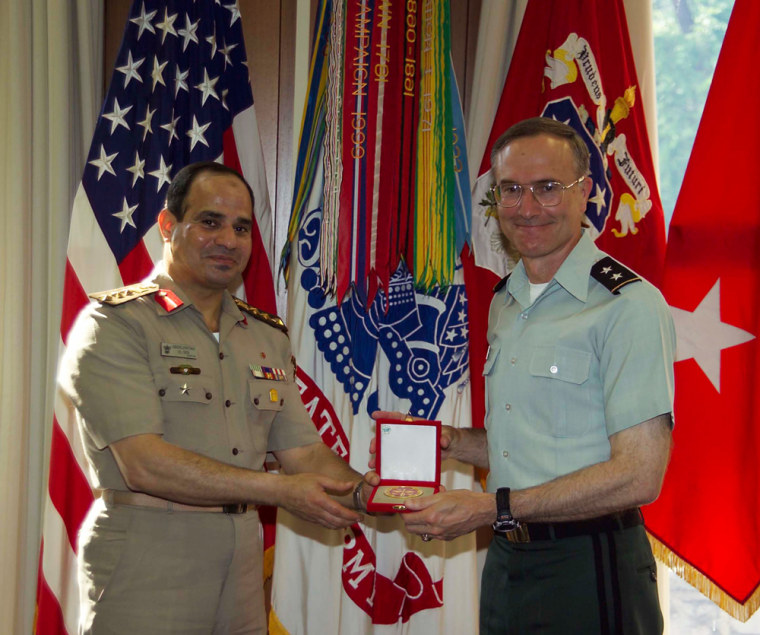 CARLISLE, Pennsylvania -- Unlike today's ubiquitous images of General Abdel-Fattah el-Sissi in crisp uniform decorated with medals, the U.S. Army War College yearbook shows the officer who would one day seize power in Egypt smiling at a party in a small Pennsylvania town, looking relaxed in a yellow polo shirt.
There is also a picture of el-Sissi visiting a U.S. Civil War battleground and another of his family taken at a Halloween party they attended, with his wife and daughter grinning next to a woman dressed like the Egyptian Pharaoh Cleopatra.
The yearbook from the Class of 2006 is tucked away in the War College library in Carlisle. Its images offer a reminder that not that long ago, the army chief who now effectively rules Egypt spent an academic year on a military fellowship in the more peaceful surroundings of small-town America.
In Carlisle, el-Sissi wrote that emerging democracies in the Middle East were likely to be more religious than in the West and warned "conflict is likely to occur."
El-Sissi led the military ouster of President Mohammed Morsi, an Islamist who was Egypt's first democratically elected leader, on July 3.
The general has been in regular contact with Washington since then, holding 16 calls with U.S. Defense Secretary Chuck Hagel.
"I'll bet this total immersion in the West that he had for the better part of a year ... is contributing to the fact that communications lines are open," said Major General Anthony Cucolo, the War College's commandant.
El-Sissi ignored warnings from Hagel and others before Morsi's ouster and, again rebuffing calls for restraint, sent in security forces on Aug. 14 to smash protest camps set up by Morsi's supporters.
At least 900 people, including 100 soldiers and police, have been killed in the past week in the crackdown on Morsi's Muslim Brotherhood, the bloodiest civil unrest in Egypt's modern history.
On a dry-erase board in a War College seminar room, instructions like "No Rank" and "Keep an Open Mind" are scribbled in blue ink - part of an effort to promote open, informal dialogue among U.S. officers and those from other countries.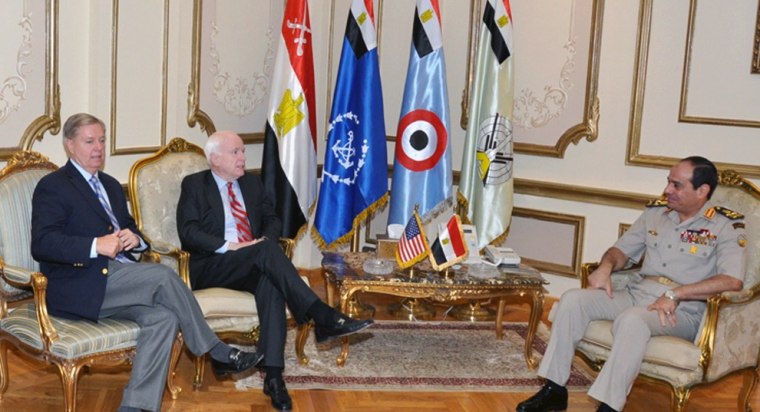 In 2006, el-Sissi appeared more reserved than many others in class discussions.
"(It wasn't) because he didn't know what he thought. I think he was aware that everything you can say can be repeated," said Sherifa Zuhur, a former professor of el-Sissi's.
Faculty adviser Steve Gerras described him as "serious and quiet" - even at outside events, like when he attended a gathering to watch the Super Bowl at Gerras' home.
Those who knew el-Sissi during his U.S. fellowship describe someone who, at the height of Iraq's post-invasion civil war, deeply questioned perceived U.S. assumptions about how democracy would unfold there.
El-Sissi wrote in his research project that emerging democracies would likely have a stronger religious cast than in the West.
"History has shown that in the first ten years of a new democracy, conflict is likely to occur either externally or internally as the new democracy matures," he wrote.
"Simply changing the political systems from autocratic rule to democratic rule will not be enough to build a new democracy," he wrote.
In his research, el-Sissi pointed to the 2006 Palestinian election victory of Hamas, an offshoot of the Muslim Brotherhood, and advocated that "legitimately elected parties be given the opportunity to govern."
"The world cannot demand democracy in the Middle East, yet denounce what it looks like because a less than pro-Western party legitimately assumes office," he wrote.
El-Sissi had requested that his research project not be publicly disclosed, but it has been circulated widely.
He lived on a picturesque street in Carlisle's historic center with American flags draped from front porches.
His former home, which has a porch swing and a hanging basket of flowers, is a short walk from a local college that el-Sissi's son attended.
El-Sissi is warmly remembered at a nearby mosque as a devout man who sometimes led prayers.
"He used to pray with us. Now he is a big guy," said worshipper Abdul Majid Ayud.
Carlisle wasn't el-Sissi's first experience in the United States. In 1981, he took an infantry basic training course at Fort Benning, Georgia.
Frank Phillips, a retired U.S. Army officer who befriended el-Sissi there, said el-Sissi served as an imam for the Muslim students on the course.
"He was religious, but not fanatical," said Phillips, describing him as a "strong patriot."
One day, el-Sissi accompanied the American to look for an engagement ring in Columbus, Georgia. When Phillips put the ring on layaway - a practice not generally known in Egypt - el-Sissi offered to help him pay for it so he could take it home right away.
Phillips gently declined, but deeply appreciated the offer. "He's a solid guy," Phillips said.
Phillips said he took comfort in believing that el-Sissi will do what is right for Egypt, and likely weigh U.S. views because of his experiences in America.
"Is he more predisposed now to consider the U.S. view of things? I'd say yes." 
Related: