A hobbled Patrick Mahomes rallied his team in the second half and Harrison Butker kicked a late 27-yard field goal to give the Kansas City Chiefs a 38-35 Super Bowl win over the Philadelphia Eagles on Sunday.
It was the second Lombardi Trophy win for Kansas City in four years. Mahomes was named the game's most valuable player for the second time.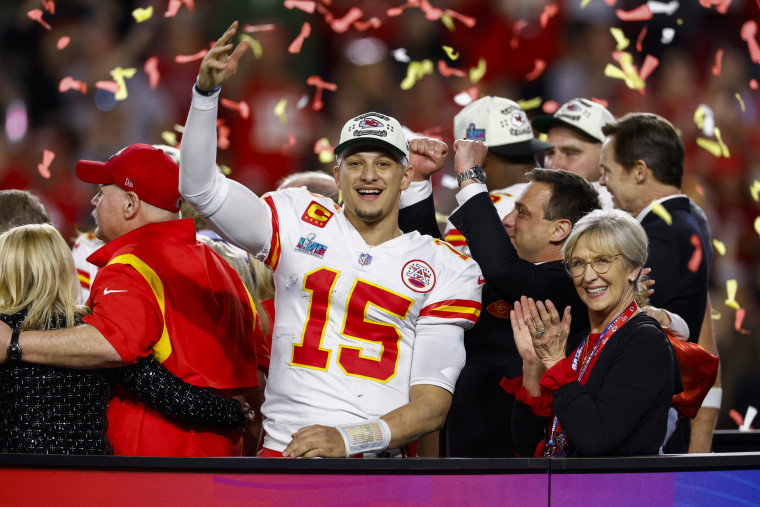 The winning drive in Glendale, Arizona, included a limping, 26-yard sprint by Mahomes, who, late in the second quarter, appeared to re-injure an ankle that had been hurt earlier in the playoffs.
"I told you all this week there's nothing that's going to keep me off that football field," he said. "I just want a shoutout to my teammates — we challenged each other, we needed everyone to win this football game — so shoutout to my teammates. We're Super Bowl champs!"
As a two-time Super Bowl MVP, Mahomes joins a select list of all-time NFL greats who have also won the award more than once: Tom Brady, Joe Montana, Bart Starr, Eli Manning and Terry Bradshaw.
"He's the MVP," Chiefs coach Andy Reid said. "That's all that needs to be said: MVP."
The Chiefs won even though Philadelphia had the edge in almost all of the key statistical categories. With Mahomes hobbling and the Eagles leading 24-14 at halftime, Philadelphia appeared to be in position to win its second Super Bowl in six years.
Kansas City overcame a record effort by Philadelphia quarterback Jalen Hurts, who threw for a touchdown and ran for three more scores.
The trio of rushing touchdowns tied a Super Bowl record, and his 70 yards on the ground was the most by a quarterback in the game's history.
Philadelphia coach Nick Sirianni promised Eagles fans the bitter defeat would fuel his team's desire to get back to the Super Bowl.
"We'll use this to motivate us," he told reporters. "We'll use this pain, we'll use this failure, to motive us."
Sunday's game was a huge TV draw, as millions of people tuned in for quirky ads and Rihanna's show-stopping halftime performance.
Viewers immediately took note of her appearance and wondered on social media whether Rihanna, a nine-time Grammy winner, might be expecting again. She also cradled her midsection several times, fueling fan speculation online.
A representative confirmed Sunday night that she is pregnant with her second child. Rihanna and A$AP Rocky welcomed their first child in May.