The U.S. Supreme Court Wednesday cleared the way for a broader list of family exceptions to President Trump's ban on issuing visas to people in six Muslim-majority countries.
The justices declined to put a halt to a ruling by a federal judge in Hawaii who said grandparents, aunts, uncles, cousins, nieces, nephews, and siblings-in-law must be added to the list of close family members who can still get visas to travel to the U.S. during the 90 days while Trump's executive order is in force.
The Hawaii judge said the State Department's list, announced June 29, was too restrictive in declaring that only parents, parents-in-law, spouses, fiancés, children, and children-in-law would be exempt from the ban on visas for travel to the U.S. The Supreme Court ruled June 26 that while portions of the travel ban could be enforced, people overseas "who have a credible claim of a bona fide relationship" with a relative or organization in the U.S. would be exempt.
But Wednesday's Supreme Court order blocked enforcement of another part of the Hawaii judge's ruling, applying to refugees. The state of Hawaii had argued that any refugee who had an arrangement with a U.S.-based aid group to come to the U.S. should also be exempt from the travel ban. The justices said the Ninth Circuit Court of Appeals, based in California, should decide that question.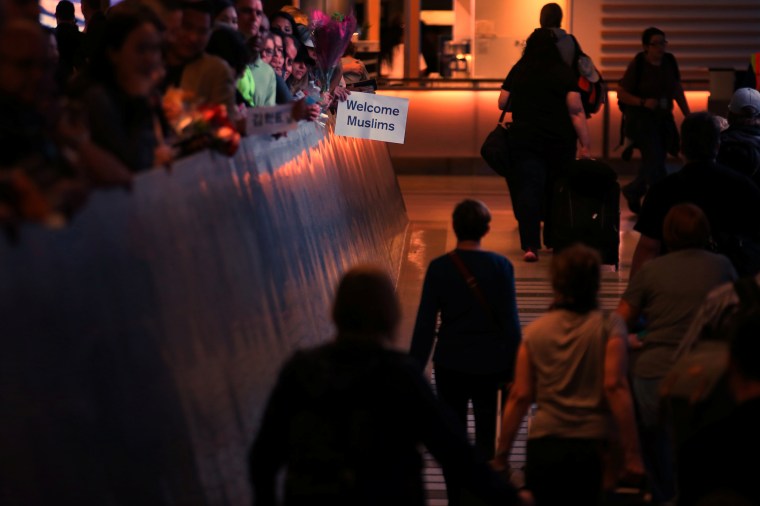 That means that up to 24,000 refugees who already have been assigned to a resettlement organization will not be able to be admitted.
The executive order applies to visa applicants from Iran, Libya, Somalia, Sudan, Syria and Yemen and imposes a 120-day ban on refugees from anywhere in the world.
The court's brief order was unsigned, but the court's three most conservative members, Clarence Thomas, Samuel Alito, and Neil Gorsuch, said they would have put the entire Hawaii ruling on hold.
The court also announced Wednesday that it will hear the entire travel ban case — a challenge to the executive order's constitutionality — on Oct. 10, during its new term.