A Colorado baker says requiring him to make a cake for a gay wedding would violate his freedom of expression. But the couple he turned down says refusing to serve gay customers is illegal discrimination.
On Tuesday, the U.S. Supreme Court will consider who's right in one of the most closely watched cases of the term, one that pits freedom of religion and expression against marriage equality and protection from discrimination.
While a recent Gallup survey showed that nearly two-thirds of Americans support the Supreme Court's 2015 decision legalizing same-sex marriage, gay and lesbian rights advocates fear a loss in this case would mark same-sex couples as undeserving of full legal protections.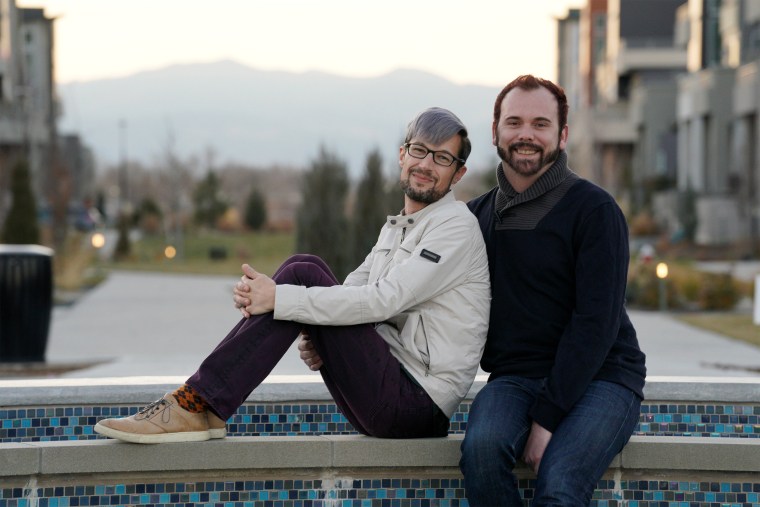 Some religious organizations, on the other hand, say a loss on their side would force dissenters to support marriages they find objectionable.
The incident that brought the case to the nation's highest court lasted only a few minutes on the day David Mullins and Charlie Craig of Denver walked into Masterpiece Cakeshop in Lakewood, Colorado, outside of Denver.
When the owner, Jack Phillips, found out they wanted a cake for a reception to celebrate their wedding, he said, "I'm sorry, guys, I can't do that."
What followed, Mullins says, "was this horrible pregnant pause while what was happening sunk in, and we were mortified."
After the couple filed a formal complaint, the Colorado courts ruled that the state's public accommodation law, which bans discrimination by companies offering their services to the public, did not allow Phillips to refuse the gay couple's request. So he appealed.
Related: Supreme Court Rejects Gavin Grimm's Transgender Bathroom Rights Case
Phillips runs his cake business guided by religious principles — closing on Sunday and refusing to make cakes containing alcohol or celebrating Halloween. Requiring him to make a wedding cake for a same-sex couple, he says, would violate his First Amendment rights by requiring him to express a view, through his cakes, that is counter to his religious beliefs.
"I don't want to be forced to create art, any of the things I do for an event, that goes against my faith," he said.
One question for the court is whether baking a cake amounts to artistic expression, like painting a picture.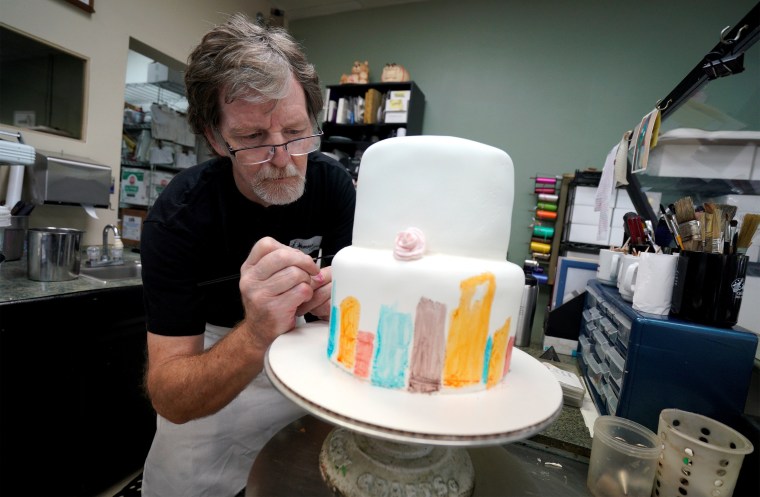 "Jack is an artist," insisted his lawyer, Kristen Waggoner, and his cakes proclaim that a marriage has occurred and should be celebrated. "The government can no more force Phillips to speak those messages with his lips than to express them through his art."
The lower courts, however, say a reasonable person would assume that the cake expressed the message of the couple, not the baker. And the ACLU, representing Mullins and Craig, says they never discussed with Phillips what kind of design, if any, they wanted on their cake, diminishing his claim that his freedom of expression was at stake.
"He simply turned us away just because of who we are instead of what we asked for," Craig said.
The case is about much more than disapproval for same-sex weddings, says the ACLU. If Phillips prevails, "bakeries could refuse to provide cakes for an interracial or interfaith couple's wedding, a Jewish boy's bar mitzvah, an African-American child's birthday, or a woman's business school graduation party."
The ACLU's James Esseks added, "The core question is whether the freedom of speech or religion guarantees businesses that are open to the public a constitutional right to turn customers away because of who they are. It's about the very viability of the nation's civil rights laws."
Related: Supreme Court Puts Off Legal Showdown Over Travel Ban
The case has attracted an unusually high number of friend-of-court briefs, offering dueling versions of who's right.
"There is far more at stake in this case than simply whether Jack Phillips must bake a cake. It is about the freedom to live according to one's religious beliefs in daily life," wrote the Conference of Catholic Bishops.
But other religious groups join Americans United for Separation of Church and State in saying public accommodation laws like Colorado's "ensure that a Muslim cannot be refused a meal by a Protestant restaurateur, a Catholic cannot be evicted by a Jewish landlord, and a Sikh cannot be fired by a Baptist supervisor for adhering to the 'wrong' faith."
Bakers even disagree about whether what they do amounts to protected expression.
Yes, says a group of cake artists. Their work "requires artistic exertion with an expressive endeavor to generate works of art."
No, says a group of celebrity chefs and bakers, including José Andrés and Anthony Bourdain. "Even when prepared by celebrated chefs, food retains a clear purpose apart from its expressive component: it is made to be eaten," the wrote.
Florists, bakers, photographers, and other businesses have cited religious and free-speech objections in refusing to serve gay and lesbian customers in the wake of the Supreme Court's 2015 same-sex marriage decision. But those claims have generally not fared well in the nation's courts.
The justices will decide the case by late June.