WASHINGTON — The Supreme Court agreed Thursday to take up a case that could deal a crippling blow to unions representing millions of the nation's public employees.
The justices will decide whether state government workers who choose not to join a union must still pay a share of union dues to cover the cost of negotiating contracts.
At stake is the future power and financial health of public sector unions in the 22 states where they have a duty to bargain for both members and nonmembers alike.
The court deadlocked 4-4 last year on the same issue in a case brought by a group of California teachers opposed to paying the fee. But the addition of Justice Neil Gorsuch, a conservative who joined the court in April, could mean a victory this time for union opponents.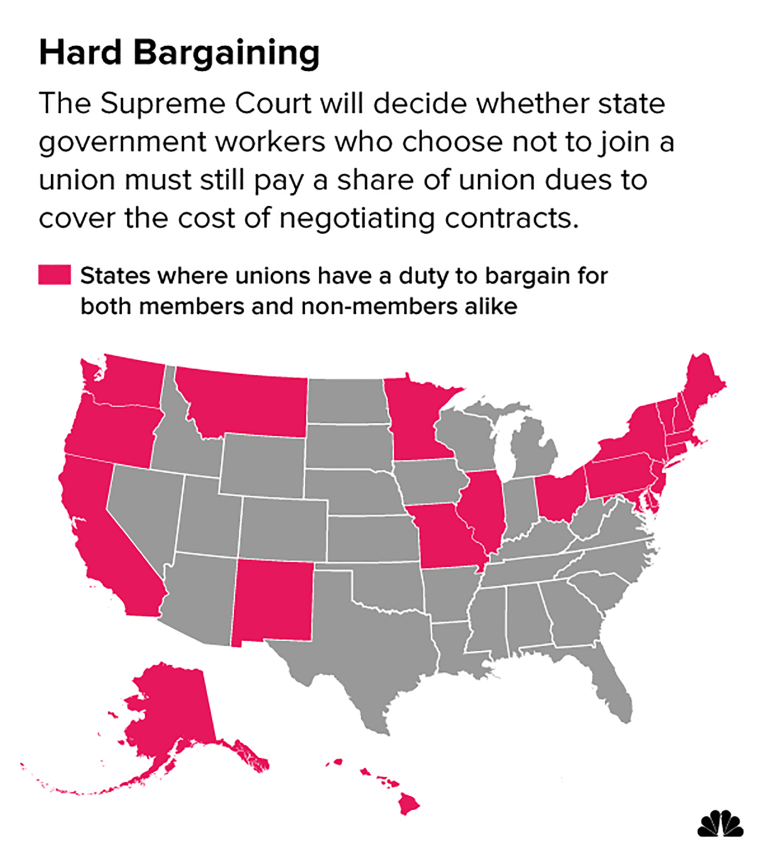 "Agency fees remain the largest regime of compelled speech in the nation," said William Messenger of the National Right to Work Legal Defense Foundation. The group represents an Illinois state employee, Mark Janus, whose lawsuit brought the issue back to the Supreme Court.
The court has long held that requiring nonunion members to pay the full amount of union dues violates their right of free expression, forcing them to subsidize a union's political activities whether they agree with its goals or not.
But since 1977, the Court has said that nonunion employees can be required to pay a portion of union dues to cover the cost of collective bargaining and prevent "free riders" — workers who get the benefits of a union contract without paying for it.
Janus is asking the court to rule that even that requirement violates free expression, and four of the court's conservatives have suggested that they agree. Gorsuch's vote would make it five.
But David Frederick, a Washington lawyer representing Janus's union, the American Federation of State, County and Municipal Employees, said union dues are justified by the expense of contract negotiations. "Unions employ lawyers, economists, expert negotiators and research staff, among others, in their negotiations, contract administration processes and conducting of adjustment of grievances with public-sector employers."
The case, Janus v. AFSCME, began in 2015, when the state's governor at a time, Bruce Rauner, a Republican, went to court arguing that the union fee requirement is unconstitutional. His claim was dismissed, but Janus was allowed to carry on the legal battle.
The case will be heard this fall with a decision expected by late June 2018.