The Supreme Court, which returns from summer break on Monday, will decide whether to wade back into the contentious debate over same-sex marriage this term and potentially settle the issue nationwide once and for all.
More than 80 lawsuits were filed in support of allowing gays and lesbians to wed in the last year, a deluge of challenges triggered by a 2013 high court ruling in favor of a lesbian who sought federal recognition of her relationship with her wife. In siding with Edie Windsor to strike down part of the Defense of Marriage Act, the court gave hope to LGBT advocates that it would issue a definitive ruling on gay marriage bans in 31 states.
The justices, who will meet in a closed-door conference on Monday, will consider whether to hear any of three same-sex marriage lawsuits during the next term, which officially starts Oct. 6. If they decide to review one or more of the cases, a ruling could be reached by July on whether same-sex marriage must be allowed nationwide. If they choose not to hear the cases, the decision would allow gay nuptials in the 11 states covered by the three lawsuits. The court could also wait for a circuit court to disagree with the others and support the state bans. The justice have until January 2015 to make their decision.
Both opponents and supporters of gay marriage predict that the justices will hear at least one of the cases.
"Litigators on both sides of this issue have known from the beginning and understood that this is headed back to the Supreme Court," said Austin Nimocks, senior counsel at Alliance Defending Freedom, a legal ministry that is defending the Oklahoma and Virginia same-sex marriage bans. "We're now approaching the ultimate theater where everybody expects this to be ultimately decided, at least from a judicial standpoint."
"Given the huge flood of cases coming up through the lower courts, they can't responsibly decline to hear this," said Andrew Koppelman, a professor of law and political science at Northwestern University and author of "Same Sex, Different States: When Same-Sex Marriages Cross State Lines."
"Because of the unprecedented speed at which the courts are almost unanimously striking down these laws, I think we are at a watershed moment in American history and everybody anticipates that this will be resolved by the Supreme Court," noted Paul Castillo, counsel for Lambda Legal in the Indiana and Virginia marriage cases.
The nation's high court already has heard a challenge to a state gay marriage ban– California's Proposition 8 – but said last year they couldn't rule in that case because supporters of the prohibition didn't have the legal standing to bring the lawsuit. The court's decision allowed same-sex marriage to be legal in that state.
This time, the cases from the lower courts are clear of the Prop. 8 technical problems, experts said.
"I think what the Supreme Court is looking for is a case that presents the issue so that they would be able to get straight to the heart of the matter," Castillo said.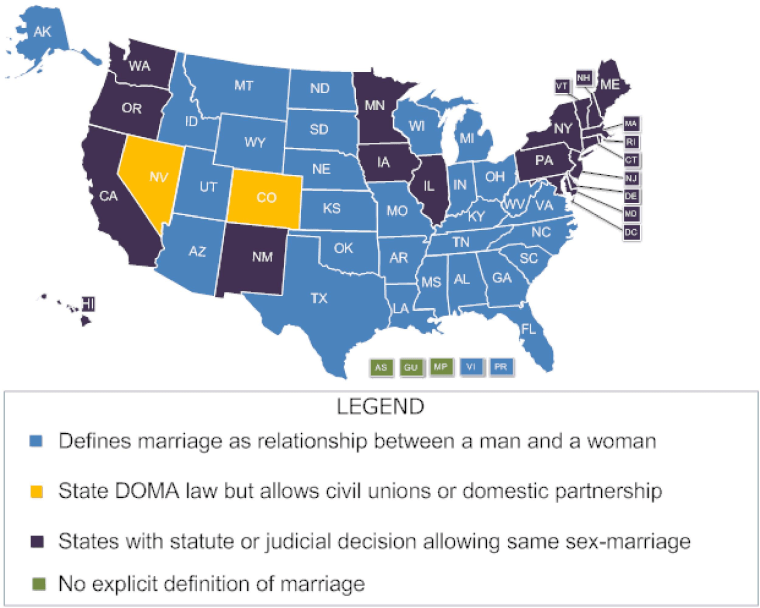 Though many of the lawsuits filed since the Windsor case have resulted in lower court victories for supporters of gay nuptials, some judges have dissented. One, U.S. District Judge Martin Feldman in Louisiana, recently became the first federal judge to uphold a state marriage ban.
"I've seen it described as an outlier decision. When I read it though, I found it has a greater possibility of creating real questions," said John Pagan, a professor of constitutional law at the University of Richmond.
Those questions include whether judges or voters should decide who can marry. Most of the anti-gay marriage victories have been at the ballot box, while many of those for supporters have come from judges.
"I'm surprised that they (gay marriage opponents) haven't made this into more of a case about federalism and democracy, and less a specious argument about whether straight parents are better than gay parents. Because they're going to lose," Pagan added.
"If the state is to go the route of same-sex marriage, it should be a decision that's made by the people."
The same-sex marriage battle began more than 20 years ago when Hawaii almost became the first state to approve of gays and lesbians marrying. Opponents moved quickly: In 1996 Congress passed the Defense of Marriage Act, which didn't allow federal recognition of same-sex marriage, and the first state marriage bans were imposed. Back then, public approval for gay nuptials was at 27 percent, according to the Gallup poll, but today it's at 54 percent.
Despite nationwide momentum in favor of gay marriage, opponents believe they'll prevail in this next chapter. They look to the Windsor decision, saying it preserved part of the federal law that lets states regulate marriage. (Some legal scholars have noted that states' rights weren't then the question posed to the judges).
"We don't agree that there's a foregone conclusion here in favor of same-sex marriage being imposed by the judiciary on everybody against their will," said Nimocks, of the Alliance Defending Freedom. "There never has been a constitutional right to same-sex marriage. If the state is to go the route of same-sex marriage, it should be a decision that's made by the people."
Brian Brown, president of the National Organization for Marriage, which has funded many of the ballots opposing gay nuptials, said that even if the court sided with his opponents, his group would continue to fight. He likened the battle to the resurgence in recent years of anti-abortion activists, who have increasingly won restrictions on the procedure after losing before the Supreme Court in the Roe v. Wade case in 1974.
"We don't go away. We will fight day in and day out," Brown said. "There's so much to do. We've only begun to be heard in the public square."
"The movement for same-sex marriage may be the most rapidly successful social movement in American history."
Yet the Supreme Court justices and the lower federal court judges siding with gay marriage haven't faced the backlash that their predecessors experienced over other civil rights issues, like the landmark school desegregation case, Brown v. Board of Education.
"A lot of federal judges (hearing Brown) followed what they thought the Constitution required, and their lives were made miserable. They came under enormous personal pressure and there was a lot of protests and resistance to what the courts were doing. You haven't seen anything like that in the same-sex marriage context," said Koppelman, of Northwestern.
"Public opinion has shifted radically on this issue. The movement for same-sex marriage may be the most rapidly successful social movement in American history," he added.
A Supreme Court decision can't come soon enough for Charlene Smith-Smathers, 63, and her wife, Dee, 73. The couple, living in Terry, Mississippi, wed in Massachusetts last year but don't enjoy the same rights as other couples since their state doesn't recognize same-sex marriage. They can file joint federal income taxes but still file separate ones for the state, and Dee, who has chronic medical problems, can't be on Charlene's health insurance plan since they're not considered married.
Charlene, a state accountant, said the couple – together nearly 30 years - was "saving our pennies" to go to Washington this summer if the court takes up one of the cases.
"It's just a tangled web we weave and it's a mess," she said. "This is stuff that really has to get settled."