The Supreme Court struggled on Wednesday to figure out how much protection a federal law gives to pregnant women in the workplace.
The case was brought by Peggy Young, a former UPS driver in Landover, Maryland, whose job was to pick up letters and packages from the airport and deliver them early in the morning.
In October 2006, she became pregnant and gave her supervisors a note from her midwife recommending that she not lift packages weighing more than 20 pounds during her pregnancy. But UPS said it could not make such an accommodation.
She was required to take an unpaid leave of absence, during which she had no health insurance.
"I lost my medical benefits. I lost my wages. I lost my pension and ended up losing the chance at short-term disability after I had my child," Young said.
So Young sued UPS, claiming it violated a federal law, the Pregnancy Discrimination Act of 1978, that requires employers to treat pregnant workers the same as those who are not pregnant but are "similar in their ability or inability to work."
Two lower courts ruled in favor of UPS, finding that the company's action did not amount to discrimination against pregnant women. The company said it gave work accommodations to employees who were hurt on the job, had a permanent impairment or were ineligible for a commercial vehicle license. Such a policy, it said, was neutral on the issue of pregnancy.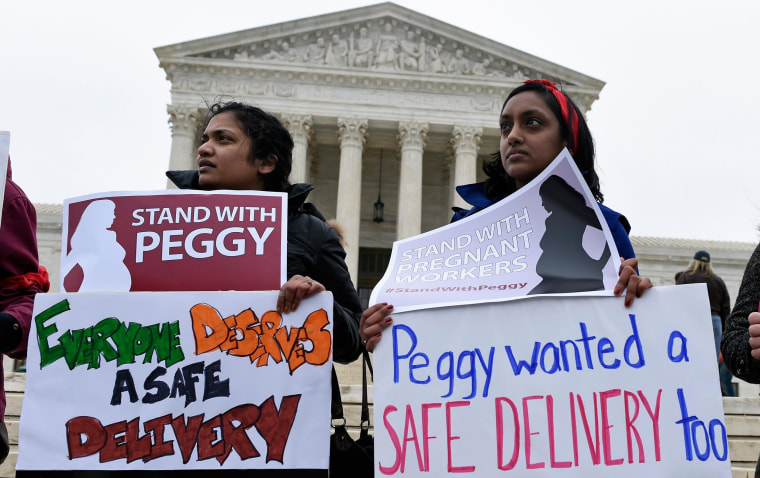 But Young's lawyer told the Supreme Court on Wednesday that UPS also made accommodations for workers with with non-job-related impairments, such as drunken-driving convictions.
Based on Wednesday's argument, the case seems unlikely to result in a sweeping win for women. But the court might end up requiring employers to show they have a good reason when they give light-duty work only to impaired workers who are not pregnant.
Justice Elena Kagan seemed clearly on Young's side. The federal law, she said, "was supposed to be about removing stereotypes of pregnant women as marginal workers. It was supposed to be about ensuring that they wouldn't be unfairly excluded from the workplace."
But several justices, including Stephen Breyer, asked Young's lawyer how far companies must go to avoid violating the law.
"I can imagine that employers have all kinds of different rules for different kinds of jobs," he said. "Are you saying as long as there is one job in respect to which they give them benefits, then do you have to give them to all pregnant women who hold different jobs?"
If the pregnancy anti-discrimination law mans anything, said Samuel Bagenstos of the University of Michigan, "it must mean that when an employee seeks an accommodation or benefit due to her pregnancy, that she is entitled to the same accommodation that her employer would have given her otherwise."
IN-DEPTH
Bum Rap: Supreme Court Weighs Free Speech Vs. Facebook Threats