The phone at Abbas Haider's custom tailoring shop in historic Fredericksburg, Virginia, began ringing almost as soon as the shooting stopped in Orlando.
The dozens of callers weren't suddenly in need of bespoke suits. They were calling about the line of "ballistic clothing" he manufactures — tailored jackets, dresses, ties — even boxer shorts — designed to repel bullets and give wearers a fighting chance to survive a massacre of the sort that had unfolded early that morning at the Pulse nightclub.
"For most people, we suggested ballistic T-shirts," Haider told NBC News. "They can get more use out of a ballistic T-shirt ($950) than a suit."
Body armor and bullet-resistant clothing — once reserved for front-line soldiers, police and security personnel — is a booming business, currently an estimated $3.8 billion-a-year industry and expected to hit $5.3 billion by 2024, according to Market Research.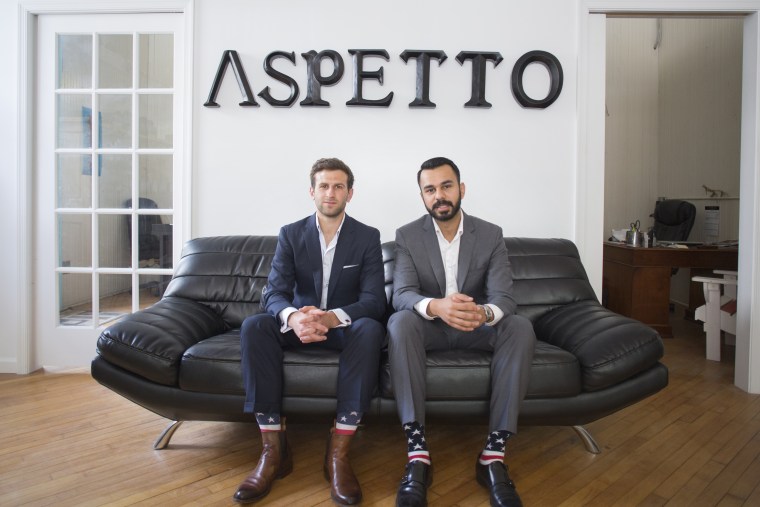 The vast majority of bullet-resistant clothing on the market is made by three manufacturers — Point Blank Enterprises, Safariland and Ceradyne Inc. — and consist of heavy vests, helmets and other gear that is aimed at law enforcement, private security or the military. It is long on safety and short on style. And most of it is designed to be worn over clothes.
Haider's company, Aspetto Inc., occupies what is so far a relatively small niche in that market by catering to civilians as well as fashion-conscious security professionals. His creations are, in essence, finely tailored clothes with ultra-lightweight bullet-resistant panels of Dyneema and Twaron or Kevlar zipped into the linings that can be removed for dry cleaning.
An Aspetto suit is capable of stopping a bullet shot from most handguns at point blank range, Haider said.
For added protection from assault-style rifles like the AR-15 or the Sig Sauer MCX — one of the weapons used by Omar Mateen in carrying out the worst mass shooting in modern U.S. history on June 12 — they have hard armor plates that can be zipped in, he says.
Haider says his hand-made suits are popular with NFL players, but his ballistic clothing is now responsible for 85 percent of the company's revenue, with sales expected to top $3 million this year.
And he is not the only couturier profiting from security concerns.
In violence-wracked Colombia, for example, Miguel Caballero is known as the "Armored Armani."
His bullet-resistant trench coats, suits and shirts have been worn over the years by the presidents of Ecuador, Panama, Venezuela, and Paraguay, leaders in Qatar and the prime minister of Turkey.
Some heavy hitters in the international business world are also clients, he told NBC News. And magician David Blaine is going to get shot at point blank range wearing a Caballero creation in an upcoming special, the proud tailor said.
When asked if he's gotten any calls from government officials in Washington or from the campaigns of either of the presidential candidates, Caballero turned coy.
"I can't confirm nor deny what you asked me," Caballero said cordially. "I have a confidentiality agreement with some governments."
Haider also was evasive when asked if he's done any work for Hillary Clinton, Donald Trump or any elected officials. "I'm not allowed to say that," he said before adding, "But we've done stuff for their security details."
A son of Pakistani immigrants, Haider's business grew out of a college assignment during his freshman year in 2008 at the University of Mary Washington and a stint working for Men's Wearhouse.
"We had to take a product from America and market it abroad," he said of the assignment. "I wanted to take something to the Middle East. My first thought was bombs and bullets and violence."
Haider reasoned that everybody in the region already had suits. "But I thought, how about suits that are bullet resistant," he said.
So he began brainstorming with classmate Robert Davis and a business was born.
Currently, Aspetto's best-seller in its ballistic line is modeled after popular North Face fleece jackets. It sells for around $2,500.
The ballistic T-shirt, which can be worn like an undershirt, also is popular and has at least one highly satisfied customer.
"Last year an undercover officer overseas was shot three times with a 9 mm (handgun) and survived," Haider said. "This was in Guatemala."
That kind of protection does not come cheap.
In addition to the $950 T-shirts, Haider charges anywhere from $5,000 to $7,000 for a bullet-resistant suit and $1,500 for a dress shirt. And those bulletproof boxers? They cost $1,500 a pair.
"This would be for somebody who goes overseas where there are risks of IED's," he said. "Somebody doing business in the Middle East would wear them. We don't sell them a lot, but we have sold them them."
Haider stressed that his company policy is not to sell ballistic clothes to just anybody.
"We also do a background check before we proceed with manufacturing," he said. "We had one CEO from New York who contacted us a few months ago and wanted a bunch of ballistic clothing items. He was willing to spend some serious cash but when we ran his background, he had a couple of felonies on his record and we had to deny him. He frequently traveled to Africa and needed protection. He wasn't too happy with us."
Haider said some of the company's biggest clients live abroad and his tailors are able to customize to accommodate local tastes. For female members of the Saudi royal family, for example, Aspetto made bullet-resistant caftan-like gowns called jalabiyas. For his Afghan clients, they created bullet-resistant kameez, the long traditional shirts, in addition to suits and T-shirts.
Haider said the most upsetting order the company ever got came after the slaughter of 20 first-graders and six staffers at the Sandy Hook Elementary School in Newtown, Connecticut, in December 2012.
"It was an order for a pink child's backpack," he said. "It made us all very sad."
Haider said they made just two: One for the customer, the other for the company's production manager.
"This is a product we don't market because we don't want people to think we're cashing in on peoples' fear," he said.
That said, Haider is looking for investors to expand his business because he expects the demand for his designs will grow as the U.S. continues to be plagued by mass shootings.
"The way things are going, I don't see it getting any better," said Haider. "Ninety percent of our business is government contracting. But I think the commercial side is going to grow. It's sad, but it's going to grow."