As Hurricane Harvey roars in from the Gulf of Mexico, long-dormant mental images have been returning for residents all along the Gulf Coast — memories of neck-high flood-waters and teeming rescue shelters and sickly fears, the kind that take hold when a loved-one can't be found.
They call it "Katrina Brain," and it's kicking in with a vengeance for some of the people who survived the killer hurricane that submerged much of New Orleans in 2005, many of whom are now dealing with the threat of a new catastrophe.
Harvey made landfall late Friday, 11 years and 361 days after Katrina put four-fifths of New Orleans underwater. The threat in Southeast Louisiana became greater Monday, with as much as 10 inches of rain predicted and a flash flood watch declared, through Thursday.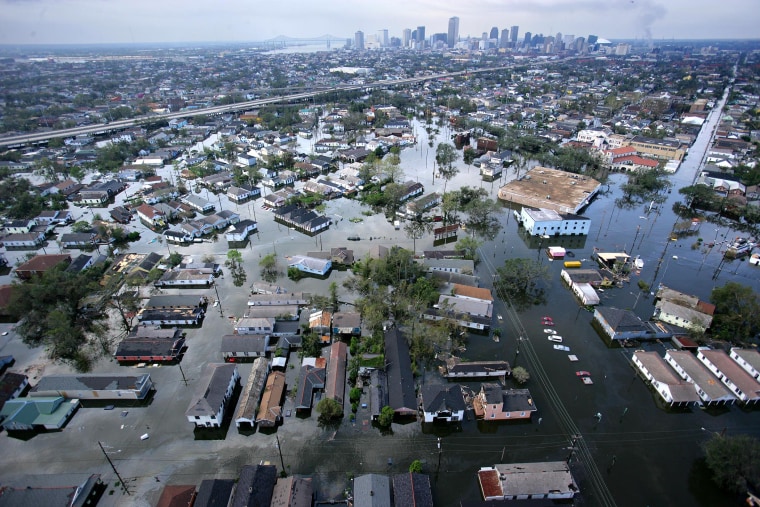 News of a new deluge has the people of the Katrina diaspora — spread widely, but centered around New Orleans, Houston and parts in between — recalling a time they would rather forget and preparing to make do again.
"We are scared," said Kelly Pearson of the Algiers neighborhood of New Orleans, across the Mississippi River from downtown. "We are scared right now. We are scared over here in New Orleans."
Those fears gained credibility earlier this month when a rainstorm and the failure of several pumps in the low-lying city led to flooding from the Mid-City to the neighborhoods of Treme, Lakeview and downtown.
"You try to keep moving like everything is normal, knowing it could turn un-normal in the blink of an eye," said Kelly Pearson of Algiers, Louisiana.
Pearson, 54, lost an aunt in the storm and saw many around her lose much more.
"You do get flashbacks," she said. "Some do get PTSD. But you try to keep moving like everything is normal, knowing it could turn un-normal in the blink of an eye."
Staff members at the local affiliate of the National Alliance on Mental Illness noted that some people have become inured to storm threats, but that anxiety and other issues lurk just below the surface. At a training for volunteers this week, education coordinator Shannon Williams said several people talked about how the wallop of Katrina lingered.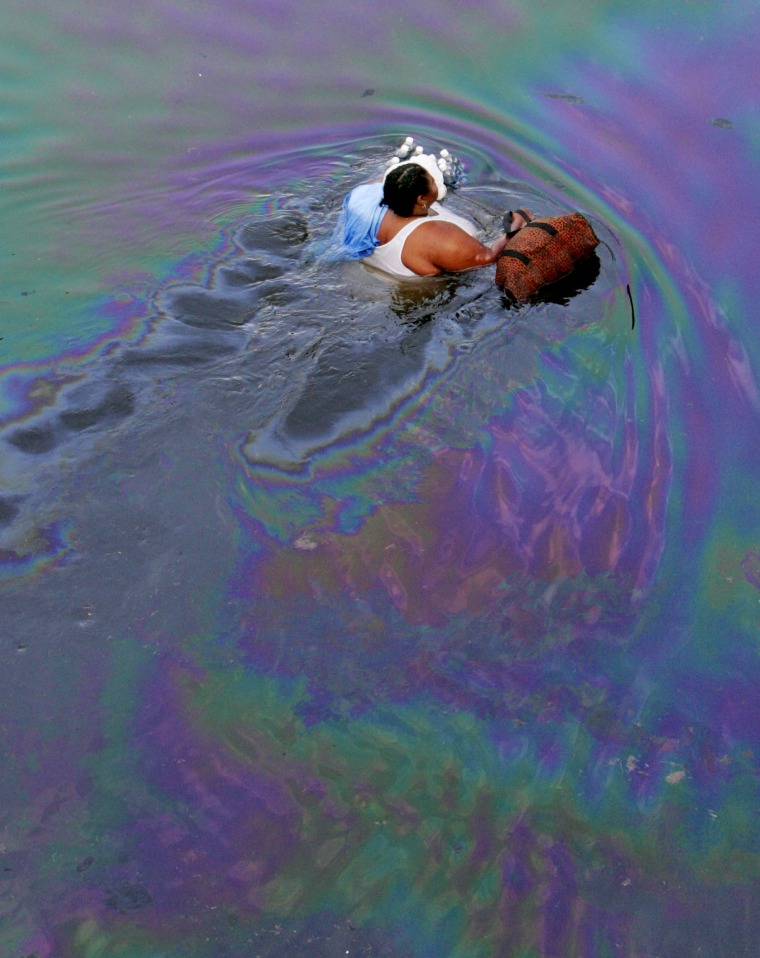 One woman recalled struggling to cope when her uncle disappeared for more than two weeks. At one point, she had to walk through a makeshift morgue, inside a church, to see if his body was one of a row of corpses.
"That was a very disturbing image for all of us," said Williams, "and for her too."
The mere mention of a gathering hurricane, even a tropical depression, can get some New Orleanians conjuring up the devastation of Aug. 29, 2005 and the ragged days that followed. It's now become "normalized" to remember lost friends and family; pets that went missing and homes that could not be salvaged.
"Everyone who was in the storm then, or who evacuated for Katrina, they are all thinking about their own stories," Williams said, "and they're kind of on edge with the current situation."
Her organization and others are urging those who suffered during Katrina to talk with people close to them, if they feel the fears resurfacing, or to seek out to spiritual advisers or therapists.
"It's definitely something that needs to be shared," said Williams, "not kept in."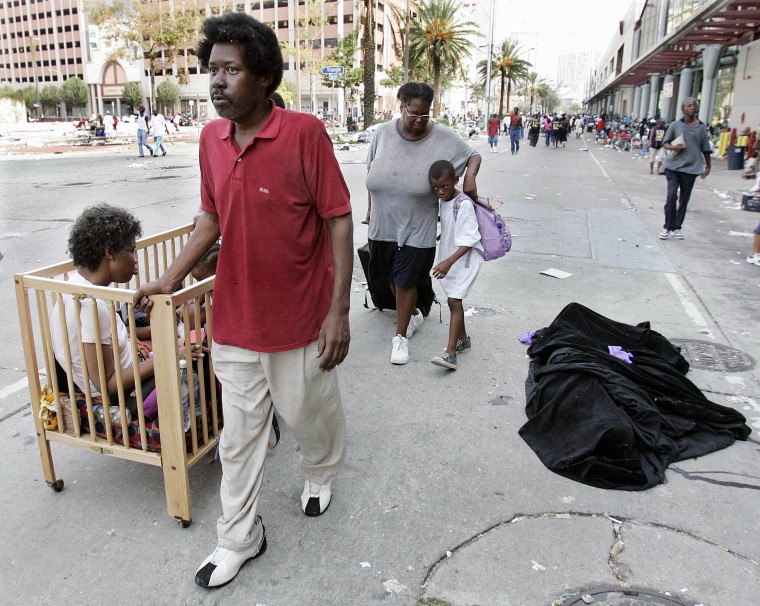 Chuck Perkins, co-owner of Café Istanbul in New Orleans, said that any storm "brings a bit of uncertainty" and the recent flooding and pump failures have already flooded the city twice in the last month.
"Now this could be three times in a month," he said wearily. "We're all human. We can be somewhat fragile. We all have our breaking point. How much can you take?"
But Perkins, whose business is a popular club, theater and restaurant, said residents of NOLA, as locals know it, have developed a resilience unique to their surroundings. Katrina had wiped out plans for a big 40th-birthday blowout he had planned for 2005. But nothing was going to curb plans for Friday, when jugglers, trapeze artists, musicians and others were ready to play Café Istanbul in his honor for his 52nd.
"I mean, you have to be resilient, to live in a place like New Orleans," he said.
One thing natives learned a dozen years ago: Storm warnings are not to be trifled with. After years of being threatened by Category 5 hurricanes that failed to make landfall, many people didn't heed the notices to get out in 2005. A bigger problem than obstinance or ignorance, though, was economics — many poor residents simply didn't have a car to flee in. Or they couldn't find the money to pay for a hotel and the other necessities they would need at the other end of the line.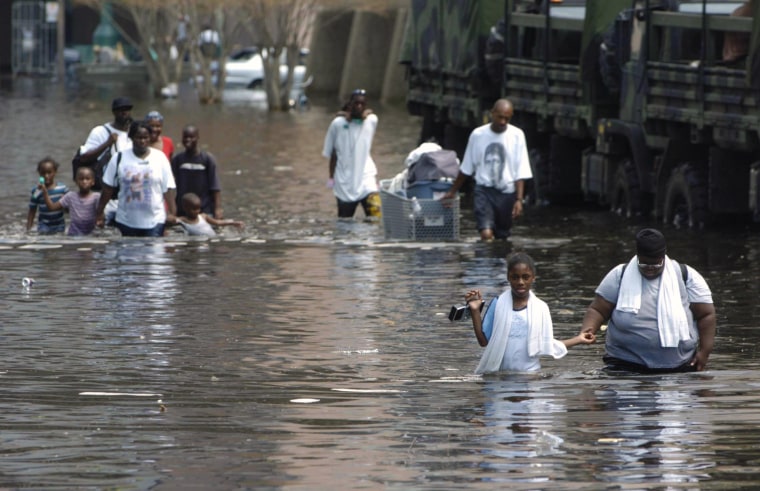 Keri Williams, 35, fled Metairie, Louisiana, back then. For more than a week, she could not locate her mother, who had insisted on staying back home. When the matriarch finally turned up at was then known as Reliant Stadium in Houston, Williams felt immense relief.
She said those "horrible" memories have left her not with fear but with a deep preparedness ethic. Now living in the Houston suburb of Cypress with her 12- and 14-year-old sons, she completed her emergency shopping early last week. Loads of bread, cold cuts, peanut butter and jelly and case after case of water have been socked in. The family car is gassed up and ready to roll, should conditions warrant it.
While skads of friends and family keep calling, Williams, a student and community college employee, assures them: "I am not as nervous. I am prepared. I know what I have to do."
Eric Peters, a New Orleans native still displaced in Houston, said he misses his hometown at times, though he visits with regularity. Katrina forced him from the crippled Memorial Medical Center, where he worked as a pharmacy technician, and then from his home in a public housing project.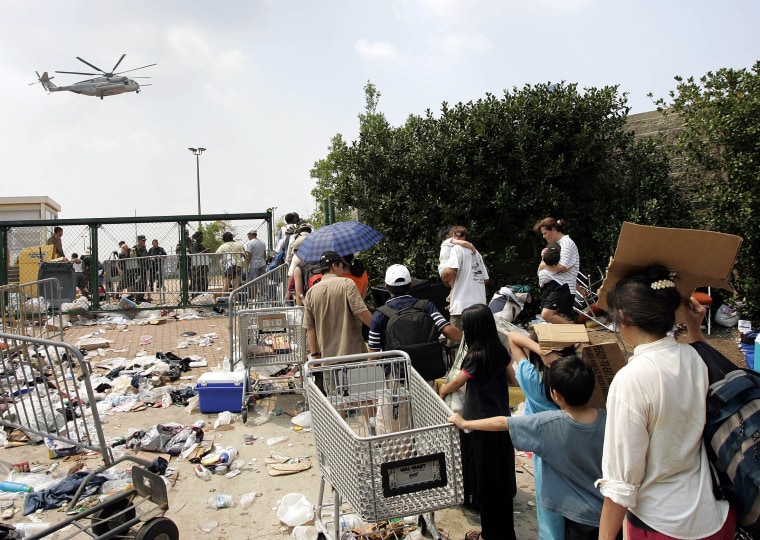 That threw Peters into the giant shelter at the Ernest Morial Convention Center, where he recalls the wretched smell of overflowing toilets and the air of lawlessness that a group of young "hooligans" visited on the supposed refuge.
But the fearsome storm also delivered him a lesson. It thrust, right before his eyes, fellow humans who badly needed a hand — especially the homeless and the mentally disturbed. That was enough to persuade him, after evacuating to Houston, to spend his spare time volunteering for the dispossessed.
Peters said that is what he is still doing today, even dreaming of opening his own social service agency to help people who can't cope, whether or not the flood waters are running high. The NOLA expat said the last Big One taught him another lesson. "All you can do is pray," he said. "Pray, let it be and weather the storm."