The South Carolina mother who confessed to killing her two young sons more than two decades ago has written a letter from behind bars explaining that "something went very wrong that night."
Susan Smith, 43, was convicted in 1995 of murdering 3-year-old Michael and 14-month-old Alex by strapping them into their car seats in her burgundy Mazda and then letting her car roll into a lake in the mill town of Union, where she lived.
Wednesday marked the twentieth anniversary of her conviction. Prosecutors pushed for Smith to receive the death penalty, but she was sentenced to life in prison.
The tragic case attracted worldwide attention and stirred racial tension after Smith initially told police that a black man had carjacked her and kidnapped her children. She tearfully pleaded for the kids to be returned. But nine days later, she admitted she pushed her car down the access ramp of John D. Long Lake with the kids in the back.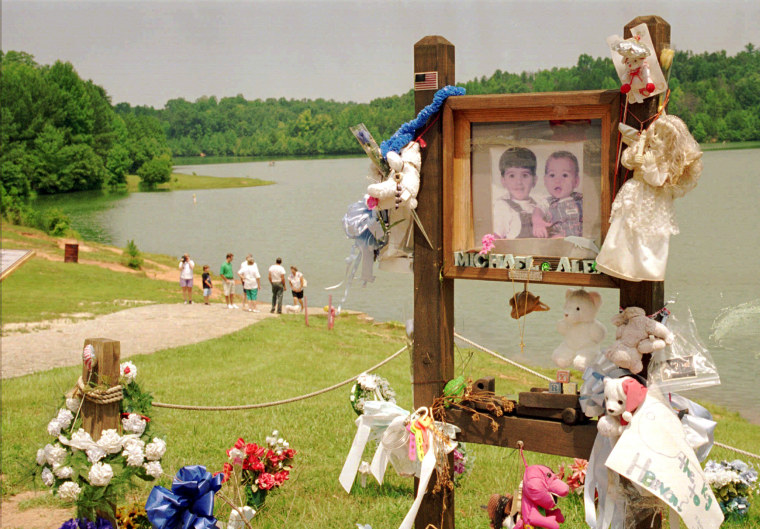 In a letter written to a reporter at the State newspaper in Columbia, South Carolina, Smith said she is "not the monster society thinks I am. I am far from it."
"It has been hard to listen to lie after lie and not be able to defend myself. It's frustrating to say the least," the letter, dated Jan. 19, 2015, but published this week by the State, said.
Prosecutors had said that Smith killed the boys because a man she was having an affair with ended their relationship eight days prior. Smith disputed that in her letter.
"The thing that hurts me the most is that people think that I hurt my children in order to be with a man. That is so far from the truth. There was no motive as it was not even a planned event. I was not in my right mind."
As for why she lied about what happened, Smith wrote, "I didn't know how to tell the people who loved Michael & Alex that they would never see them again. I didn't want to hurt them."
She planned on killing herself before the truth came out, she added.
The handwritten letter, which was a page-and-a-half long, was "only a small piece of the story," she said. It was signed "Sincerely, Susan."
John D. Long Lake became a morbid tourist attraction after Michael and Alex's deaths, with visitors flocking there for photos or to lay flowers in memory of the boys.
In 1996, the quiet town was traumatized again after seven people, including four kids, accidentally drowned in the lake after stopping by to look at memorials for the boys.