A housekeeper's husband was arrested near Los Angeles on Monday in connection with the fatal shooting of a Catholic bishop, who might've been killed over a financial beef, officials said.
Two days after the body of Bishop David O'Connell was found in his Hacienda Heights home, 61-year-old Carlos Medina was taken into custody in Torrance after a standoff with law enforcement, Los Angeles County Sheriff Robert G. Luna said.
Medina's wife is O'Connell's housekeeper and she was not implicated or publicly identified. She was the bishop's housekeeper for approximately six years, according to Sheriff's Department Lt. Michael Modica.
Luna said his department received tips about Medina's location and a possible motive — which said the man believed O'Connell owed him money.
Security video showed an SUV similar to the one used by the housekeeper temporarily in the driveway of the bishop's residence before the murder, Luna said. The suspect had done "some work" at the home previously, including helping clean the house and walk the bishop's dog, Modica said.
At least one tipster was "concerned because Medina was acting strange, irrationally, and making comments about the bishop owing him money," Luna said at a news conference Monday afternoon.
The suspect left Torrance for central California, Luna said, but detectives got a tip that he had returned home, prompting a response to the residence that turned into a standoff.
Tactical deputies with the Special Enforcement Bureau ordered the suspect to exit the residence, but he refused for an unspecified span of time Monday morning, Luna said. He eventually surrendered and was arrested without further incident, he said.
A judge-approved search of the residence turned up two guns and other evidence that might be tied to the crime, Luna said.
On Saturday, sheriff's deputies responded to the 1500 block of Janlu Avenue at 12:57 p.m. following a medical emergency call, authorities have said.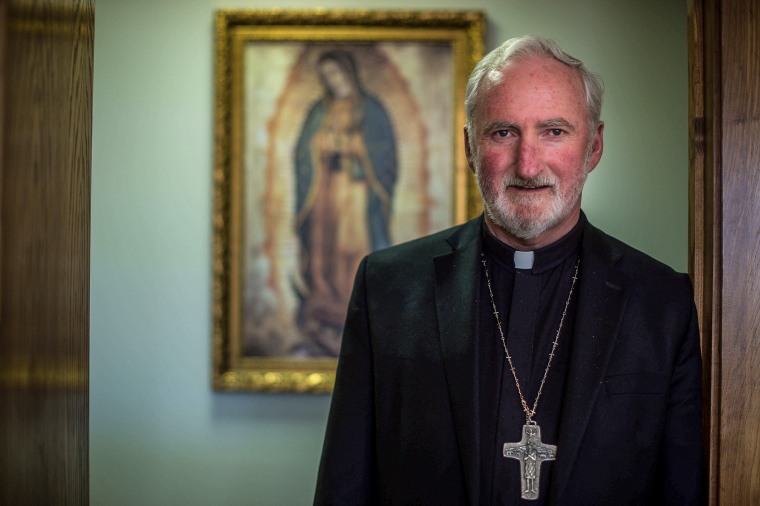 O'Connell, 69, was found with a gunshot wound and pronounced dead at the scene by paramedics, the sheriff's department said.
O'Connell, who was originally from Ireland, was a priest and later a bishop in Los Angeles for 45 years, Angelus News, a Catholic news service, reported.
Known fondly as "Bishop Dave," O'Connell was the "episcopal vicar for the archdiocese's San Gabriel Pastoral Region since 2015, when Pope Francis named him an auxiliary bishop," Angelus reported. O'Connell opted to help soothe tensions between residents and law enforcement in southern Los Angeles.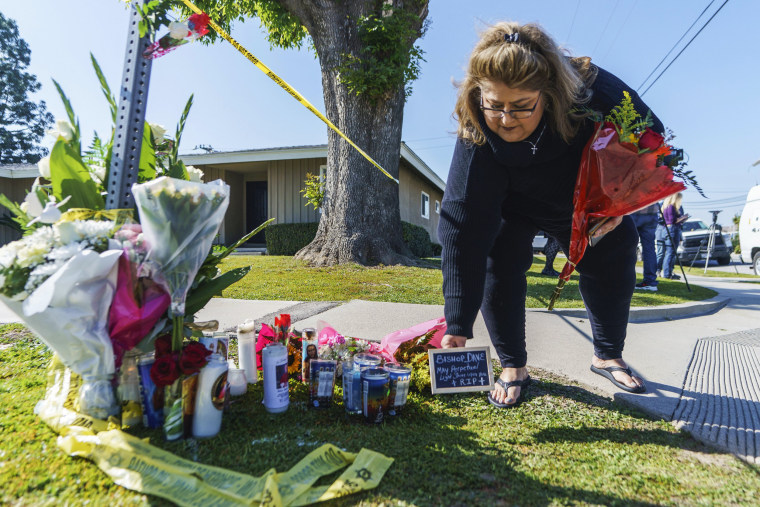 "He was a peacemaker with a heart for the poor and the immigrant, and he had a passion for building a community where the sanctity and dignity of every human life was honored and protected," Archbishop José H. Gomez of Los Angeles said in a statement Saturday. "He was also a good friend, and I will miss him greatly."
Luna vowed to help prosecute the suspect successfully.
"This man, this bishop, made a huge difference in our community," Luna said. "He was loved."
CORRECTION (Feb. 21, 2023, 4:30 p.m. ET): A previous version of this article mistated the age of the suspect in the fatal shooting of a Catholic bishop. Carlos Medina is 61, not 65.