One person was killed and three others are in critical condition following a shooting Tuesday at a medical clinic in Minnesota where explosives were also found, authorities said.
An "active shooter incident" occurred at the Allina Health Urgent Care–Buffalo Crossroads clinic in Buffalo, Minnesota, on Tuesday morning, Wright County officials said in a statement. Authorities identified the suspect as Gregory Paul Ulrich, 67, who was well known to local authorities.
"The history that we have as a department with this individual makes it most likely that this incident was targeted with this facility or someone in that facility," Buffalo Police Chief Pat Budke told reporters.
Authorities said that based on their history with Ulrich, they believe that it was an isolated event and that the gunman acted alone. Ulrich had a history that "spanned several years," which included his being "unhappy" with his health care, Budke said.
There is no reason to believe Ulrich has any ties to domestic terrorism, Budke said.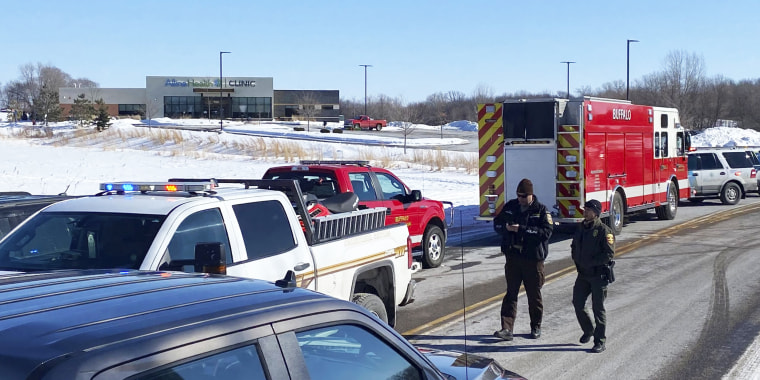 Police said the shooting occurred at about 11 a.m. at 755 Crossroads Campus Dr. in Buffalo, a city of about 16,000 people about 42 miles northwest of Minneapolis. Officers, Wright County sheriff's deputies and SWAT teams responded to a report of gunfire at the clinic.
Minnesota Gov. Tim Walz said in a news conference that "some improvised explosive devices" were found.
"At this time, it appears like it was a single individual," Walz said. "And, again, too early to tell motives or reasons why."
Wright County Sheriff Sean Deringer said the Minneapolis police bomb squad was investigating a suspicious package. Police said the bomb squad also investigated a Super 8 motel where Ulrich was staying.
Authorities had "search warrants in hand," Deringer said.
"We did send a team from my office over there to evacuate the Super 8 motel," Deringer said. "We did find additional suspicious devices at the Super 8 motel. It's been evacuated. We cleared the area."
Five people were transported to area hospitals, said Kelly Spratt, president of Buffalo Hospital Allina Health. Four patients were taken to North Memorial Health and three were in critical but stable condition, the hospital said. The fourth patient was discharged.
The fifth person was taken to Hennepin County Medical Center in Minneapolis and later died, the hospital confirmed Tuesday.
Buffalo Mayor Teri Lachermeier urged residents to check in with one another.
"We need to reach out by phone and make sure everybody's OK, because it's a stressful time," Lachermeier said. "So reach out, check on people, make sure they're OK, because in the bottom line it's mental health that we're suffering from."
Download the NBC News app for breaking news and politics
Ulrich has a number of previous charges against him in Wright County and neighboring Pine County dating as far back as 2004, most of them related to drug and alcohol offenses. He was most recently convicted in 2014 of possession of marijuana, court records show.
He was also arrested on a charge of violation of a harassment restraining order in November 2018, according to a release from the Wright County Sheriff's Office. The sheriff's office did not immediately respond to a request for comment regarding the incident and no court records were available for the charge online.
Ulrich is expected in court Thursday morning, the Wright County Attorney's Office said.
The Minnesota State Patrol said on Twitter that six boxes of blood were being flown from the Red Cross to Buffalo Hospital. No other details were immediately available.
Minneapolis Mayor Jacob Frey said the shooting was an "unspeakable depravity" against "those who have stepped up and risked their own health for ours."
"Our first responders are on their way to the scene to help," Frey tweeted. "Today Minneapolis stands with our neighbors in Buffalo."
According to its website, the urgent care facility provided Covid-19 testing and vaccinations.