Elliot Rodger, the 22-year-old man suspected of having gone on a killing rampage Friday night near the University of California, Santa Barbara, may have done so out of intense frustration at his rejection by women, which he detailed in shocking online videos.
Santa Barbara County Sheriff Bill Brown confirmed Saturday that Rodger was the man suspected of having shot and killed six people, shot and injured seven others, run over four more and left a 13th with unspecified injuries Friday night as he stalked the streets of Isla Vista, an unincorporated community adjacent to Santa Barbara about 100 miles northwest of Los Angeles.
Rodger — the son of Peter Rodger, an assistant director on the blockbuster movie "The Hunger Games" — also died following the shooting spree, apparently of a self-inflicted gunshot wound to the head, Brown said.
"It's very apparent the severe extent of how disturbed Mr. Rodger was," Brown said late Saturday afternoon. Earlier in the day, Brown had called the gunman "obviously ... a madman."
The Rodgers family is cooperating with investigators, said Alan Shifman, an attorney for the family, who said it was Rodger's own parents who alerted authorities to the distressing videos their son posted to YouTube — videos in which Rodger, a student at nearby Santa Barbara City College, complains that his college years have been torture because he could never get a date.
For complete coverage, visit NBC Southern California
In the chilling videos, nine of which were posted shortly before the rampage, he vows "retribution" and "revenge against humanity" — specifically against the residents of a sorority house, all of whom he threatens to kill.
"I'm 22 years old, and I'm still a virgin. I've never even kissed a girl," Rodger says. "College is the time when everyone experiences those things such as sex and fun and pleasure. But in those years, I've had to rot in loneliness. It's not fair.
"If I can't have you girls, I will destroy you," he says, sometimes laughing at his own audacity. Afterward, he promises, "I will take to the streets of Isla Vista and slay every single person I see there."
"You will finally see that I am, in truth, the superior one — the true alpha male," he boasts.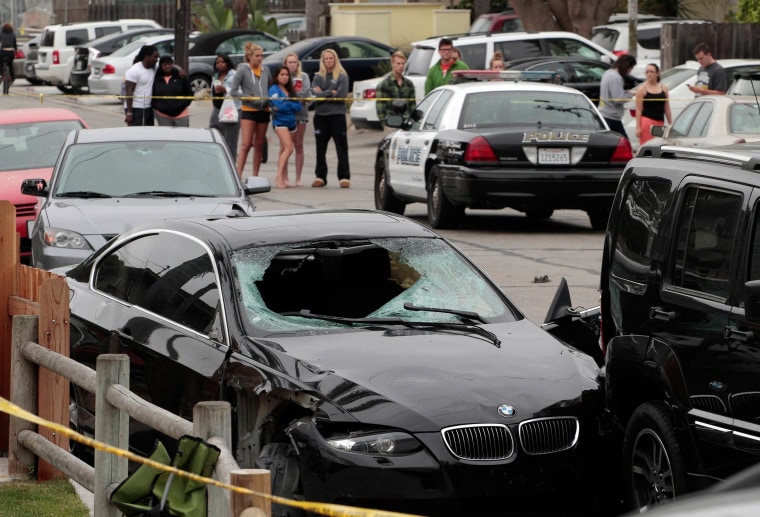 Shifman, the family attorney, said Rodger was being treated by "several" medical professionals for a form of Asperger syndrome, a disorder on the autism spectrum. There is no known link between Asperger's and violent behavior.
"My client's mission in life will be to try to prevent such tragedies from ever happening again," Shifman said Saturday. "This country, this world, needs to address mental illness and the ramifications from not recognizing these illnesses."
Before he and his family moved to the U.S. in 1996, Peter Rodger was an acclaimed film photographer in Britain, the British newspaper The Telegraph reported. His wife — Elliot Rodger's stepmother — is Soumaya Akaaboune, an actress who appeared in "Green Zone" in 2010 with Matt Damon and stars in the French version of the "Real Housewives" television series.
The Hollywood connection eerily recalls a similar rampage in the same town 13 years ago, when David Attias, the son of director Dan Attias — whose credits include "Entourage" and other well-known TV shows — ran down and killed four people with his car near the university after having being spurned by a woman.
A memorial to those four victims sits in a park in the center of Isla Vista.
Sossy Dombourian, Elisha Fieldstadt and Zoya Taylor of NBC News contributed to this report.