An Illinois woman who lived with a man suspected in the quadruple murder of a family of four in a Chicago suburb called him a "very dangerous man."
Cristiana Espinoza, 25, of Streamwood, Illinois, said Wednesday afternoon that her mother had dated Nathaniel Huey Jr., 32, for about eight years. The trio lived together for that long, Espinoza said.
Espinoza's address was listed in a public database as the same address where Huey lived.
On Wednesday, police in Romeoville said a man believed to be Huey, whom they had named as a suspect in the slayings, and a woman were found each with a gunshot wound in a burning vehicle that had fled from authorities in Oklahoma and crashed.
The man was dead and the woman was critically wounded, police said.
Police said the woman found in the vehicle was considered a person of interest before she was reported missing and in danger by her family Tuesday night.
Espinoza declined to identify her mother by name, but said her mother, 50, was in the vehicle found on the interstate in Oklahoma.
"He's a very dangerous man. He's a huge manipulator. A huge manipulator," Espinoza said of Huey.
"When I first met him, he wasn't too bad of a guy. A couple of months ago, something switched. He was shutting all of us out, including my mom, and now this," Espinoza said. "He started becoming suspicious … keeping to himself, staying in the garage. He started not being himself, pushing us all away, even my mom."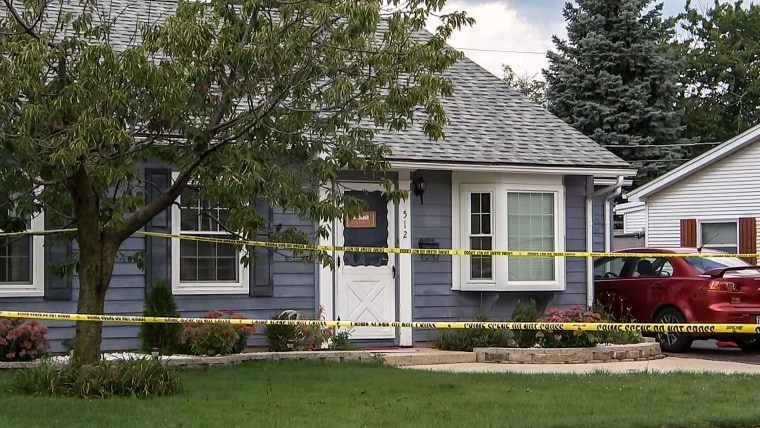 Espinoza's sister, who did not want to be named, said Huey had betrayed their family but she declined to say how. She said Huey was a "very angry man," who was manipulative, and that her mother "was scared of him."
"Huey is someone I thought I could trust," she said. "And the past few months, he distanced himself from us, and it turned out to be that we could not trust him."
Huey used to own a security company, had access to multiple weapons, and last worked at a machinery warehouse, Espinoza said. A public database showed Huey had a business connection to a security company.
Espinoza said she has spoken to investigators about Huey and her mother. She declined to say what agency the investigators were with or when she talked to them.
Romeoville police and Deputy Police Chief Chris Burne did not immediately respond to requests for comment Wednesday night about Espinoza or whether her mother was the woman once described as a "person of interest."
On Wednesday, a car linked to Huey was captured by a license plate reader in Catoosa, Oklahoma. Officers tried to stop the vehicle but it sped away and crashed, police said.
Officers heard what they thought were gunshots and found the man dead in the driver's seat and the woman wounded.
Police have been searching for a suspect in the deaths of the family of four that rattled the suburb about 35 miles southwest of Chicago.
Alberto Rolon, 38; Zoraida Bartolomei, 32; and their two boys, 7 and 9, were found slain in their Romeoville home Sunday night.
Burne said Wednesday that evidence pointed to a connection between the suspect and the victims as well as a possible motive, but declined to elaborate on the motive.