LOS ANGELES — A man suspected in the beating deaths of three people and the attacks on four other people while they were sleeping in Santa Monica and Los Angeles is from El Salvador and was previously deported, officials said Tuesday.
Ramon Escobar, 47, was arrested in Santa Monica on Monday morning after a man was found beaten in that city, and police said they have linked him to seven attacks in all in September in the two cities.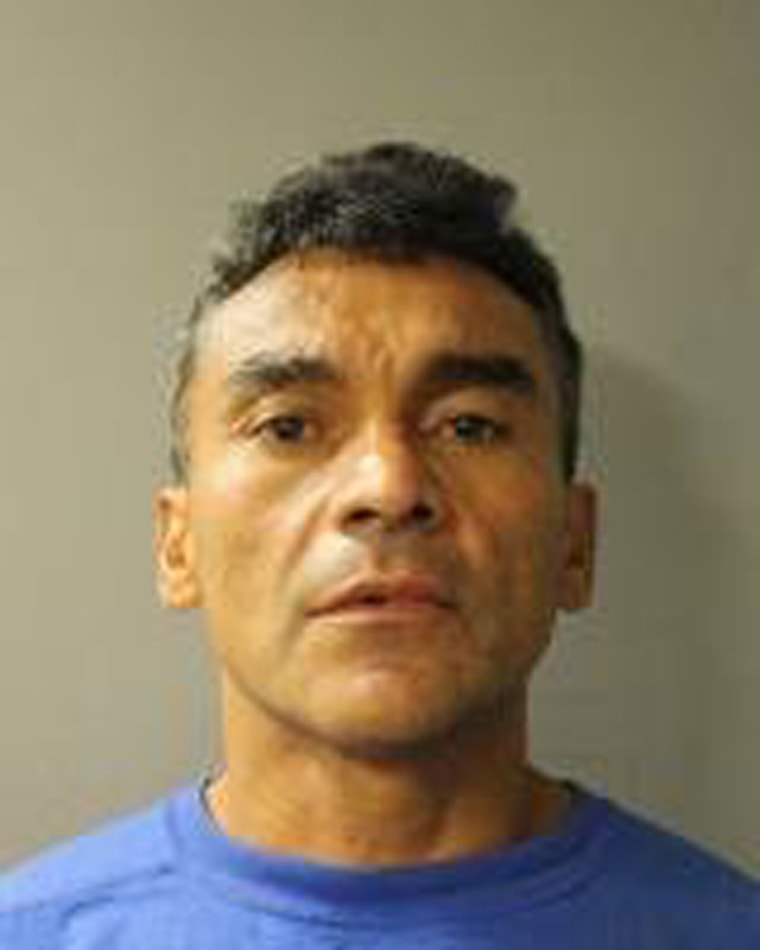 Three of those people, two men beaten in Los Angeles on Sept. 16 and a man found beaten beneath the Santa Monica pier on Sept. 20, died, and two people who survived the attacks remained in a coma on Tuesday, Los Angeles police Capt. William Hayes said.
Robbery is the suspected motive in most of the attacks and it appears as though they were crimes of opportunity, Hayes said.
Escobar "appears to have been homeless himself, and that it looks like he was attempting to gain funds or something from them," Hayes said.
Meanwhile in Texas, Houston Police said that Escobar is a person of interest in the disappearance of two of his relatives who went missing in late August. Hayes said that Escobar lived with those two people, and that after he was interviewed by Houston police on Aug. 30 Escobar is believed to have traveled to Los Angeles and the crimes of which he is accused began shortly after he arrived on Sept. 5.
A wooden baseball bat believed used in the two murders in Los Angeles was found Tuesday in a 2004 Honda CRV used by Escobar, and a pair of bolt cutters believed to have been used in the attack in Santa Monica that occurred at around 7 a.m. Monday was found at the scene of that crime scene, Hayes said.
After Monday's attack in Santa Monica, a public service officer "noticed Ramon Escobar's distinctive gait," which police have described as bow-legged, and recognized his physical features and clothing from Los Angeles police information about the attacks in that city, Hayes said, and officers arrested him.
"He is a violent predator," Hayes said. "He's preying on innocent people — in particular in most of these cases, our victims were asleep and he went up and did it," Hayes added.
Police will present the Los Angeles District Attorney's office with three investigations of murder and four of attempted murder for charging consideration, Hayes said. Escobar is being held without bail and is scheduled to be arraigned on Wednesday.
Hayes said that Escobar served five years in prison, from 1995 to 2000 in Texas for a burglary case, and was arrested in November of 2017 for assault and in February of this year for criminal trespass.
Immigration and Customs Enforcement said that Escobar was ordered removed from the U.S. by an immigration judge in 1988, and he was removed to El Salvador six times between 1997 and 2011.
"After illegally reentering the U.S. following his most-recent removal Alberto-Escobar filed an appeal of his immigration case with the Board of Immigration Appeals in June 2016, which the courts granted in December 2016. ICE released him from custody on an Order of Supervision in January 2017 pursuant to the court's decision," the federal agency said in an email.
The first attack occurred in Santa Monica at around 6:45 a.m. on Sept. 8 when a person sleeping on the beach was assaulted, Santa Monica police Capt. Wendell Shirley said. That person suffered head injuries and has been released from the hospital but has no recollection of the incident.
On Sept. 10, another man in the same area was beaten while sleeping on the beach and remains in a coma, he said.
The person who was killed underneath the pier, identified as Steven Cruze Jr., 39, of the San Gabriel Valley, was found beaten on Sept. 20, and the man beaten on Monday was found near an intersection a few blocks up from the beach is also in a coma, Shirley said.
"We believe that the suspect in custody today is responsible for all four of those incidents," Shirley said. "The people that live, work and visit Santa Monica and Los Angeles are safer today because this suspect is in custody," he said.
Those who died in the Sept. 16 attacks in Los Angeles were identified as Kelvin Williams, 59, and Branden Ridout, 24, both of whom were attacked in the city's downtown, an LAPD spokesman said. Another man who was severely beaten was identified as Tievon Harmon, 23, and he is in critical condition.
Authorities at first described Cruze as homeless but family and friends said he was a father of two, who loved to fish at the pier, worked on boats in neighboring Marina Del Rey, and sometimes camped out under the pier to avoid the long commute home.
CORRECTION (Sept. 26, 3:55 p.m. ET):An earlier version of this article misstated the first name of one victim and the age of another. He is Branden Ridout, not Brandon, and Tievon Harmon is 23, not 24, an LAPD spokesman said.