The suspect in the brutal slaying of two engaged doctors at their penthouse apartment in Boston did not fire on police officers, the prosecutor said Monday, acknowledging that the claim authorities made after he was arrested last week was wrong.
The suspect, Bampumim Teixeira, 30, also had "no personal relationship" with the victims, Suffolk County District Attorney Daniel Conway said Monday afternoon, addressing a source of significant speculation over the weekend.
Teixeira is charged in the deaths of Drs. Lina Bolaños, 38, and Richard Field, 49, whose bodies were found at a luxury condominium in South Boston on Friday night — with their throats slit — by police responding to a call of an intruder, officials said.
Teixeira was arraigned on murder charges Monday afternoon from his bed in a Boston hospital, where he was being treated for non-life-threatening gunshot wounds to his left hand, his abdomen and a leg, authorities said.
Two not-guilty pleas were entered on his behalf, and Teixeira was ordered held without bond pending a probable cause hearing on June 8.
The district attorney acknowledged that authorities had said Friday night that Teixeira fired a weapon at responding officers, but he said Monday that those reports were wrong. Conway said the officers believed at the time that the suspect pointed or fired a weapon and that "as a result they discharged their own firearms."
Conway said a replica gun and at least one knife were found at the scene. Law enforcement officials told NBC News that the replica was modeled after a .357-caliber handgun.
"No conclusions" have been reached on whether the officers' use of force was justified, Conway said.
A police spokeswoman told NBC News on Sunday that the killings "did not appear random," but Conway said Monday that investigators now believe that Teixeira had no personal relationship with the victims.
"Murder defies rational explanation," he said of any possible motive.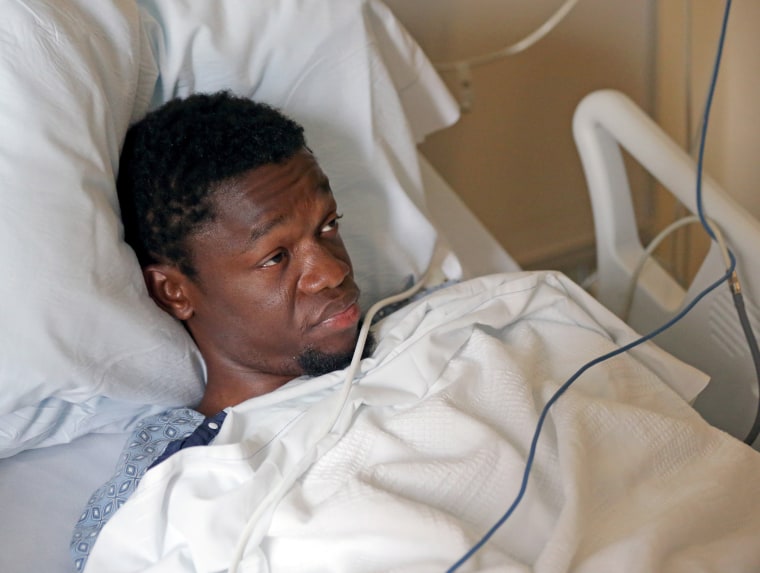 A senior law enforcement official with knowledge of the investigation told NBC News that the doctors were bound and killed when Teixeira allegedly slit their throats on Friday evening. The official said the killer wrote a message of retribution on one of the walls of Field's and Bolaños' apartment.
The official said one of the keys to the investigation is how the killer was able to get into the building given its security systems, which included a key system to get into the building and access the elevator.
"Right now, that's the $64,000 question" the official said.
Conway told reporters that officers responded at about 8:30 p.m. Friday after a friend of the two doctors frantically called police after receiving a text message from Field describing an intruder in their 11th-floor.
Suffolk County Assistant District Attorney John Pappas said at Teixeira's arraignment that the officers then encountered the bodies of Bolaños and Field, who were bound and had sustained "obvious trauma."
He added that "just inside the apartment door" and "in a remarkably conspicuous area," someone had left a backpack "filled with jewelry" that presumably belonged to Bolaños.
The judge agreed to seal some documents for 90 days, and Conway and Pappas wouldn't detail how the two doctors were killed. But court documents that were made public alleged that Teixeira "assault[ed] and beat" the doctors with intent to kill them and that "by such assault and beating" did take their lives.
Related: Engaged Doctors Found Brutally Slain in Boston Penthouse Apartment
Teixeira had served about nine months of about a one-year sentence for larceny when he was recently released, said Jake Wark, a spokesman for the district attorney's office. He was imprisoned after pleading guilty to two counts of larceny for demanding money from the same bank, once in 2016 and once in 2014, Wark said.
Peter Van Delft, a spokesman for the Suffolk County Sheriff's Department, told NBC News on Monday that Teixeira was in jail from July 14 to Sept. 30, 2016. He was immediately sent to the county House of Corrections, where he served until April 4.
Bolaños and Field, who were engaged, were both anesthesiologists.
The chief medical officer at Massachusetts Eye and Ear Infirmary, where Bolaños worked, said everyone there "really loved her."
"Lina personified the ideal traits of a pediatric anesthesiologist, combining excellent skill with great compassion," Sunil Eappen, who is also chief of anesthesia at Massachusetts Eye and Ear, said Sunday afternoon. "She was warm and caring with both parents and the children she treated, creating a sense of calm even while managing the most stressful of cases."
"It is desperately hard for all of us to fathom that our friend who never failed to brighten our days is no longer with us," he said.
North Shore Pain Management, where Field worked as a doctor, released a statement saying he was known for his "tireless devotion."
"Dr. Field was a guiding vision at North Shore Pain Management and was instrumental in the creation of this practice, in 2010," the company said in the statement, later adding that he "was noted for his tireless devotion to his patients, staff and colleagues."