The North Carolina man accused of shooting a 6-year-old girl and her father after a basketball rolled into his yard was out on bond in a December case involving him allegedly attacking a woman with a mini-sledgehammer.
Robert Louis Singletary, 24, appeared in a Florida court on Friday, where he was arrested after fleeing North Carolina. He waived extradition and is being held without bond on a fugitive warrant.
It's not clear if he has obtained an attorney.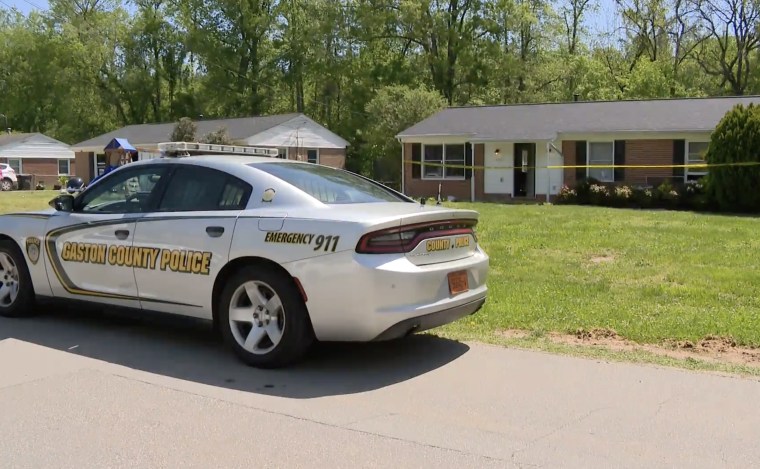 Records out of North Carolina show that Singletary was booked into a Gaston County jail on Dec. 2 and charged with first-degree kidnapping, communicating threats and assault with a deadly weapon with intent to inflict serious injury.
Gastonia police said he allegedly assaulted his girlfriend with a mini-sledgehammer, kept her inside his apartment and refused to let her leave for over two hours.
Officers were alerted to the incident when the girlfriend called 911 from a local hospital, a police news release states.
The victim told detectives that she had been at Singletary's apartment and that he hit her in the back of the head with the sledgehammer. She said she immediately felt dizzy and disoriented and was bleeding profusely, according to authorities.
Singletary kept the woman in his apartment and told her that she could not leave "until she had cleaned up all the evidence from the assault," the news release says. She complied and then drove to the hospital after he let her leave, it says.
Singletary was held on a $250,000 bond but released on Dec. 15, four months before Tuesday's shooting. The Gaston County District Attorney's Office did not immediately return a request for comment.
The case is still pending. A court appearance is scheduled for May, a Gaston County court clerk said.
Neighbors said children were playing outside shortly before 8 p.m. Tuesday when a basketball rolled into Singletary's yard. Hailey Martin, 17, said in a phone call that Singletary had been staying at the home for less than a month and would complain about toys and balls being on his property.
The teenager, who was outside when shots rang out, said she believes the shooting was sparked by a ball bouncing into his yard.
"It's sad to see little kids scatter, running for their lives," Martin said.
"This neighborhood has always been peaceful, quiet," she added. "There's always kids running around. We don't care if the balls get in the yards, because either the kids or the parents will come bring the toys back."
Police have not said what motivated the shooting, citing an ongoing investigation. Singletary's mother and grandmother said they believe the shooting stemmed from a dispute he had with a neighbor after he told a little boy not to play in his yard.
The boy told his father and the father went over to Singletary's house and threatened to "shoot this house up," Singletary's mother, April Betsey, said in a phone call, recalling details she said she received from her son's roommate.
"Robert had been shot when he was 15 years old. Robert suffers from PTSD from that. Robert said the last person that said he was going to shoot him, came back and shot him," she said. "After the guy said that he would come back and shoot up the house ... Robert did what he did."
Brita Betsey, Singletary's grandmother, said the family has tried unsuccessfully for years to get him help for his PTSD.
The 6-year-old girl had a bullet fragment in her cheek and was released from the hospital, her mother, Ashley Hilderbrand, told NBC affiliate WCNC of Charlotte. Hilderbrand was grazed by a bullet, while her husband was hospitalized. He has since been released.
April Betsey said the family is heartbroken over what happened.
"I understand what the mother of the little girl is going through," she said. "We're so sorry about the way this happened and that baby got hurt."
Brita Betsey added: "I hate that that baby got hurt. ... I hate that it happened."
Singletary faces charges of attempted first-degree murder, assault with a deadly weapon and possession of a firearm.