A standoff between authorities and an armed woman barricaded in her SUV on a major Virginia thoroughfare ended after a 30-plus hour standoff, authorities said Thursday.
The woman, Brittany Copelin, 29, was "safely" taken into custody and faces nearly a dozen charges in two states, including kidnapping, home invasion, first-degree assault, two counts of abduction and other crimes, according to police in the city of Laurel, Maryland, and in Fairfax County, Virginia.
"There were crimes committed, but this was ultimately a person in a mental health crisis," Fairfax County Police Chief Kevin Davis told reporters Thursday.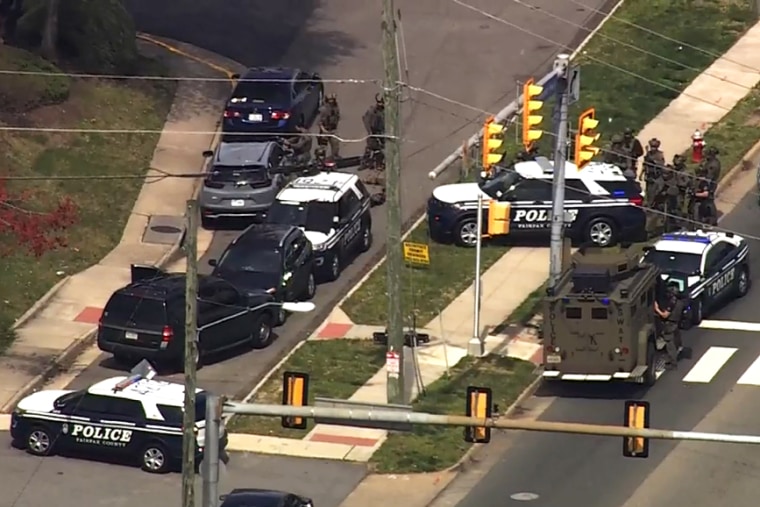 The standoff on Virginia's Richmond Highway, just south of Washington, D.C., began with an alleged abduction that prompted authorities to pursue the SUV, a police spokesperson said in an email.
On its social media feed, the police department provided nearly hourly reports on the situation, warning people to stay away from the area as a team of crisis negotiators tried to resolve it peacefully.
The spokesperson said the incident began at roughly 11 a.m. Tuesday after another law enforcement agency asked officers to perform a welfare check for a woman who was considered a critical missing person.
Outside a motel, officers found a woman who said she had been abducted by another woman who had just fled, the spokesperson said.
"So we began searching the area, and that's when one of our officers found the vehicle, and it led to a pursuit and ended here," Lt. James Curry told reporters at the scene.
At some point during her encounter with authorities, the woman in the SUV displayed a gun, the spokesperson said.
The spokesperson said authorities remained in "regular communication" with the woman, still armed in her SUV.
The crisis team talking with her was made up of a mental health clinician and many police negotiators, the spokesperson said.
NBC Washington reported that authorities used sirens and a megaphone Wednesday morning and ordered the woman out of her vehicle.
A man who identified himself as her uncle told the station that authorities asked him to record audio messages for his niece.