After a 48-day manhunt, suspected cop killer Eric Frein was captured Thursday in Pennsylvania and carted away in handcuffs used by a state trooper he is alleged to have killed. Prosecutors said they would seek the death penalty.
Col. Frank Noonan, commissioner of the Pennsylvania State Police, said Frein was captured without incident about 6 p.m. ET at the abandoned Birchwood Pocono Airpark in Tannersville, in the Poconos resort region. A rifle and a pistol were found inside a hangar, officials said.
Frein, 31, was taken by surprise and was in "surprisingly good condition" after so many weeks in the wild, Noonan said. He admitted his identity.
"He has been stripped of his guns, his bombs, and now his freedom," Sam Rabadi, chief of the Philadelphia office of the Bureau of Alcohol, Tobacco, Firearms and Explosives, said at a late-night news conference.
Frein is accused of killing State Police Cpl. Bryon Dickson and wounding Trooper Alex Douglass in an ambush on the Blooming Grove barracks on Sept. 12. Police found a diary entry, his AK-47, two homemade pipe bombs and several campsites, they but hadn't been able to capture him until Thursday.
A police caravan drove Frein on Thursday night to the State Police barracks at Blooming Grove, the alleged scene of the crime, where he was awaiting arraignment on a slew of charges, including first-degree murder, homicide of a law enforcement officer, attempted murder and possession of weapons of mass destruction. Noonan said there was no indication that Frein had an accomplice or help during his time on the run.
"He was handcuffed with the handcuffs of Corporal Dickson, which I think was very appropriate," Gov. Tom Corbett said at a late-night news conference. "Let me assure you from everyone here: Justice will be served."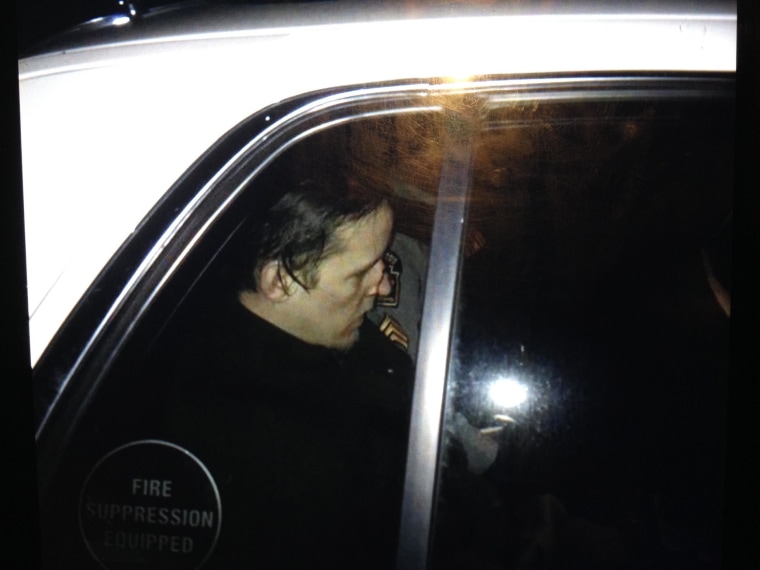 Noonan said the manhunt took so long because "it was such a big wooded area that he was familiar with, and he had so many places to hide in." Search teams had to be very methodical because "Eric Frein had a mission, and that was to attack law enforcement." There was concern that had Frein made it out of the woods, "he'd go after other law enforcement and possibly civilians," Noonan said.
The Associated Press reported that Frein left the barracks in handcuffs around 1:30 a.m. ET Friday and was taken to the Pike County Correctional Facility. His nose looked swollen and he appeared slightly bloodied above one eye. Frein's initial court appearance was scheduled for 9 a.m. Friday at the Pike County Courthouse.
In his diary, Frein — a military reenactment buff and survivalist — described how he fled in his Jeep but got only a half-mile before he encountered a roadblock.
"Got a shot around 11 p.m. and took it," he wrote in an entry dated Sept. 12. "He dropped. I was surprised at how quick. I took a follow-up shot on his head, neck area. He was still and quiet after that.
"Another cop approached the one I just shot," Frein continued. "As he went to kneel, I took a shot at him and jumped in the door. His legs were visible and still."
At one campsite uncovered by search teams on the border of Pike and Monroe counties early this month, authorities found military-style packs, food, clothing, the two pipe bombs and ammunition that matched the weapon used to shoot the two troopers. Many of the items police found during the manhunt — including soiled diapers and trash — tested positive for Frein's DNA, they said.
As many as 1,000 local, state and federal law enforcement officers eventually joined the search.
"I can't think of a more dangerous occupation then going into the woods to capture this individual," Noonan said. "And yet, my biggest problem was telling people I didn't need any more help."
In addition to the trooper shootings, Frein is charged with two counts of manufacturing weapons of mass destruction after the pipe bombs were found. The shrapnel-packed pipe bombs were booby-trapped with trip wires and could have caused serious injury to anyone nearby, authorities said.
IN-DEPTH
SOCIAL
The Associated Press and NBC News' Michael Kosnar and Jonathan Dienst contributed to this report.