The driver whose truck crashed into another vehicle before plowing into a Mardi Gras parade crowd, injuring 28 people, registered almost three times the legal limit on a blood alcohol test, New Orleans police said Sunday.
Neilson Rizzuto, 25, of Paradis, was held on $125,000 bond Sunday on two counts of first-degree negligent vehicular injuring, one count of hit-and-run driving causing serious injury and one count of reckless operation of a vehicle after the incident Saturday night during the annual festival's Endymion parade. The negligent vehicular injuring counts carry maximum sentences of five years in jail.
Neilson struck other vehicles, veered and ran through the crowd before crashing into a dump truck, said New Orleans Police Superintendent Michael Harrison, who described a "horrific scene."
Thirty-two people in all were struck, police said. Twenty-one were treated at hospitals, and seven others were treated at the scene, said Jeff Elder, director of the New Orleans Emergency Medical Services agency.
"How no one was killed was a miracle," said Gino Ascani, a New Orleans firefighter who was at the scene.
"When he sped up people were just bouncing off the hood of his car like bowling pins," Ascani told NBC News. "And they were scattered everywhere. There were dozens."
Police said Neilson was tested at the scene at registered a blood alcohol level of 0.232 percent — just barely below three times the legal limit.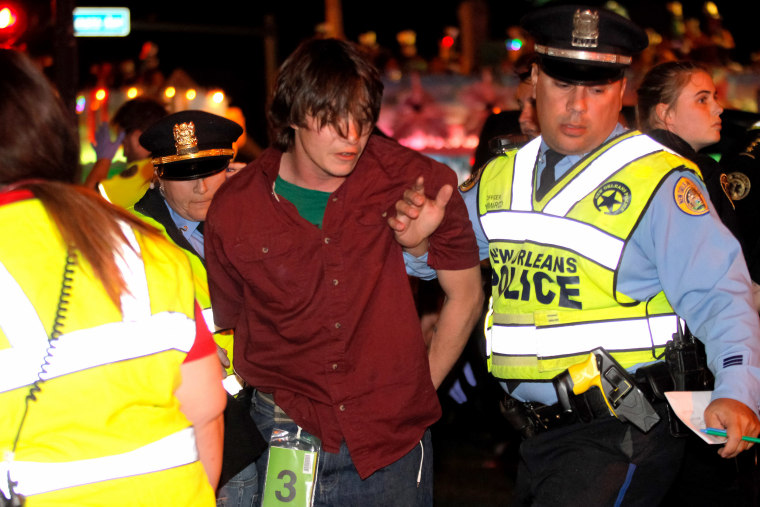 "It appears that it's a subject who was highly intoxicated who struck a number of vehicles and then veered off, hitting a whole bunch of innocent people," Harrison said.
New Orleans Mayor Mitch Landrieu said the crash was the second instance of people being hurt in poor decisions around parades Saturday. Earlier, a man was struck by a bullet that was fired through a portable toilet near the parade, NBC affiliate WDSU reported.
"We've had individuals who have made really bad decisions today that have really caused serious damage and consequences to a lot of citizens," Landrieu said.