A tornado tore through a Wal-Mart and a neighboring sports outlet in Troy, Alabama, flipping trucks and tractor-trailers in the parking lot and injuring at least six people late Thursday.
The National Weather Service in Birmingham confirmed Friday morning that a tornado had touched down and winds reached up to 100 mph.
"What seemed to be a tornado-like storm damaged the Wal-Mart in Troy structurally," Mayor Jason Reeves told NBC News overnight Thursday. "It flipped multiple trucks and tractor trailers in the parking lot, and damaged a strip-mall structure near the Wal-Mart. There is also water damage in the area from damage to a water main."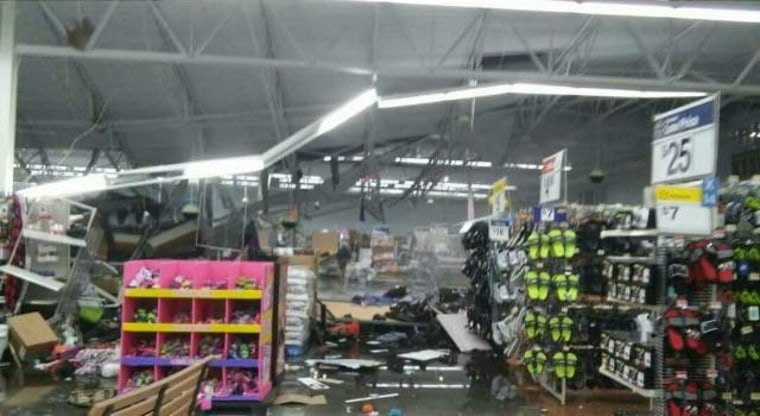 Two of those injured were inside the store when the storm struck while a third was in a truck that was overturned, he said. A total of three people were taken to a local hospital, Reeves added.
Walmart employee Sarah Brookins told the Troy Messenger that said the storm had caught everyone by surprise.
"We heard a loud noise," she said. "All of a sudden the wind was blowing in the store. We saw dust blowing through the door."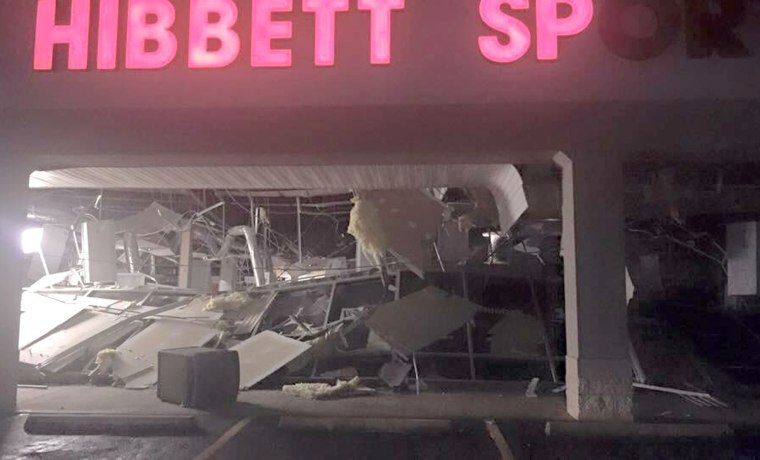 The storm first hit in the the home and pharmacy departments of Wal-Mart and moved to the other end of the structure, Brookins added.
At 10:32 p.m. (11:32 p.m. ET), the National Weather Service warned of possible flash flooding and "frequent cloud to ground lightning" accompanying the storm.
"Do not drive your vehicle through flooded roadways," the Weather Service instructed. "Seek a safe shelter inside a building or vehicle."