Nevada sheriff's deputies arrested two people following a long, middle-of-the-night pursuit through the desolate California desert, authorities said Monday.
A fleeing car opened fire on California Highway Patrol and Inyo County Sheriff's patrol cars during this extended chase that ended in Nevada, Nye County Sheriff's Capt. David Boruchowitz said.
The California portion of the chase was traced to 9:15 p.m. on Sunday with reports of "multiple shots fired" near the tiny desert community of Tecopa, according to Inyo County Sheriff's spokeswoman Carma Roper.
"The pursuit started in Inyo County, near the Tecopa area, and ended in Nye County," Nevada, Roper said.
The suspects raced south to Baker, a popular rest stop for Los Angeles-Las Vegas motorists on Interstate 15, authorities said.
But instead of veering on to well-traveled I-15, the suspects apparently went back from where they came, going north along the edge of Death Valley National Park and crossing into Nevada on State Route 372, authorities said.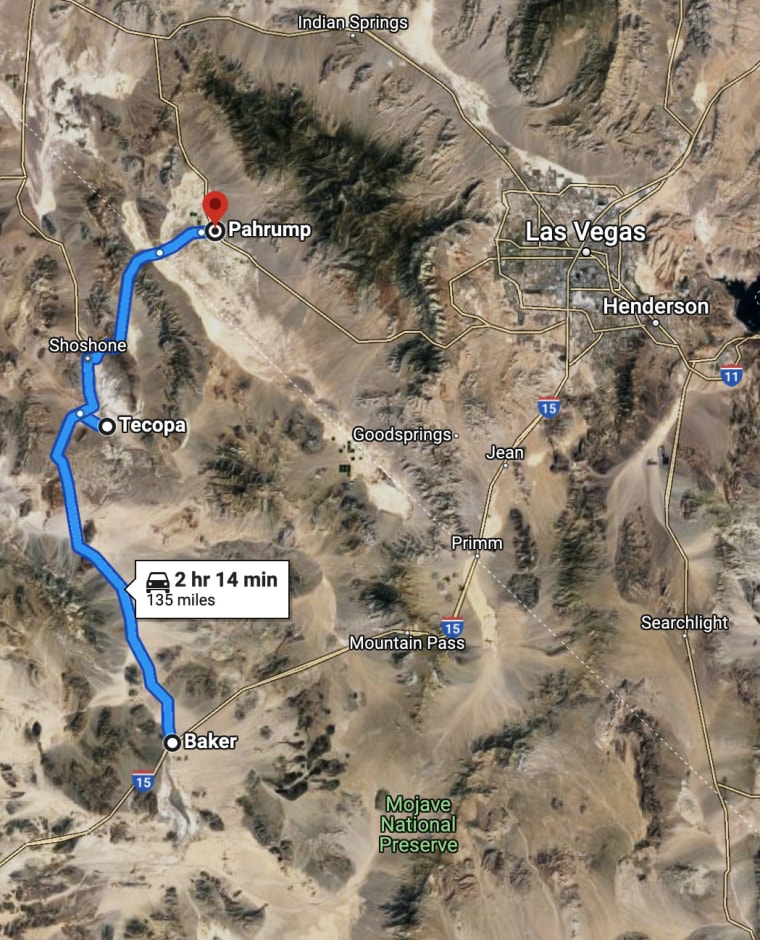 "I'm not exactly sure of the pattern," Boruchowitz said. "I know there was pursuit in Inyo County that went to Baker and then he turned around and was pursued back."
Boruchowitz estimated the suspects drove close to 150 miles before they were stopped at a roadblock just inside of the Nevada line in Pahrump at about 1 a.m. and surrendered at 2 a.m.
No one was wounded in the shooting and the suspects, a man and woman, were not immediately identified. The woman was in the driver's seat when they surrendered but earlier police reports indicated the man was behind the wheel, officials said.
Multiple police agencies were still sharing notes on Monday to recreate the lengthy chase.
"We're still piecing this all together," Boruchowitz said. "We're three different agencies and it's a matter who knows what and where."