Two men charged in the fatal shooting of a Las Vegas mother of four have pleaded guilty to killing her in what initially appeared to be a random road rage incident.
Tammy Meyers, 44, was shot in the head in front of her home on Feb. 12, 2015. She died two days later.
The escalating violence began when Meyers and her 15-year-old daughter encountered a driver of a silver car earlier that day. Angered by the driver, Meyers and her armed son went looking for him, found a similar-looking car, and followed it, prosecutors said.
The people in that car — Erich Nowsch, 20, and Derrick Andrews, 27 — then exchanged gunfire with Meyers' son out on the road and again in front of their home, police said.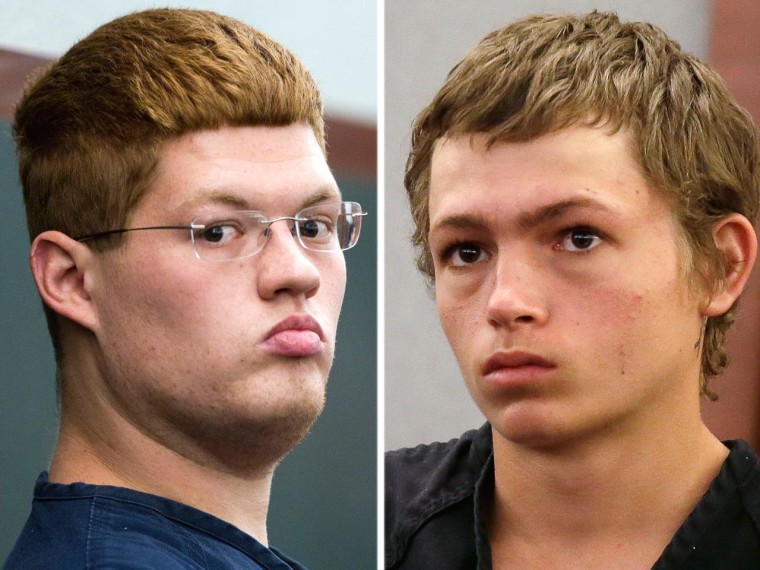 On Friday, Nowsch pleaded guilty to second-degree murder with a deadly weapon, attempted murder with a deadly weapon and discharging a firearm from a vehicle, while Andrews, who is accused of driving the getaway car, pleaded guilty to one count of voluntary manslaughter and one count of accessory to commit murder.
Both had previously pleaded not guilty.
According to a criminal complaint, Nowsch allegedly told friends he believed someone was after him, saying after the killing he "got those kids, they were after me, and I got them."
Related: Prosecutor Won't Seek Death in Killing of Las Vegas Mom Tammy Meyers
Nowsch faces 10 years to life in the plea deal and Andrews faces up to 15 years in prison, reported NBC affiliate KSNV. Sentencing is scheduled for April 21.
Robert Meyers, Tammy Meyers' husband, told KSNV that he hopes both men will get the maximum penalty.
"I don't think it'll ever be over, we're going to miss a great woman, a great wife, a great mother, a great person," Robert Meyers said. "That won't be over for us, but the part of this will be, we will be able to start the healing process."