A suburban Philadelphia college has suspended all fraternity activity on its campus amid outrage over leaked documents that contain derogatory comments about women, minorities and the LGBTQ community, and jokes about sexual assault allegedly written by former members of one of its fraternities.
Swarthmore College President Valerie Smith, in a letter addressed to students over the weekend, said the private liberal arts school in Swarthmore, Pennsylvania, had received "unredacted materials" allegedly belonging to Phi Psi fraternity that surfaced earlier this month.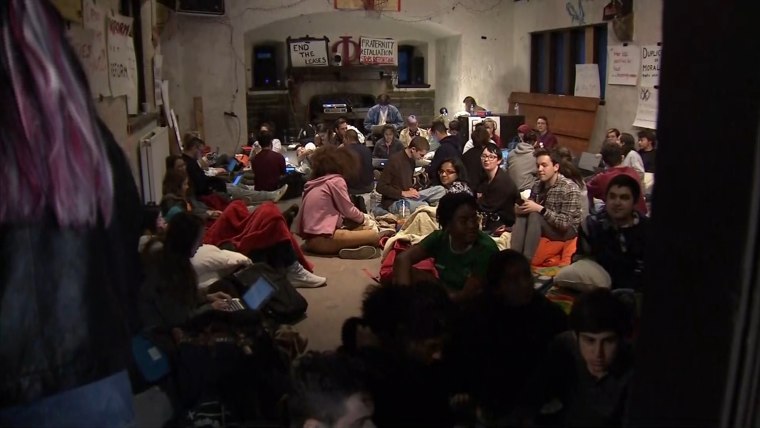 "We have consulted with an external investigator," Smith said. "In consultation with the investigator, I have decided to suspend fraternity activities pending the outcome of an investigation."
The controversy erupted earlier this month, when two campus publications — Voices and the Phoenix — released the redacted internal letters allegedly written between 2012 and 2016 by then–Phi Psi fraternity members. The publications say the documents were anonymously leaked.
The documents labeled as "minutes" are allegedly "secondhand recaps of Phi Psi members' activities," the Phoenix reported.
The Phi Kappa Psi fraternity headquarters said that the Swarthmore College Phi Psi fraternity has no affiliation with their organization but that it is "shocked by their actions."
"In contrast, the membership of Phi Kappa Psi is diverse, and our policies have never restricted ethnicity, religion, sexual orientation or physical ability," Phi Kappa Psi said in a statement.
The articles sparked protests from students who demanded the school shut down Phi Psi and its only other fraternity, Delta Upsilon, and that the buildings they lease be put to other uses.
Over the weekend, students staged a sit-in inside and outside the Phi Psi house that continued into Monday.
Swarthmore freshman, Amal Haddad, 18, is among the roughly 70 student protesters who were at the Phi Psi house Monday.
"We have no plans to leave at this time until the college meets our demands," Haddad told NBC News in a phone interview from inside the college-owned building.
Swarthmore is rated among the most selective colleges in the country with an acceptance rate of 11 percent. Tuition for the 2018-2019 school year costs upward of $52,000, not including room and board.