Iman Sukkar's memories of life in Aleppo, Syria, haunt her, a fact she didn't fully grasp until she escaped to Cairo, Egypt, this past June.
"I was about to think that life is normal to live in dark rooms and to hear bombing," she said of the three years she endured the war.
But Sukkar's ultimate frustration is perhaps surprising.
"I missed my job so much," said Sukkar, a former teacher and translator now living in Cairo.
Those on the front lines of the Syrian refugee crisis say finding work in new places will be a pivotal step forward for people who have uprooted their entire lives to escape a war that seems to have no end.
Three graduates of Columbia's School of International and Public Affairs — Aline Sara, Anthony Guerbidjian and Reza Rahnema — are trying to make that job hunt less daunting through a startup they call NaTakallam.
It's a language platform that connects Syrian refugees to students of Arabic.
In Beirut, Lebanon, they've partnered with SAWA, a nonprofit aid organization that distributes payment to the Syrian-language partners they work with in Lebanon.
"There's an amazing power to connecting people in these countries with students in the West — there's a cultural exchange that goes beyond the language component," NaTakallam founder Aline Sara told NBC News.
Sara, who has a human rights background, recognized that arrival is just a step in an arduous journey. Refugees who manage to make it to a new country struggle to find work amid legal and cultural complications.
Working as language-conversation partners not only helps supplement the refugees' incomes, but it also provides meaningful friendships.
Related: From Fear to Freedom: Syrian Brothers Share Journey to America
Ghaith, a Syrian journalist and student living in Beirut, struggled after narrowly escaping recruitment into Syria's military. Unknown and unestablished, Ghaith couldn't find a newspaper to publish his articles.
"NaTakallam helps me to get a salary and to make friendships," said Ghaith, who asked that only his first name be used out of concerns for his family's safety. "I am alone here. My family and friends are in Syria."
Ghaith said his students have even helped to improve his English.
Just last week, Ghaith and his student Jenan Matari, 24, translated a list of verbs from Arabic to English. Matari snapped a picture of the computer and the verb list.
It took a while, but Ghaith finally smiled for the photo. NaTakallam is helping Matari realize a lifelong goal — conversing with her family in Arabic. She plans to document every moment.
This conversation partnership effort stems from a similar personal endeavor: that of its founder.
Sara is of Lebanese descent but grew up in the United States. She's wanted to improve her Arabic but was looking to learn the colloquial version of the language instead of the formal dialect taught in school.
"I knew that in the U.S. there was this lack of opportunities to practice spoken Arabic," she said. Sara wanted a conversation partner and understood that "this would be a way to give [Syrian refugees] a small income in exchange."
She introduced the idea to fellow student Anthony Guerbidjian at their adviser's apartment in January. Guerbidjian remembers reading reports about the extreme cold and lack of infrastructure awaiting refugees in Lebanon.
"That instigated anger about us as Lebanese citizens refusing to help Syrians," he said.
Guerbidjian encouraged Sara to pursue the idea.
In July, after reaching the semifinals in a World Bank competition for female entrepreneurs, NaTakallam launched a pilot study of 10 students in Beirut.
"We soon realized that international demand was stronger than the Lebanese demand," Guerbidjian remembers. "We changed our model to online sessions."
From there, registration soared.
"We went from having 50 shares on Facebook to having 5,000 shares a few days after. Things just went naturally viral," Sara said. "The photo of Aylan was published ... and there was a global awakening to the crisis."
Related: One Family's Journey From Syria to Germany
Social media is how many of their clients learned about the online platform.
"A friend of mine on Facebook actually sent me a link — he told me it was a really cool thing that I should check out and help spread the word, so I signed up a week later," Matari told NBC News. She now knows the founders personally and is an active voice online. "I constantly post about it," Matari said, laughing.
But the impact goes further.
"We didn't realize that we wouldn't just be helping refugees financially, but also emotionally and psychologically," Guerbidjian said. "We get people who have lost everything. Some have suffered physical harm. ... Many of our conversation partners fit in that category."
Sara points out that many want a job that fits their educational background.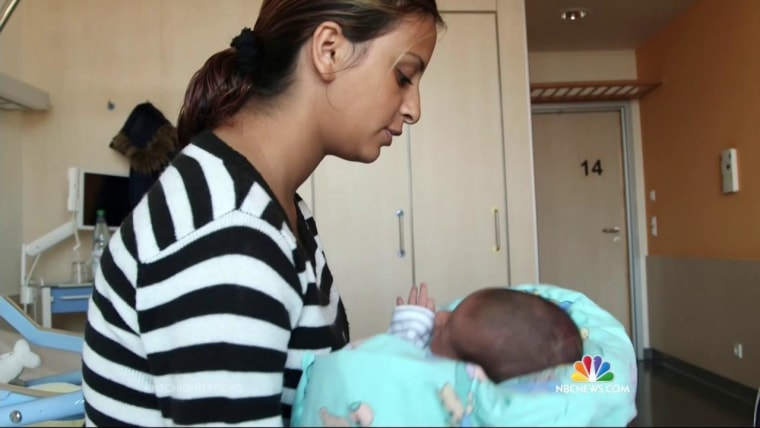 "We're usually working with Syrians from the middle class, who are lawyers, architects, high school teachers, others who were in school. ... The world is forgetting that refugees are from a variety of classes and backgrounds, and the Syrians are a qualified people. They have a lot to offer, and we can learn a lot from them."
She's willing to work to make that happen, but the process has not always been easy. Working across a dispersed set of time zones, NaTakallam has had to deal with the obstacles of electricity shortages and legal work permits.
Related: With Winter Looming, Migrants Continue Risky Crossings to Greece
Now, as they expand to other countries, they face complicated policies and often don't have the infrastructure or experience to fully overcome the problems.
Many universities have reached out with the intention of incorporating the conversation platform into their language curriculums. Guerbidjian hopes they will improve to accommodate this.
In the meantime, their success as a humanitarian effort is undeniable, and Ghaith said he's thankful.
"It's a great feeling to see people like them helping and seeing your condition — today nobody's helping in Syria," he said.
Sara attributes the success to their innovative design.
"We are not an aid organization. We're not giving aid to Syrians. We're giving them an opportunity to work and offer a service and be rewarded for it," Sara said. "I think that that's a more viable type of aid."