A convicted school shooter who sparked a massive manhunt when he escaped from an Ohio prison Thursday has been caught, officials said.
Thomas "T.J." Lane, 19, was apprehended and returned to the Allen Correctional Facility in Lima, Ohio, according to Joellen Smith, a spokesperson for the Ohio Department of Rehabilitation and Correction.
Lane, who is serving three life sentences for killing three students at Chardon High School in 2012, escaped along with another inmate from Allen Correctional Institution in Lima, Ohio, at around 7:30 p.m. A dispatcher at the Ohio State Highway Patrol Lane said Lane was taken into custody at about 1:20 a.m. Friday in the area of the prison.
Lane's escape prompted the school district which runs the high school where he shot dead the three students to cancel classes Friday and offer counselors to rattled students. Lane opened fire on a cafeteria table full of students at Chardon High School on Feb. 27, 2012, killing three students — Demetrius Hewlin, 16; Russell King Jr., 17; and Daniel Parmertor, 16 — and wounding three more, one of whom was reportedly paralyzed.
"Our thoughts and prayers today go out to the families of Demetrius, Russell and Danny and all others affected by the tragedy as well as by the troubling events from Thursday evening," Chardon Local Schools Superintendent Michael P. Hanlon, Jr. said in a statement to parents.
Lane is serving three life sentences for the shootings. On the day he was sentenced, Lane wore a white T-shirt with the word "KILLER" scrawled on the front and shouted obscenities at the court.
The other inmate who escaped with Lane, Clifford Opperud, 45, is still on the loose, police said. Opperud was serving a 12-year sentence for aggravated robbery, burglary and kidnapping, according to prison records.
Three law enforcement agencies and a helicopter equipped with infrared detection equipment fanned out over the area around the prison looking for the escaped inmates, Ohio Department of Public Safety Director John Born said in a statement. A third inmate also escaped, but was caught shortly after breaking out of the prison, Lima police said.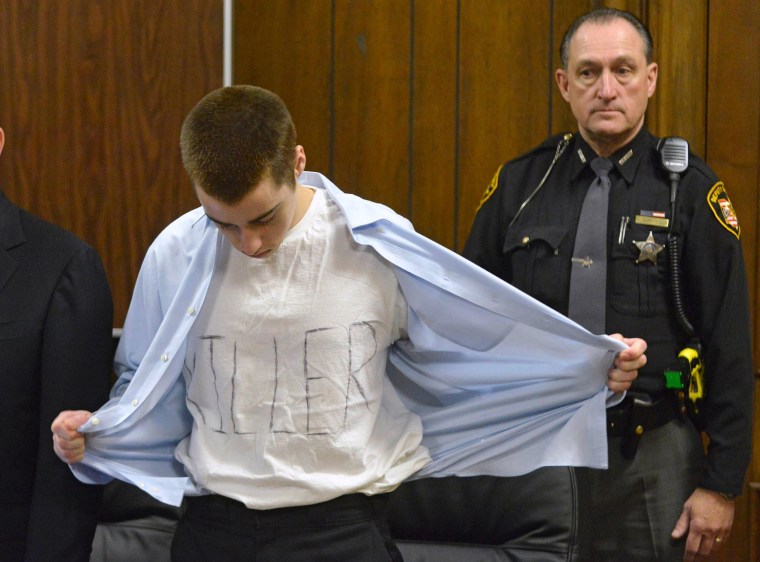 IN-DEPTH
SOCIAL
— Phil Helsel