Upset over a series of experts' reports commissioned by Cleveland prosecutors that conclude the police shooting of 12-year-old Tamir Rice was justified, attorneys for the boy's family released reports from its own experts that say deadly force shouldn't have been used.
"We think it is important that the grand jury be given the opportunity to consider the testimony and findings of true experts to explain why this killing was unjustified," attorneys for the Rice family say in a letter to Cuyahoga County Prosecutor Timothy McGinty dated Friday.
The attorneys want their experts to testify before a grand jury deciding whether to bring charges against the officer who shot Tamir. They called the reports that found the shooting justified "utterly biased and deeply flawed" and object to the use of experts' reports in the grand jury proceedings.
Tamir was shot by Cleveland police officer Timothy Loehmann after he and another officer responded to a report of a man with a gun outside a recreation center on Nov. 22, 2014.
Related: Tamir Rice Shooting Was 'Reasonable,' Police Consultant Concludes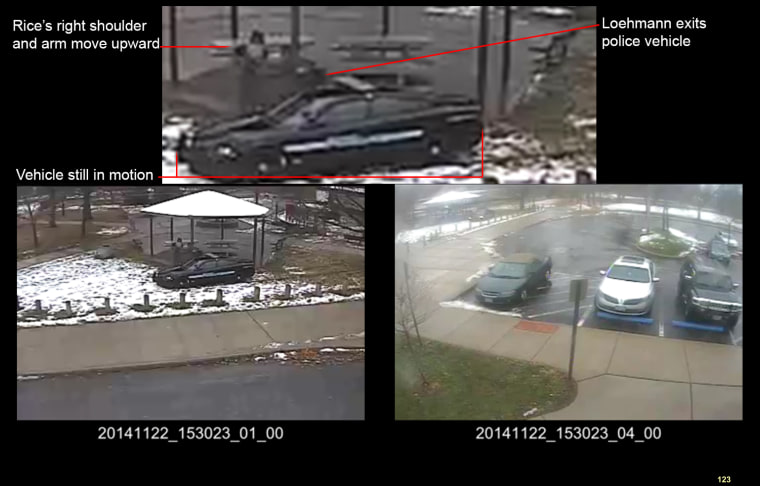 Loehmann shot Tamir within two seconds after arriving, surveillance video shows. Police have said Tamir was reaching for his waistband before he was shot. It turned out Tamir had an airsoft-type gun that resembled a real firearm, police said.
The Rice attorneys released reports from two former Southern California law enforcement officials and consultants who concluded the shooting was not justified.
Roger Clark, a consultant formerly with the Los Angeles County Sheriff's Department, said the speed with which the video shows Loehmann firing indicates neither he nor the officer he was with, Frank Garmback, tried to deescalate the situation.
"There was no time in those 1.7 seconds for officers Loehmann or Garmback to have issued any intelligible commands to Tamir, much less for Tamir to respond to any commands," Clark said.
Related: One Year After Tamir Rice's Death, Case Drags On
Former Irvine, California, deputy police chief Jeffrey Noble said in his report that the officers made a reckless tactical decision by driving up to what they believed was an armed suspect — normally officers would stop at a distance and use their car as cover to call out commands, he said.
"The officers' grossly reckless tactics placed Officer Loehmann in a position where he was within a few feet of Tamir," Noble wrote. "Any claim by Officer Loehmann that he had to make a split-second decision was a result of his and Officer Garmback['s] actions."
Garmback was driving, but Noble said Loehmann had a duty to object to what he called "reckless tactical decision making."
The Cuyahoga County Prosecutor's Office commissioned the three previous reports and released them on its website in October and November. Those reports say the officers didn't know the airsoft gun wasn't a real firearm, and said the shooting was justified.
McGinty said he released the expert reports in the interest of transparency.
On Saturday, the prosecutor's office released more than 300 stills from a video enhancement showing the frame-by-frame sequence of events captured by surveillance cameras that recorded the shooting.