The frantic scene unfolded swiftly on Nov. 22, 2014: A police cruiser raced in front of a Cleveland recreation center and rolled up alongside 12-year-old Tamir Rice.
One of the two police officers inside the car jumped out and fired his service weapon twice. Rice, who earlier had been flashing around a toy pellet gun, crumpled onto the snowy soil.
The incident lasted less than two seconds.
The choppy surveillance footage of the fatal shooting stoked public outrage and prompted calls for police reform. The death of the young black boy also became the latest example in the national debate over policing in minority communities and what constitutes a justifiable use of force — a rallying point for the "Black Lives Matter" movement.
Related: Video Shows Cleveland Cop Shoot 12-Year-Old Tamir Rice Within Seconds
But a year later, one key question has gone unanswered: Will the officer who pulled the trigger be held criminally culpable?
A grand jury began hearing evidence in the case last month to decide on an indictment, and Rice's mother, Samaria Rice, could testify within a few weeks. Rookie patrolman Timothy Loehmann, who shot Rice, has been subpoenaed to testify next week.
While debate continues over whether the shooting was justified, criminologists and activists on both sides of the issue agree on this much — the road to a resolution has taken an unusually long time.
"Why in God's name does it take an entire year to get justice for this child?" Cleveland pastor William Myers asked during a news conference this month as clergy members called for the county prosecutor to step aside in the case.
The frustration is similarly felt by members of the Rice family, who are expected to attend a public vigil Sunday afternoon at the Cudell Recreation Center where the sixth-grader was shot.
"There's a lot of tension in the community, people are very angry," said Edward Little, a criminal justice consultant who has called for the arrest of the officers involved. "After all, this was a 12-year-old child."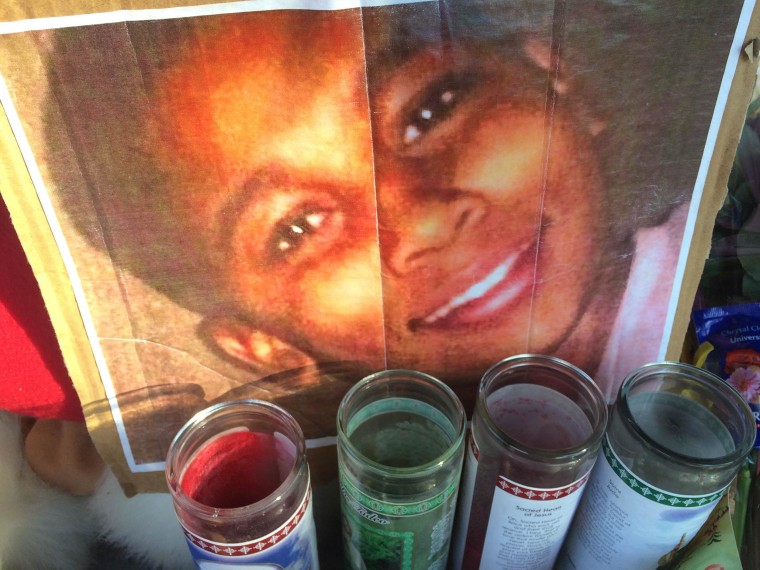 Cuyahoga County Prosecutor Timothy McGinty has been feeling the heat. He has been accused of dragging his feet on the case and even taking sides with the police.
McGinty has vowed not to cloak the case in secrecy, and commissioned three separate independent reports by criminal justice experts made public.
All three found the police officer's actions "reasonable" — leading many in the community to presume the grand jury won't indict Loehmann.
Jonathan S. Abady, the lead attorney for Rice's family, told NBC News that McGinty's handling of the case strikes him as "unorthodox" since those same reports are presumed to be part of the grand jury deliberations.
"Grand jury proceedings are supposed to be secret," Abady said Friday, adding, "We have concerns about the prosecution (process) taking so long."
By comparison, the decision to bring charges in other recent high-profile shootings involving black males and white officers has not been as drawn out.
It took less than four months from when unarmed 18-year-old Michael Brown was fatally shot in Ferguson, Missouri, to when a grand jury decided not to indict Officer Darren Wilson.
It took two months from when 50-year-old Walter Scott was fatally shot in North Charleston, South Carolina, to when a grand jury indicted Officer Michael Slager.
And it took only 10 days from when 43-year-old driver Samuel DuBose was fatally shot by University of Cincinnati Officer Ray Tensing for the officer to be indicted in the killing.
But the Rice shooting, while having the advantage of being caught on video, is also more complicated case in some respects, experts say.
For one, when the officers were called to the scene, they believed the boy was armed with an actual firearm, according to investigators. A dispatcher failed to relay to them that the 911 caller thought the gun may have been fake.
The airsoft-type gun that Rice was holding — which had been given to him by a friend in exchange for borrowing Rice's smartphone — was missing the orange safety tip that would have indicated it wasn't a real firearm.
The officers also said Rice was reaching for the inside of his waistband when they pulled up — forcing them into a life-or-death situation.
Rice, physically, wasn't a typical 12-year-old either: He was 5-foot-7 and 195 pounds, according to his autopsy.
Read the Complete Autopsy Report Here
All of these factors would have played into Loehmann's response — and whether he feared for his life, said forensic criminologist Ron Martinelli, who was a defense expert witness earlier this year in the trial against white Cleveland cop Michael Brelo. (Brelo was found not guilty of voluntary manslaughter in the 2012 shooting deaths of two unarmed black passengers.)
"The Tamir case is not that difficult a case. You have a contained crime scene, a lot of video and two rounds fired," Dr. Martinelli said.
He believes the prosecutor is facing intense political pressure in investigating the case, which is under even more scrutiny because of Rice's race and age.
"You've got the prosecutor doing his due diligence, and he's getting major push back by the family and the attorney of Tamir Rice," Martinelli said.
"Why in God's name does it take an entire year to get justice for this child?"
David Klinger, an associate criminology professor at the University of Missouri-St. Louis, said it's surprising that charges haven't been decided on yet.
Klinger — who, like Martinelli, does not believe the officer's actions rose to a criminal level — said the evidence clearly shows that Loehmann had every reason to believe the gun was real.
"I understand why people can be outraged from the outside looking in," Klinger said, "but I hope they can step back and see why things like this can happen."
If anything, he said, the case highlights the need for proper police training when there's no pending threat and how departments can be negligent in those instances.
A spokesman for the county prosecutor hit back on claims that McGinty is biased in favor of police, citing his prosecution of Brelo, the white officer.
"We have also charged about two dozen police officers on various charges since Tim McGinty took office, including very recently, misconduct by an officer who tipped a suspect that his business was about to be raided by law enforcement," spokesman Joseph Frolik said in an email. "That officer is now in prison."
But some in the Cleveland community say disappointment and resentment have only been allowed to fester in the past year. If an indictment doesn't happen and the case ultimately doesn't go to trial, people will demand answers, Little said.
"I know for certain there will be outrage," he said. "People from all over the country and the world saw that video. If there is [no indictment] in this case, people will want this prosecutor to step down."