A Texas middle school teacher fired last week after she was alleged to have encouraged students in her class to fight has been arrested on suspicion of child endangerment, police said Monday.
Natally Garcia, 24, of Dallas, was booked into jail Monday afternoon in connection with the fights, according to police and inmate records. No bail amount was listed.
Garcia was arrested based on a warrant that listed four counts of child endangerment, police in Mesquite, the Dallas suburb where the fights took place, said in a statement.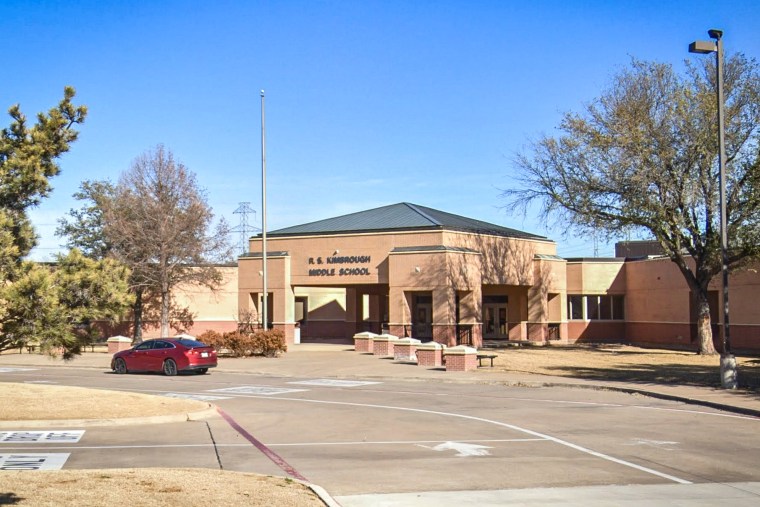 It wasn't clear whether Garcia has obtained legal counsel. The Dallas County public defender's office and the Mesquite Education Association have not responded to requests for comment.
The counts correspond to NBC Dallas-Fort Worth reporting, including cellphone video that captured some of the fighting, which found four students paired off to brawl in two bouts at Kimbrough Middle School on Wednesday.
The Mesquite Independent School District alleged in a statement Friday that the teacher, who had not been publicly identified at the time, outlined the rules of engagement and ordered a student to watch the door.
It said that an internal investigation was launched not long after the fights and that, by Thursday, the substitute teacher had been fired. The teacher had been employed since early March, the district said.
The fighting in a class of 12- and 13-year-olds was exposed, in part, by parent Beatriz Martinez, who released her daughter's cellphone video of some of the brawling.
She told NBC Dallas-Fort Worth she was glad her daughter rejected taunting by fellow students who wanted her to join in.
The station reported that some of the fighters emerged bloodied, although no serious injuries have been reported.
Just two days before the fighting, a Florida teacher was charged with contributing to the delinquency of a minor after she was alleged to have facilitated classroom fights at her Tallahassee middle school, according to court documents.