As more states plan to lift mask mandates in schools, several teachers unions said they are not opposed to the idea of children being unmasked in classrooms but want to ensure those decisions are based on science.
The governors of New Jersey, Connecticut, Delaware and Oregon announced plans Monday to remove statewide mask mandates in schools by the end of February or the end of March as the surge of the omicron variant of the coronavirus is declining after record-breaking numbers of new cases around the country disrupted in-person learning and worsened staffing shortages.
Teachers unions on Tuesday called for the mandate rollbacks to be informed by science, not politics, as mask-wearing has become an increasingly polarized issue. They also called for states to establish policies around when masks would or would not be required in schools should there be another surge in cases. 
"No one wants masks in schools: not teachers, not students," Randi Weingarten, the president of the American Federation of Teachers, or AFT, said Tuesday on MSNBC. "But it's time in this Covid pandemic to actually do a little bit of planning based upon science, as opposed to just announcement by announcement."
She added, "We have to be talking about the offramp for masks, and we asked for that conversation — that's based upon science, instead of politics — back in November before omicron."
Weingarten said the metrics some states have been using, such as rates of transmission, vaccinations and hospitalizations, are important in determining mask policies in schools.
"I'm just asking the CDC to actually weigh in here, so that we have that kind of guidance around the country," she said.
The Centers for Disease Control and Prevention has not commented on the latest changes in school masking, but CDC data suggest the new measures might be coming too soon.
According to data from the CDC, people in more than 3,200 counties — or 99 percent of the country — should be wearing masks regardless of their vaccination status. The CDC suggests wearing masks in places where the new case rate is higher than 50 cases per 100,000 or the testing positivity rate exceeds 8 percent.
Keri Althoff, an epidemiologist at the Johns Hopkins Bloomberg School of Public Health, said local considerations should drive decisions about whether to lift mask mandates in schools. Among the most important factors are case counts and hospitalization rates in the community, she said. When both are relatively low, there is less chance overall that the virus will spread among students.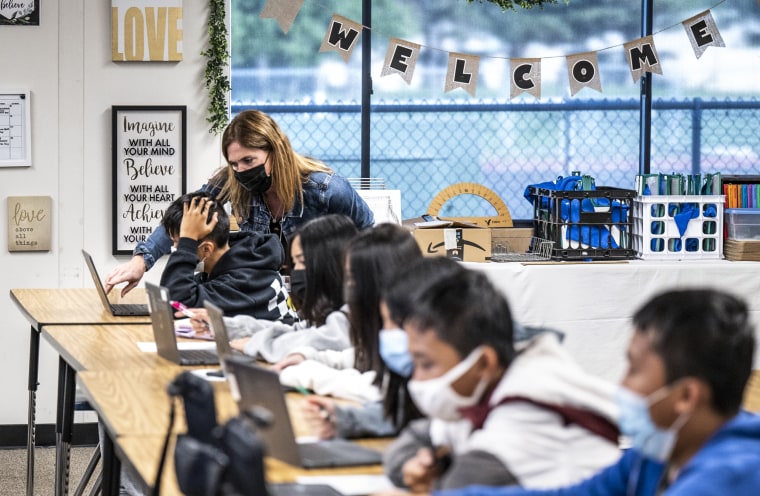 But another important consideration, Althoff said, is how much of the student population is vaccinated or unvaccinated — a measure that she acknowledged is already "incredibly controversial" but that she said could help guide public health departments.
"Knowing the proportion of children who are vaccinated in a school is very important for mitigation strategies and for knowing when to layer up or down protections," she said.
Public health experts have said that keeping schools open with in-person classes should remain a priority but that modifications may be needed as the threat waxes and wanes. During periods of high transmission, as was the case during the omicron wave, that may mean schools need to introduce mask mandates or brief stretches of virtual learning.
At a legislative hearing Tuesday to discuss mask requirements in Connecticut, union leaders advocated for clear guidance about how the state would navigate such issues in the future.
"We need clearly articulated policies and protocols so that the expectation for masks are clear and in writing for everyone," Jan Hochadel, the president of AFT Connecticut, said at the hearing.
Hochadel said the union's members "know that the mask mandates were never intended to be a forever situation."
"So, the question really now becomes when and how do we transition?" she said.
She said she hoped the state would create a "matrix or guidance" to include hospitalization and vaccination rates as measures of whether masks should be reinstated in schools.
Kate Dias, the president of the Connecticut Education Association, also called for "statewide, science-based" decision-making and cautioned that the omicron surge began descending only recently.
"We are mere weeks beyond a 30 percent positivity rate," Dias said. "We need to keep in mind that a high positivity rate means teachers and students are missing from classrooms."
Both Dias and Hochadel suggested that school mandates remain until the weather warms and windows can be opened.
"We work in buildings with poor ventilation, which is the reality of not addressing the problem of indoor air quality for years and, in some cases, decades," Dias said. "Poor ventilation means we need to be reliant on windows, windows we can't open until the wet weather turns warm and windows that in some cases don't open at all."
In Delaware, where the state masking policy had been extended through March, union leaders plan to use the additional time to work with the state and school boards "to create district-level policies that will continue the use of layered mitigation strategies, which may include masks," Stephanie Ingram, the president of the Delaware State Education Association, said in a statement Tuesday.
Dr. Leana Wen, an emergency physician and public health professor at George Washington University, said it's appropriate to roll back some restrictions now that vaccines are widely available to anyone over age 5 and with the situation improving in several states.
"People stop paying attention and get desensitized if you always tell them that there's an emergency even when there's not," she said. "As soon as we're able to remove restrictions, we should do so."
Wen said that even if states lift mask mandates in schools, parents and children should decide for themselves how to best manage the risks. A family might opt to continue wearing masks, for instance, if a child or someone else in the household is immunocompromised. Other students may have learning needs that are hindered by wearing masks. All are critical considerations, and they are likely to be different for every household, Wen said.
"Some families really want to continue to avoid Covid, and other families would much rather prioritize a return to normalcy," she said.
Tiffany Macauley, a Connecticut teacher and mother of five, agreed that it is time to let parents decide whether to continue masking their children.
"At this point, I think we have to ask, 'Are we doing more harm than good for children and their future?'" Macaulay said at the state legislative hearing. "Two years later, we have a great deal more information, and I believe it is time to adjust to life with Covid."
Althoff, the Johns Hopkins epidemiologist, said not much is known about the long-term psychological or developmental effects of masking but added that the benefits outweigh the drawbacks if masks help keep students in school.
"We know masks are effective and reduce transmission and they're an essential tool, but we also know that a lot of people want to take masks off," she said. "It's all a balancing act."
The largest teachers union in New Jersey said it was encouraged by declining Covid transmission rates and therefore "cautiously optimistic that the current statewide school mask mandate can be safely relaxed in the near future, assuming current trends continue."
"We urge Gov. Murphy to continue to analyze the data and do whatever is necessary to best protect the health and well-being of students and staff," the New Jersey Education Association said in a statement Monday, referring to Gov. Phil Murphy. "That includes the possibility of maintaining or reimposing the mask mandate for schools after March 7 if the data indicate that is the correct course."
Both Connecticut and New Jersey have said individual school districts can decide to continue their mask requirements after the statewide mandates are lifted.
Newark Public Schools, the largest district in New Jersey, has already said it plans to keep its mask mandate.
Nancy Deering, a spokesperson for the district, said Tuesday that masks are a part of the district's protocols that are going to remain in place. She said the district will continue to monitor the situation and that "if things change, we will notify families and staff accordingly."