CLEVELAND — Tamir Rice, the 12-year-old fatally shot by police last month in an incident fueling the national debate over excessive force, was remembered Wednesday by mourners at his funeral. He was praised for his budding talents and described as a popular child who liked to draw, play basketball and perform in the school's drum line.
Carletta Goodwin, Tamir's sixth-grade teacher, told mourners at Mount Sinai Baptist Church that her student was "well-liked" and could be found helping classmates. "Tamir consistently came to school every day," said Goodwin, pausing as her voice broke. "He would tap on his desk, he would sing to himself," she continued. "I would say, 'OK, that's enough' because he would get the rest of the class going."
While he sometimes struggled in school, Goodwin said, she pushed him to be the best student possible.
"I thank you for your son's life," Goodwin told the boy's mother, Samaria Rice, who wept openly during the funeral. "He will be greatly missed."
Tamir's great-uncle, wearing a shirt with the boy's face on it, echoed the feeling of loss. "He was suddenly and needlessly taken from us. His young, fragile life was snuffed out like a candle in the wind," Michael Petty told the 250 people in attendance. He added that the boy's supporters would seek justice in the Nov. 22 shooting.
Cleveland police the day of the shooting were responding to a 911 call about a child with a gun outside of the city's Cudell Recreation Center. Surveillance footage of the incident shows officer Tim Loehmann firing at Tamir, who was sitting at an outdoor gazebo, less than two seconds after he and his partner pulled up in a patrol car. Tamir was struck twice in the torso, according to investigators. Tamir was reaching into his waistband for a weapon, police said — which turned out to be a pellet gun resembling an actual firearm.
Loehmann and his partner were on paid administrative leave for three days after the shooting. Cleveland police are still investigating, and the county prosecutor has said the case will go before a grand jury to decide whether there should be charges against Loehmann. The rookie cop's father told Cleveland.com this week that his son had to act quickly in the situation and felt he had "no choice" but to shoot.
Petty said police need to act as public servants and "not James Bond with a license to kill."
Before mourners poured out of Tamir's funeral, Pastor Henry Currie promised that the young boy's death wouldn't be in vain: "He lived a beautiful, awesome life of 12 years because his parents, his extended family … raised him to know beyond a reasonable shadow of a doubt that his life had a purpose, value and meaning."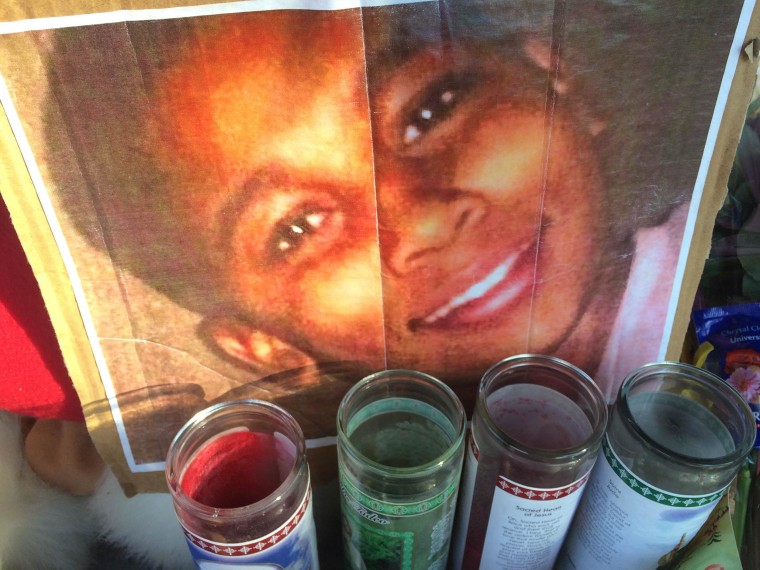 IN-DEPTH
— Ty Wright and Erik Ortiz