Since the bombs went off in Boston's Copley Square on Monday, the FBI and Boston Police Department have sought the public's help in an unprecedented way, amassing gigabytes of digital evidence — photos and videos from the tragic event — in what may be the world's most crowdsourced terrorist hunt.
"It's not the first use of private video from stores or other places to help solve a crime. That is a common investigative technique," Jim Bueermann, president of the Police Foundation and former police chief of Redlands, Calif., told NBC News. "But it is without a doubt the largest-scale use of crowd-sleuthing that I've seen."
On Thursday, the requests proved their worth. Authorities revealed surveillance video with closeups of the two key suspects, the baseball-cap-wearing brothers. In an instant, the images shot across the Web, and soon, better images, with different angles and sharper focus, were making their way back to investigators, along with a bevy of personal information about the suspected terrorists.
With over 130 million smartphone owners in America — not to mention over 300 million photos added to Facebook every day, and over 72 hours of video uploaded to YouTube every single minute — it's no surprise that investigators are interested in what the crowds around Copley Square can contribute. There are cameras everywhere, and what a fixed surveillance camera doesn't pick up, someone with a cellphone may.
"The technology is out there, it's inexpensive, teenagers have it, and it documents the world. And that becomes evidence," Nancy Savage, retired FBI supervisor and executive director at the Society of Former Special Agents of the FBI, told NBC News.
"In this particular event, there were a lot of people at the finish line taking photos of loved ones, of the race," Savage said. "It's become normal to ask the public to provide evidence they may have."
In the past, it could take weeks to get images from an incident such as a bank robbery. Even video security tapes could be delayed for days. "Now we haven't finished interviewing the bank tellers and they're emailing us the photo," she said.
This is the smartphone-era version of "see something, say something," said Clay Shirky, media expert and author of two books on mass online collaborations. "What good can come out of it is the surfacing of enormous numbers of new points of evidence."
The Boston Globe reported that surveillance camera footage from the Lord & Taylor department store was used in the investigation. Another key image shared with the public is likely to have come from someone's cellphone, says the Globe.
Following the FBI's photo release, someone on Facebook picked out one of the suspects — Dzhokhar Tsarnaev, wearing a white hat — from a Facebook photo a Boston resident had uploaded after the bombings, and uploaded it to a running forum, according to the New York Times.
Meanwhile, eyewitnesses took to the Internet to provide early news on everything from Monday's bomb blasts to the Thursday night manhunt that shifted from Cambridge, Mass., to nearby Watertown.
When gunshots were reported on MIT's campus, Seth Mnookin, an assistant professor in the university's comparative media studies department, was among the first to begin live-tweeting developments as police cordoned off the section of campus. He followed the investigation all the way to Watertown.
Andrew Kitzenberg tweeted pictures and firsthand details of the early-Friday shootout in Watertown, and other Watertown residents soon followed suit.
"The explosion of smartphones has aided (the Boston bombing investigation) probably more than any other single, technological advancement," Bueermann told NBC News. "Smartphones aren't phones, they're digital Swiss Army knives that have Internet access, GPS, cameras — all these things that allow for people to capture information in ways we never saw 20 years ago. It adds to the witness potential of people in communities."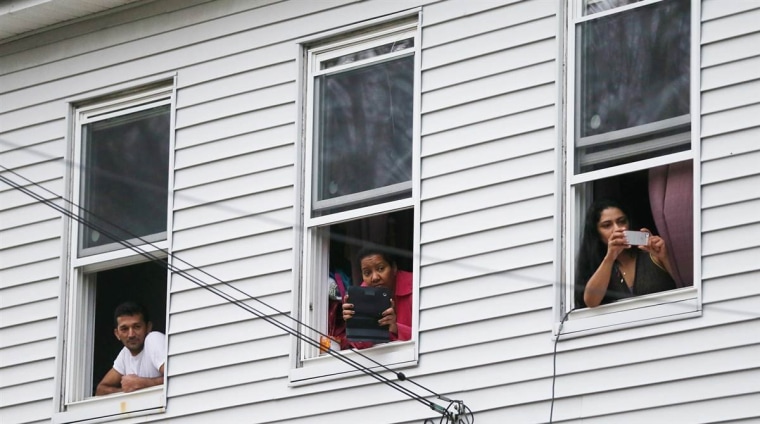 While there's clear value in the crowd's ability to gather data, over-reliance on these unseen Internet Sherlocks can potentially to do harm. When vigilantes on Reddit and 4chan began lending a hand with the investigation, plenty of inaccurate information hit the Internet as well, and fingers were pointed at least two people who police did not name as suspects.
Before investigators could dispel the allegations, some media outlets picked up the discussion and linked their names with the investigation. Sunil Tripathi, a student at Brown University in Providence, R.I., had disappeared on March 16. Soon, he was identified on Reddit as a suspect. He remains missing.
Sulahaddin Barhoum, a 17-year-old runner who moved to the U.S. from Morocco, and was planning to run the New York Marathon in November, had to go to state police with his identification in order to clear his name.
When faced with needle-in-haystack situations, scientists have turned to crowdsourcing their searches with steady success. Participating in an Internet hunt for the bombers is nothing like pitching in on research programs to help push science forward. These crowds can get ugly fast.
"This is about: 'Someone has to get those bastards,'" Shirky told NBC News. "Here, if you get it wrong, the cost of failure is very high."
Shirky and others, such as Whitney Phillips, an Internet scholar and lecturer at NYU who has studied the trolling behavior of 4chan, think caution is necessary at times like this. While there's tremendous value in eyewitnesses offering up video and photos, their inexpert interpretations of the data are less welcome.
"Strong moderation is just what you need to keep this kind of ridiculous gossip at bay," said Phillips, but strong moderation is not the kind of thing usually seen on Reddit. 
"I think crowdsourcing is a terrible idea during criminal investigations," Phillips told NBC News.