The text messages a Massachusetts woman sent to the mother of her boyfriend after his death were warm and comforting.
She often reminded the grieving mother that her son was a beautiful person, and that his spirit lived on.
"I loved him, Lynn," one text read. "I know I'm young, but I saw the rest of my life with him."
Those texts, sent by then-17-year-old Michelle Carter, stand in stark contrast to messages she allegedly sent before he died, goading boyfriend Conrad Roy III to take his life, prosecutors said.
During Carter's involuntary manslaughter trial's opening day on Tuesday, prosecutors pointed out a slew of messages Carter sent to mother Lynn Roy after her 18-year-old son Conrad Roy III committed suicide in July 2014.
Carter, now 20-years-old, allegedly pushed Conrad Roy III to kill himself, the prosecution said, in a bid to gain attention for herself so she could play the role of the grief-stricken girlfriend.
"She made a Facebook post about [Conrad's] suicide and again the floodgates for her opened," assistant district attorney Maryclare Flynn said during her opening statement. "She suddenly became important: the grieving girlfriend."
Even though they only met three times in total, Carter sent strings of consoling text messages to Lynn Roy after Conrad's death. Carter repeatedly asked if she could go through his things or if she could have the letter he allegedly left for her, the prosecution said.
Flynn said that Carter even asked one of the Conrad's sisters if she could have some of his ashes after learning he had been cremated.
But as all of this went on, Flynn said Carter never told his mom that Carter had been on the phone with the teen, encouraging him to follow through with his plan to sit in his black Ford F-250 as the truck filled with carbon monoxide.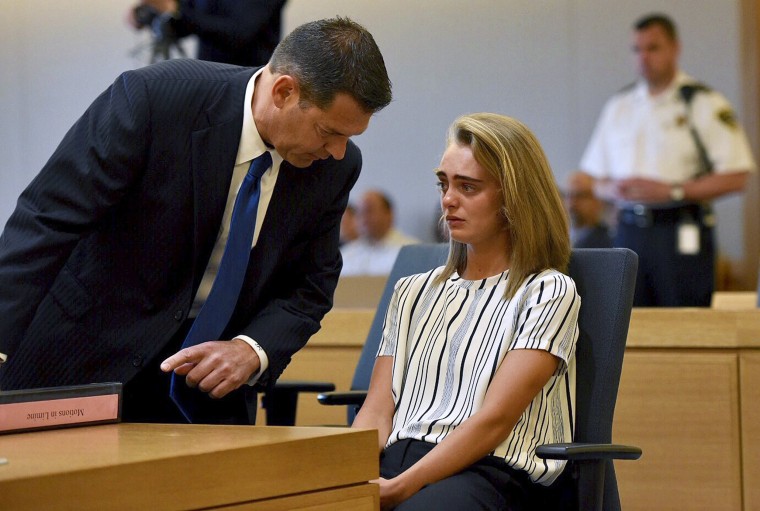 "[Carter] told him to 'get the f--- back in the car,'" Flynn said. "Her behavior was wanton and reckless and because of her, Conrad is dead."
But defense attorney Joseph Cataldo said Conrad was on the path to suicide long before he met Carter, pointing out a prior attempt and several times the teen had looked up various methods of suicide in the months before he died.
Related: Bill Cosby Sexual Assault Trial: Six Takeaways From Day One
Cataldo also painted Carter as a troubled girl, but pointed to text messages in which she suggested Conrad seek medical help. He added that at the time of his death, Carter was on Celexa, a treatment for depression, which can trigger side effects like irrational thinking, irritability and poor impulse control.
"Michelle Carter was 30 miles away [at the time of the suicide]," Cataldo said. "Carbon monoxide is not an instant death. If he steps out of automobile and is told to get back in, Michelle Carter isn't there."
Later, when Fairhaven Police Officer David Correia testified about finding Conrad's body "pulseless and not breathing," sobs could be heard coming from the teen's family.
On Monday, Carter asked that her case be heard by a judge rather than a trial by jury. If convicted, she faces up to 20 years in prison if convicted.