A teenager who pleaded guilty to the brutal killing of a 10-year-old girl in Colorado has been sentenced to life in prison.
Austin Sigg, 18, was not eligible for the death penalty because he was 17 at the time of Jessica Ridgeway's death. He didn't show any emotion as the judge handed down his sentence Tuesday in Golden, Colo.
The judge gave Sigg the possibility of parole after 40 years, but because first-degree murder was just one of 15 counts to which Sigg pleaded guilty, he will spend to rest of his life in prison.
"This case cries out for a life sentence," District Judge Stephen Munsinger said while giving Sigg an additional 86 years for the other crimes he was found guilty of, which included sexual assault and the kidnapping of Jessica plus the attempted kidnapping of a jogger.
Prosecutors, friends and family members urged the judge during the first day of the sentencing hearing on Monday to give Sigg the maximum sentence allowed.
"A part of me died that cold October day in 2012," Scott Fischle, a close friend of Jessica's family, said, the Associated Press reported. "She was a kind, sweet, innocent child who was bound for greatness in this world."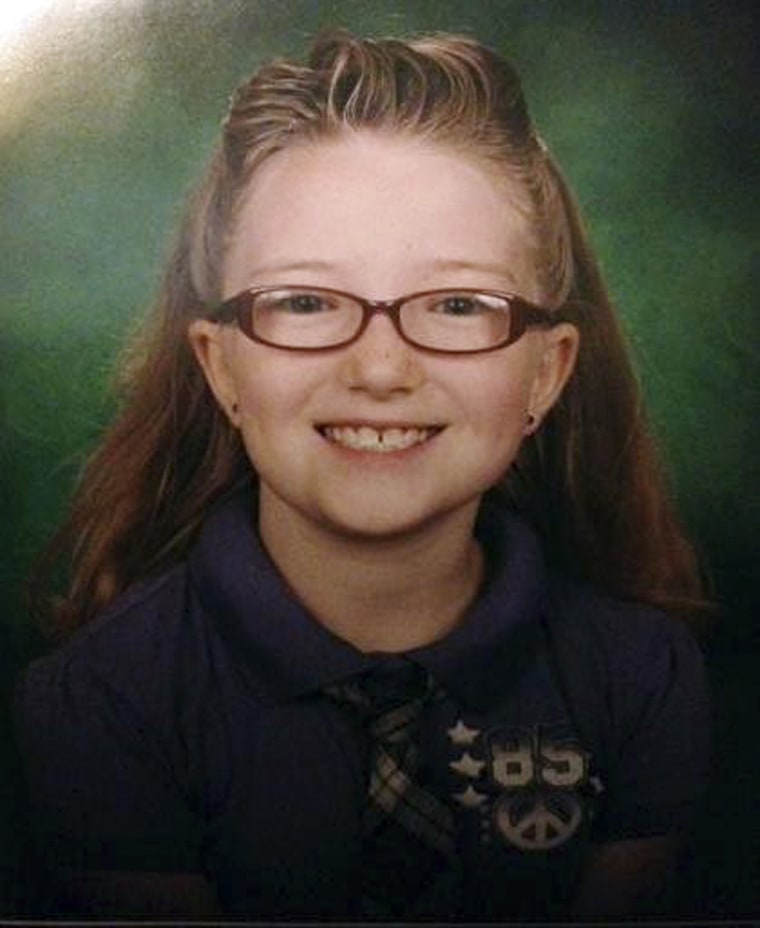 Jessica was walking to school on Oct. 5, 2012, when she was abducted. Her Westminster, Colo., community in Denver's western suburbs frantically searched for her for five days, before dismembered human remains identified as hers were found in a park. More remains of hers were later found at the house Sigg shared with his mother.
"Evil is apparently real. It was present in our community on Oct. 5, 2012," Munsinger said of Sigg while sentencing him Tuesday.  
Sigg pleaded guilty in October to the 15 counts, which included first-degree murder, sexual assault of a child and charges stemming from an attack on a 22-year-old female jogger in May 2012. In the latter case, investigators say Sigg tried to use homemade chloroform on the woman, but she escaped.
Sigg's lawyers had argued that because he was a juvenile at the time of the crime, state law required the judge to give him a sentence that made him eligible for parole after 40 years.
 "Your honor, you are sentencing a child today," Defense attorney Ryan Loewer said. "Life with the possibility of parole in 40 years is the only possible and legal sentence."
Earlier in the day, chief deputy district attorney Hal Sargent talked about the nearly two hours that Sigg is believed to have kept Jessica in his room after he snatched her off the street.
"It's painful to imagine what he did to her in that time," he said.
He said Sigg first tried to strangle Jessica with zip ties, but the zip ties "didn't have enough leverage," according to what he later told police. Instead, he strangled her with his hands, and when he noticed her body was still twitching with signs of life, he filled a bathtub with hot water and pushed her face down into it.
"I don't want to go into all of the details of how he carefully, methodically dismembered her," Sargent said.
For months, Sigg has sat emotionless in court as the gory details of Jessica's death and dismemberment were disclosed, The Denver Post reported. But on Monday he cried while listening to the girl's family describe the 10-year-old they no longer get to watch grow up.
"I miss her with every breath," said Christine Ridgeway, Jessica's grandmother, The Denver Post reported. "There are no more hugs or kisses or her little toes digging into mine on the couch."
Jessica's mom, Sarah Ridgeway, played a slideshow of photos of the fifth-grader while music played. 
"I don't think that the defendant has the right to hear how he affected me, my family or who Jessica was," she said, according to the AP. "Once we walk out of this courtroom we'll not remember his name and we'll only remember Jessica and the legacy she created."
Earlier Monday, a psychologist hired by prosecutors told the judge that Sigg was "sadistic" and planned the attack. 
"He certainly had no empathy for Jessica Ridgeway," said Anna Salter, who studies sex offenders. 
Salter said Sigg was sexually aroused by dismembering Jessica's body — something he did by hand in a bathtub, according to investigators. She added that he may have been trying to fulfill a sexual fantasy when, before killing Jessica, he cut her hair and forced her to change into his clothes.
Defense attorneys said Sigg's mother inhaled paint while she was pregnant with him, and that trauma he experienced before and during his birth caused him to have head and intestinal deformities.
Sigg was arrested after his mom called police on Oct. 23, 2012, when Sigg confessed to her that he had abducted and killed Jessica.  He didn't admit to sexually assaulting her, but evidence of sexual assault was later discovered.
Salter said Sigg's mother found child pornography on his computer in 2008, when he was 12 years old. His stepmother had sent him to counseling, and doctors urged his father to add parental controls to their computers and TV.
Watching pornography was part of Sigg's planning, Salter testified, according to The Denver Post.
"This was not an impulse he had and then felt horrible about later," Salter said.
Former classmates at the high school that Sigg attended until dropping out after his junior year described him as smart and interested in mortuary science and said he was bullied for having a high voice. 
The Associated Press contributed to this report.