A 16-year-old boy and a 12-year-old girl lost their left arms and suffered other serious injuries in separate shark attacks in Oak Island, North Carolina, authorities said Sunday night.
The kids, who weren't identified, were upgraded from critical to fair condition after surgery and were stable at New Hanover Regional Medical Center in Wilmington, said Martha Harlan, a spokeswoman for the hospital. The girl's left arm was amputated below the elbow, and she suffered lower leg tissue damage, Harlan said, while the boy's left arm was amputated below the shoulder.
The girl was bitten by a shark while visiting family at a Brunswick County island about 4:40 p.m. ET, Oak Island Fire Chief Chris Anselmo said.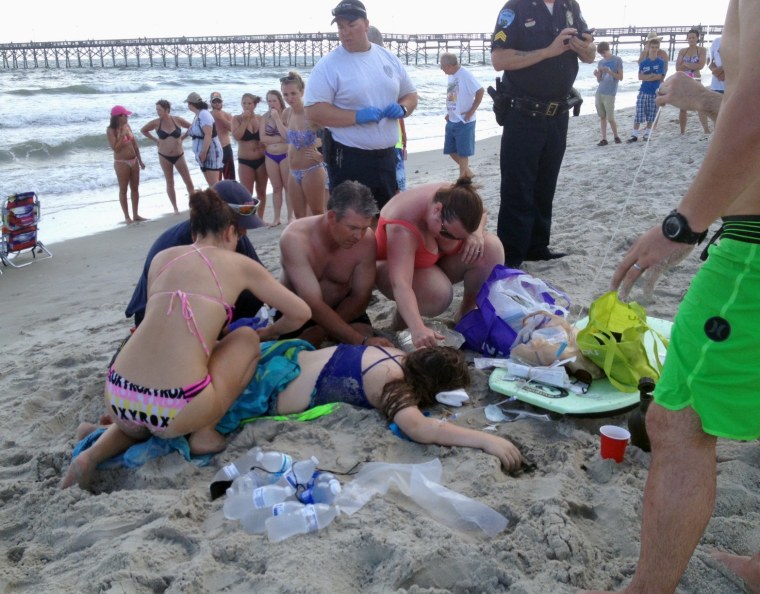 The second incident was reported at 5:51 p.m. only about 2 miles away, Anselmo said.
Oak Island Town Manager Tim Holloman said that visitors were encouraged to stay out of the water but that the beaches would be open Monday. The Brunswick County Sheriff's Department will have patrol the coastline by helicopter to watch for any dangerous activity, he said.
"Oak Island is still a safe place," Holloman said. "This is highly unusual."
Anselmo agreed.
"I've been here 16 years," he said. "This is the first time something this major has happened."