A 15-year-old Chicago girl gunned down a week after she performed during President Obama's inaugural festivities was remembered Wednesday as a "walking angel" – the last person her family could imagine dying by a bullet.
Hadiya Pendleton was an honor student, a marching-band majorette, and a doting big sister who thought about becoming a journalist or a pharmacist or even getting into politics after she witnessed history in Washington last week.
The biggest trouble the insatiable reader ever gave her parents: running up their credit card buying books on Amazon.
"I couldn't ask for a better child," her mother, Cleo Cowley, said through tears at her Chicago home. "She didn't give me any hard time at all. She had a heart of gold."
A sophomore at Chicago's selective King College Prep High School, Pendleton was walking with fellow members of the volleyball team in a park Tuesday afternoon when the skies opened. They ducked under a canopy to get out of the rain, joining other teenagers.
At that moment, Chicago police say, a gunman came running down an alley behind the park, opened fire and then darted into a waiting vehicle and took off. No arrests have been made.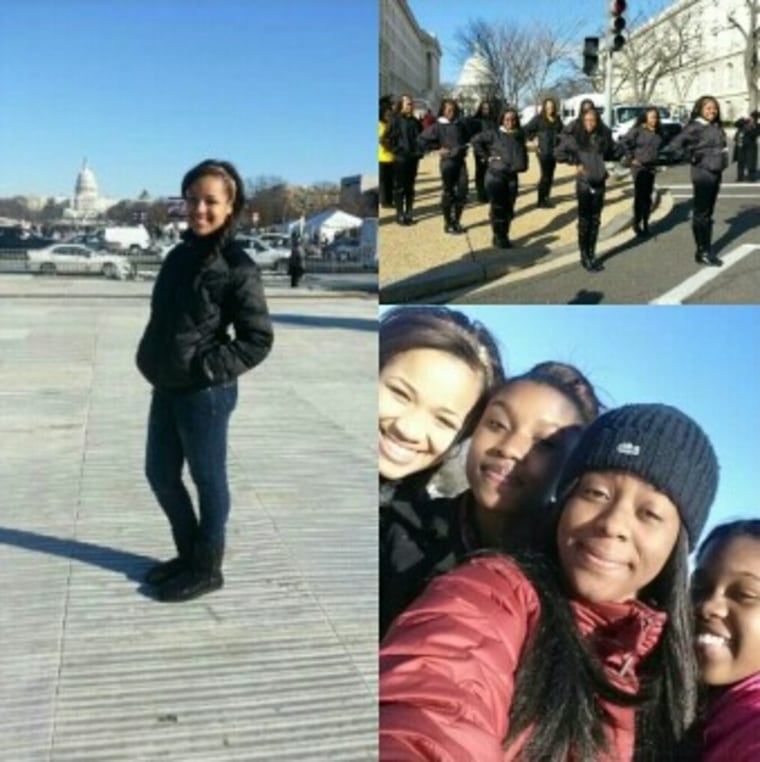 Pendleton was struck in the upper back, and a 16-year-old schoolmate was hit in the leg. They ran about a block before she collapsed on the street, police said. She died at the hospital.
When it happened, her mother was at work at the TransUnion credit company, in a meeting. Her cellphone rang and she saw it was one of her daughter's friends and quickly answered.
"She was screaming on the phone that Hadiya's been shot, she's been shot, and I just didn't understand," said Cowley. "I had to get someone to help me understand that my baby has been shot."
The murder – about a mile from Obama's Chicago home – quickly caught the attention of Washington during a day of debate over gun violence.
The White House called it a "terrible tragedy," and Chicago Mayor Rahm Emanuel called the shooter a "gangbanger" and a "punk" who had stolen the dreams of a girl with a bright future.
Sen. Richard Durbin, D-Ill, was emotional as he spoke about Pendleton's inauguration activities during a Senate Judiciary Committee hearing on guns.
 "Just a matter of days after the happiest day of her life, she's gone," he said.
Cowley said the trip to Washington – an invitation to a band competition that was part of the inauguration festivities -- was "everything" to her daughter.
"She was extremely excited about it, to go there and witness history and perform at the Capitol. She told me, 'Mom, I might think about getting involved in politics,'" she said.
For the moment, though, she was focused on traveling with the band to New Orleans for Mardi Gras and a planned educational trip to Dublin, Paris and London in March. "She even thought about studying abroad," her mother said.
At King College Prep, which is in an upscale neighborhood on Chicago's South Side, tears flowed Wednesday. The band played in her honor. Many students changed their Twitter handles to remember their fallen classmate, described as bubbly and sweet.
"She was always smiling and laughing," said Tyler Genovesi, 14. "She was just a really nice person."
Cousin Shatira Wilks recalled how Pendleton was designated to be the "elf" at Christmas this year and delighted in handing out gifts to everyone. The only presents she had asked for was books.
"Honestly, she was a walking angel," Wilks said.
But also a normal teenager. She texted her friends like crazy, listened to rock music on her headphones, posted silly pictures of herself, and gently tweaked her parents on Twitter.
She had a 10-year-old brother, Junior, who worshipped her.
"He's crushed because she loved, loved, loved her brother," Cowley said. "From the moment I had him, she wanted a little sibling and at the age of 5 she started mothering him."
"She had a heart that was huge," her mother said, her voice cracking. "She had her own brain. She didn't roll with the crowd. If there was someone being ostracized, she was their friend, because she said everyone needs a friend."
In short, there was nothing about Pendleton that would have led anyone to predict that she would be shot – even in a city where more than 500 people were murdered last year and more than 40 have been killed this month.
Cowley said that two nights ago, she was watching a TV program about a woman who had lost all four of her children to gun violence.
"Never in a million years did I think I would get a call that my own baby had been gunned down the next day," she said.
Told that her daughter's death had been mentioned on the floor of the Senate, where Durbin complained that Chicago was "awash in guns," Cowley's composure broke and she began to sob.
"Something does need to change," she said.
Related:
Tale of two cities: Homicides leap in Chicago, plummet in New York
Background checks take center stage at fractious Senate hearing