The 14-year-old boy accused of slitting the throat of his math teacher in the school bathroom left a chilling note that said, "I hate you all," near her "sexually staged" body, new court papers reveal.
The documents released Friday say that Massachusetts detectives believe Philip Chism planned the gruesome murder of Colleen Ritzer, 24, because he came to school that day with a box cutter, a ski mask, gloves and multiple changes of clothing.
In requesting a warrant to search Chism's home, a state trooper laid out a detailed chain of events — from Chism getting upset with the teacher to the teen telling an officer that the blood on his blade came from "the girl."
He also revealed that another student may have walked in on the crime in progress but hurried away after getting a glimpse of someone partially unclothed and a pile of garments on the floor.
Interviews with students and security video from the school gave investigators a timeline of Chism's and Ritzer's movements at the end of the day on Oct. 22.
After the last class period ended, they were in a second-floor classroom with another student for some extra help.
The other student told police "that at some point, Ms. Ritzer mentioned Tennessee. She said that Philip became visibly upset after she mentioned Tennessee," the police affidavit said.
"She said that Ms. Ritzer became aware that Philip was getting upset about her talking about Tennessee. She said that Ms. Ritzer later changed the topic.''
The significance was not completely clear, but Chism had recently moved to Massachusetts from Tennessee, where his parents were going through a "stressful" divorce, relatives told police.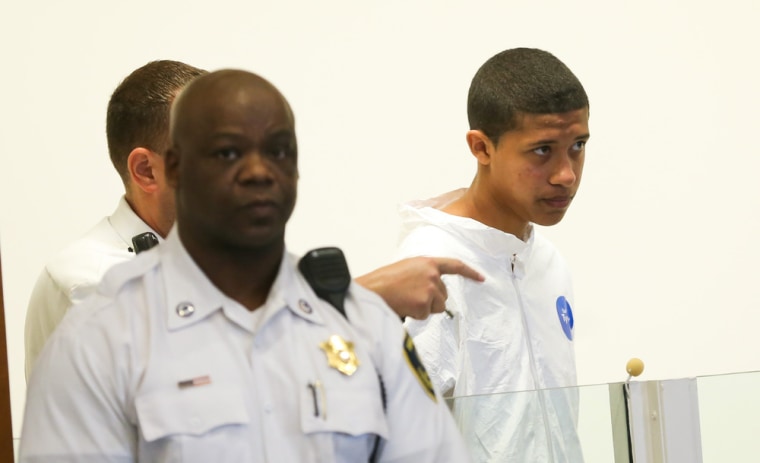 Just before 3 p.m., the popular teacher left the classroom and headed to the rest room, and one minute later, Chism followed her inside with a hood over his head, pulling on gloves, police said.
Law-enforcement sources have said her throat was slit from behind.
Eleven minutes after Chism tailed Ritzer into the bathroom, another student opened the door but quickly hurried away. She later told investigators she thought she had walked in on someone getting changed.
Chism soon left the bathroom, returning less than 10 minutes later with a green recycling bin and wearing different clothing. When he left at 3:22 p.m., dragging the barrel, he was wearing a black ski mask, police said.
After leaving the building with the barrel, he returned about a half-hour later, changed clothes, visited his locker and the scene of the crime and walked out.
When he didn't go home, a missing persons report was made. And hours later, Ritzer's parents reported her missing.
Chism was found shortly after midnight, walking on a highway. The police officer who searched him found the box-cutter and asked him where the blood on it came from.
"The girl," he answered, according to the documents.
He also had Ritzer's credit cards and a pair of underwear. He initially said he had found them, then said he had taken them from her car, the affidavit said.
Hours later, police searching the woods near the high school found Ritzer's body under some leaves. She was naked from the waist down and her body had been "sexually staged," the court papers say. An indictment said Chism sexually assaulted her with an object.
Chism, a standout on the school's junior varsity soccer team, was charged as an adult with murder and with aggravated rape and robbery as a juvenile offender. He has pleaded not guilty. His lawyer could not be reached for comment on Friday. His mother has said her "heart is broken" for Ritzer.
The slain teacher's family released a statement after the indictment was filed Thursday.
"We are devastated and heartbroken by the details of the horrific circumstances surrounding the death of our beautiful daughter and sister, Colleen," said the family. "As a family, we continue to mourn Colleen's passing and ask that the media respect our privacy during this very difficult time.
NBC News' Tom Winter contributed to this report.
Related: