An Iowa girl who was so badly injured in an accident four years ago that her family had started discussing funeral arrangements is now graduating from high school.
In September 2011, just two weeks into her freshman year, Taylor Hale suffered a traumatic brain injury while horsing around with friends after a high school football game. She slid off a car hood and hit her head, hard, against pavement. Her incredible trajectory — from being declared brain-dead, according to her family, to now getting ready to go to college — was first documented in the Des Moines Register.
"'Taylor's been in an accident. She's laying in the middle of the street, and the ambulance is on its way,'" Taylor's mom, Stacy Henningsen, recalled one of Taylor's friends telling her that night four years ago.
Taylor went from being a high school cheerleader and "spunky little thing" to lying unconscious in the intensive care unit of Des Moines' Blank Children's Hospital, Henningsen told NBC News. Doctors put the Waukee teen in a medically-induced coma and told her family that they would know more about her chances of walking, talking, and being able to eat without a feeding tube as the days passed.
Machines monitored the swelling in Taylor's brain. A constant stream of family and friends came to see her, but doctors warned visitors they couldn't talk or make any loud noises that would overstimulate Taylor. Her parents softly read her the "Twilight" book series as she lay motionless covered in tubes.
"She was the most serious patient there," Henningsen said.
About week later, Taylor's condition got even more serious: She suffered a brain hemorrhage.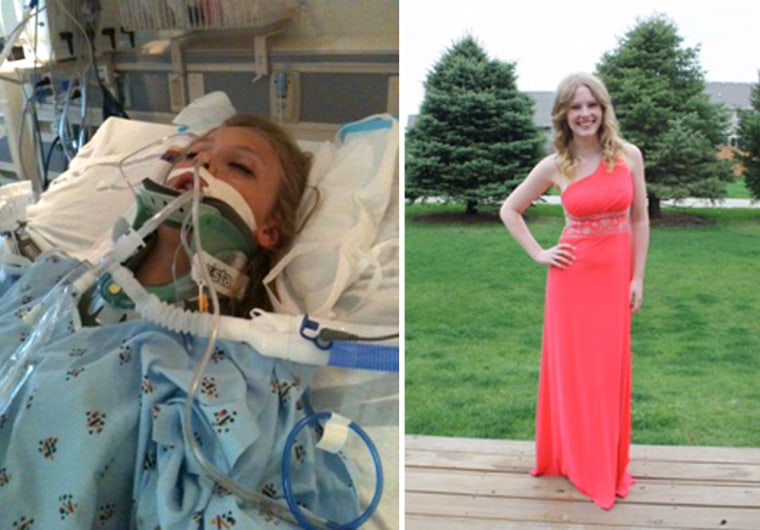 "Her brain had slipped down into her spinal column ... The brain had turned to mush," Henningsen said. "They had to do CPR and go through extreme lengths to get her back."
A spokeswoman at Blank Children's Hospital confirmed Taylor was treated for traumatic brain injury in the hospital's ICU in 2011, but she could not provide any other details. A pediatric ICU doctor who treated Taylor did not comment to NBC News.
"The following day, [doctors] said, 'We're sorry — there's nothing more we can do for her. You should probably say goodbye," Henningsen said. "We started talking about funeral arrangements."
Doctors told Taylor's family they were 95 to 99 percent sure she would never wake up again, Henningsen said. Declaring her brain-dead, they took her off medications and oxygen. The family prayed. A chiropractor who had been treating Taylor's great-aunt also prayed for the girl, visiting her hospital room to lay his hand on the back of her neck.
"A couple of hours later, the doctor came in and and basically told us, 'We don't know how to medically explain this to you, but she's breathing on her own,'" Henningsen said.
Taylor opened her eyes and moved her fingers and toes. But doctors cautioned the family that chances were slim that she would ever walk again, and that if she did, she would be attached to a feeding tube for life.
Through hard work and persistence, Taylor slowly regained the ability to walk, eat, and do nearly everything else she was doing before, her mother said.
Taylor doesn't remember the accident, or many of the details of what turned into a grueling six-week hospital stay. Even memories before and after that are gone, something that frustrates the now-17-year-old.
"I don't have any memory of my freshman year, or my childhood," she told NBC News. "Sophomore and junior year is still kind of a fuzz. I can remember big moments, like prom — otherwise my whole life is kind of a blur, I guess."
She does remember the speech, occupational and physical therapy that were part of her recovery, though.
"That was the toughest part for me because I knew I could do all of this stuff before, but I had to re-learn all of it now. It got frustrating and irritating," Taylor said.
Walking was the hardest part.
"I remember taking my first steps," she said. "I was so weak because I hadn't eaten food or drank anything for a long period of time. I was crying because it hurt so bad."
Besides memory issues, the accident left Taylor without her sense of smell. Doctors forbade her from cheerleading or playing the sports she loved because of the risk of sustaining a second head injury — which could kill her.
"Even though she's alive, she's not the same spunky person," Henningsen said. "As a parent, and someone who is close to her, you can just tell she's not the same."
Taylor agrees.
"My personality was kind of changed," she said. "I'm not as cheerful and outgoing I guess as I was, is what people tell me. I can't compare it to before the accident, because I don't remember."
Taylor said she has also suffered emotionally from the accident, which cost her many of her friends because of her change in personality. She's looking forward to meeting more friends when she starts at Des Moines Area Community College in the fall, where she wants to study event planning.
On Monday, she will graduate from her high school. She spoke to NBC News in between her final classes at school and a trip to the mall to buy a dress for her graduation party — a day her mother wasn't sure would ever come for Taylor after her accident.
"I think about it quite often," Hennsingsen said. "It's definitely a miracle."