A teenager was dead and another was injured after a shooting outside an Atlanta high school early Sunday, police said.
No suspects were in custody. Police said the incident involved multiple high school-age students.
Atlanta police responded to a report of multiple people shot at Benjamin E. Mays High School around 2:27 a.m. Two victims, a 16-year-old girl and a 16-year-old boy, were found and taken to hospitals.
The girl was pronounced dead, while the boy was stable, police said.
The victims, who were rising juniors, have not been publicly identified. It is not clear whether they attended the school.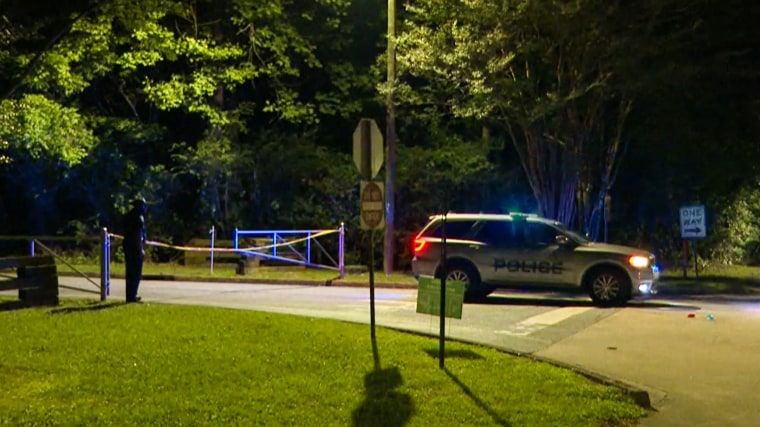 Mayor Andre Dickens said at a news briefing Sunday afternoon that the dead victim had been "full of life."
"My heart goes out to both families, and definitely to the family of the decedent," he said. "This young lady was full of life and was actually expected to be working for the city of Atlanta starting on Tuesday in our summer youth employment program."
Benjamin E. Mays High School is Dickens' alma mater.
Atlanta Public Schools said in a statement that the gathering at the end of the high school's exiting driveway was unauthorized. Other children from different districts and counties were at the school, Dickens said.
"I'm asking parents across the metro area, I'm asking youth across the metro area, to please consider your safety, to please make sure your parents know where you are. And parents, know where your children are," Dickens said. "And young people looking to gather after midnight and finding places to go, we want you to be safe and make conscious, quality decisions about where you go."
Schools Superintendent Lisa Herring said the shooting, which happened just days after the close of the school year, was "tragic."
"A crisis team will be on campus this coming Tuesday to help those who might need additional support," Herring said. "Our condolences go out to our families that have been impacted."
Atlanta police continue to investigate and are offering a reward of $10,000 for information.