From coast to coast, thousands of communities in the United States are classified by the Department of Agriculture as "food deserts" — meaning there is limited access to fresh vegetables, fruit and grocery stores.
These "food deserts" tend to be found in low-income areas, where grocery stores are far from residential areas and many locals don't have cars.
Minnesota ranked among the 10 worst states for access to healthy food, according to a 2016 Amherst Wilder Foundation report.
The report says approximately 1.6 million Minnesotans — 30 percent of the state's population — have limited access to healthy foods based on their distance to full-service grocery stores. In addition to the obstacle of distance, the expense associated with fresh, healthy foods also at times creates barriers for those in lower-income households.
In the part of North Minneapolis where 17-year-old Leensa Ahmed grew up, drugs and crime are and more easily found than produce.
But four years ago, Leensa and nine of her friends came up with an idea to ensure children and adults alike in her area can not only eat fresh vegetables — but also enjoy them.
Leensa is the CEO of the completely teen-run Green Garden Bakery, which uses vegetables to create desserts like jalapeno chocolate chip cookies, beet brownies, and carrot pumpkin bread.
"The kids didn't really like vegetables, so that was the start of it to try and get them to eat their vegetables," said Jacobi Simmons, 18, one of the teens working at Green Gardens.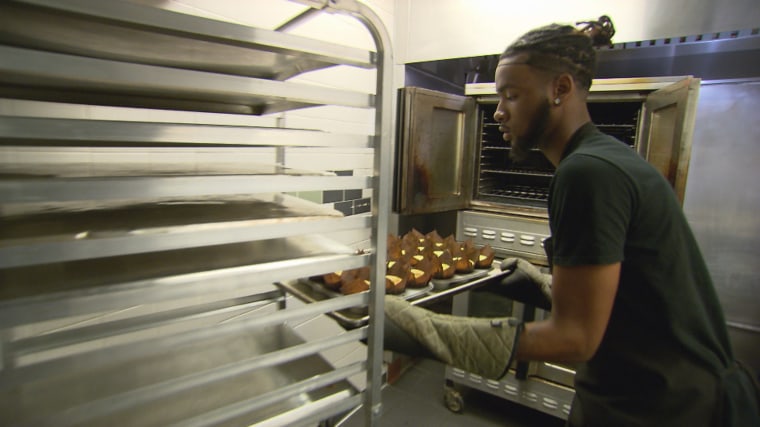 The teens began concocting the idea for a bakery in 2014 when they met at a community center cooking class that also taught nutrition and gardening and was hosted by national community planning and development non-profit Urban Strategies.
Initially, they began baking as a way to raise money for a friend who was in a car accident. But soon they began to develop a business plan in the class — eventually earning a $10,000 grant for their idea.
Then came the beginnings of a community garden. Where once there was a "food desert," now the teens grow vegetables for their desserts.
Four years after meeting in the community class, the teens' business has grown into a successful operation. Despite not yet having a store front, Green Garden has sold healthy desserts online, at farmers markets, festivals, and even catered parties.
"Green Garden Bakery is not just about food ... Food is the tool that the youth have used to connect to much larger and broader scope in the neighborhood," said Esther Shin, president of Urban Strategies, adding that the non-profit will stick with the teens as long as they continue to grow Green Garden.
Last year, Green Garden sold about $40,000. The profits were divided into thirds with one portion going back into the business, another going toward salaries and the remainder going back into the community.
What Green Garden has given back has helped to buy security systems for families who were robbed, provided meals for the hungry, and supported adult exercise classes. They also run a youth development program, which helps about 100 middle school kids learn to bake, to garden and the basics of business.
Currently, the teens are working out of a borrowed kitchen, which they travel to on a 45-minute bus ride after school. But after receiving a recent $100,000 grant, they hope they'll soon be able to own their own commercial kitchen.
Although providing their community with healthy baked goods is the teens' main objective, they've also grown closer and found solace in the kitchen and with one another.
Jasmine Salter, 17, who helps prepare the vegetables, said the day her father died she still came to work at the bakery, feeling it was one of the few unchanging parts of her life.
"It's like a home. It's like one of the only stable things in my life right now. So it's like I'm welcome," she said.