Former and recent tenants of the historic Iowa apartment building that partially collapsed over the weekend say they had complained to management for years about cracks in the walls, a lack of heat and air conditioning, and plumbing woes — but were consistently ignored.
A portion of the 116-year-old, six-story Davenport building fell into a rubble heap Sunday evening, prompting a frantic evacuation. Authorities said Tuesday that five people are unaccounted for and two are thought to be inside the building.
Since the collapse, people who once lived at 324 Main Street have shared their experiences with issues they said plagued the building and of feeling brushed off by management.
Schlaan Murray, 46, moved out in February after a year. He said that while he lived at the building, he struggled with no AC or heat, faulty plumbing and a toilet that wasn't bolted to the floor.
Murray said he contacted the building's management office, Village Property Management, more than 15 times with different complaints and only once was a maintenance worker sent to address the toilet problem.
"My toilet was all cracked, it came off [the ground]. That was the only time, when I reached out, they did come and so-called fixed it," he said. "All they did was put caulk on it."
He said he often complained about the lack of heating, especially during the Midwestern winter. One time after talking to management, he said he came home to find a small space heater at his front door, a move he called "a slap in the face." 
Murray said he wasn't the only one suffering.
"Every time I came in and there was a tenant there, we'd talk. Like 'Hey, is this going on? Is your heat working? Is your AC working?'"
Murray said despite messaging and calling management, "nothing was ever done." He said he notified the city of Davenport twice, leaving his contact information and complaint information, but never heard back.
Village Property Management did not address the allegations of mishandling tenant complaints when reached for comment Wednesday.
"Our thoughts and prayers are with our tenants and families during this difficult time," a statement signed by Andrew Wold, who purchased the property in June 2021, and the property management team, said.
"We have been working closely with the American Red Cross and other agencies to assist the displaced tenants affected by this event. We are forever grateful to them for all of their assistance with our tenants," the brief statement said.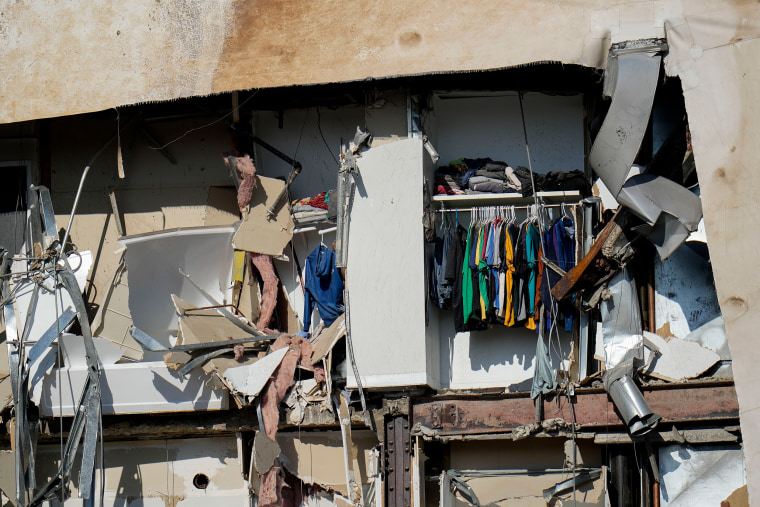 Survivors saw cracks growing on walls
Aaron Voorhis, whose 58-year-old father, Fred Voorhis, was in the building when it collapsed, said he also visited the management office at least three times to raise concerns.
He complained that his father, who has lived alone there for two years, had plumbing issues, central air that didn't work and "pretty deep" cracks in the unit.
But his complaints were "completely ignored," he said.  
"I actually talked to the landlord about it, they acted like I didn't know what I was talking about," Aaron Voorhis said.
He said his father was shaken and "traumatized" by the collapse.
Fred Voorhis was sleeping when a part of the building gave way and woke up to what sounded like banging on his door.
"When he opened it all he saw was the ground, he could see the ground all the way down," as a part of his unit had collapsed, his son said.
He started "freaking out," and called his son for help. Eventually, he was rescued by firefighters, unharmed.
"He never thought this was going to happen. He said you only see something like this in the movies," his son said.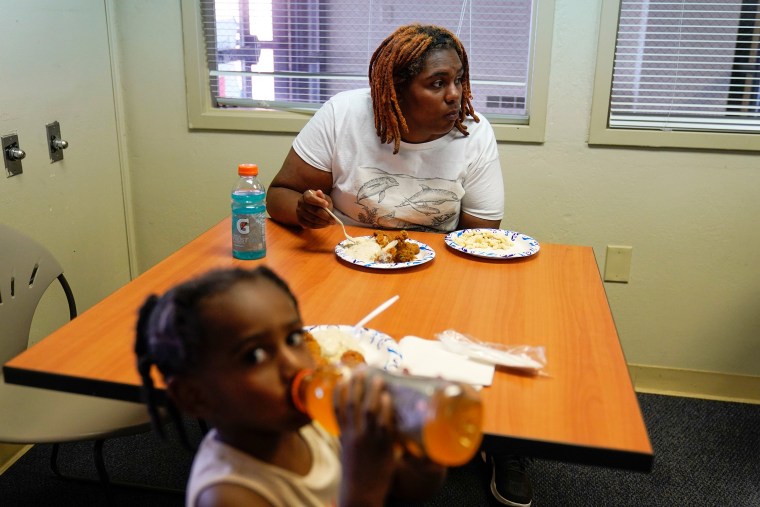 Lexus Berry, a 27-year-old resident of the building, said she noticed new cracks in her unit on Saturday that grew on Sunday ahead of the collapse. She and her wife grabbed their cats and were headed out the door when the building caved in. Her wife, Quanishia White-Berry, was pulled from the rubble Monday.
Moving out
Aurea Monet had moved out just eight days before the collapse after living there for seven months.
She told NBC News' Top Story on Monday she grappled with major plumbing issues and noticed the back wall of the building "bowing" and a crack growing in her kitchen wall when construction on the building's exterior was underway.
Monet said she "gave up" contacting management for help because they were not responsive.
She e-mailed management to break her lease on May 4 saying: "despite numerous requests to address these issues, they have not been resolved … I am concerned about the safety of other residents in the building." Monet shared an email with NBC in which Village Property Management replied to her, saying: "There are no structural deficiencies within the building." 
Monet called the collapse "100% avoidable" noting, "If I had stayed, I would have been in that entire unit that collapsed."
City acknowledged complaints, but reports claimed building was 'structurally sound'
City officials acknowledged after the disaster that there had been numerous resident complaints about the property.
"The tenants of this building are pretty active," Rich Oswald, the city's director of development and neighborhood services, said this week. "They've called the city numerous times with complaints."
On Tuesday, officials said that twice this year, the property owner had an outside engineering firm conduct assessment reports. Both times, once in January and again earlier this month, the property was deemed structurally safe.
NBC News has submitted a FOIA request for those reports and reached out to the engineering firm for comment.
Murray called the claims that the structure was deemed safe "BS."
He also said the mayor appeared to downplay the number of complaints made about the building.
"It was a lot, a lot of complaints. Maybe they're not keeping a record or not taking responsibility. I think that's what the whole thing is right now — responsibility," he said.
Aaron Aguilar, a maintenance employee at the property from 2016 to 2020, said that the building had notable damage after a derecho storm in August 2020, which brought high winds and rain. 
He said a part of the rooftop was peeled back roughly six to eight feet, forming an "almost swimming pool" on the roof. A deluge of water fell on one side of the building from the rooftop to the first floor — the same side of the building that collapsed, he said.
"We had bricks that started crumbling after that storm. It was a very old historic building. All that water was rushing down the backside of the brick and eroding away the mortar. Essentially, the bricks were separating. Just nobody ever took us serious about it," he said.
Aguilar said that he reported issues to the city at least six times and was told that inspectors would speak with the owner. 
Aguilar said the owner of the building and contractors were aware of the issue.
"I feel it's a combination of the city and owner being responsible, in my opinion," he said. 
He called the collapse just "heartbreaking," noting that Ryan Hitchcock — one of the two people presumed to still be inside — a friend. 
"There's a lot of red flags," he said on the handling of the building and its integrity.