A suspect was arrested Monday after an hours-long standoff with authorities who accused the man of fatally shooting a Tennessee deputy and setting her home on fire, officials said. 
James Jackson Conn, 27, was booked on suspicion of first-degree murder and aggravated arson in the killing of Savannah Puckett, 22, the Tennessee Bureau of Investigation said in a news release.
He was being held without bond at the Robertson County Detention Facility, jail records showed.
The agency said he was taken into custody after state and local authorities descended on his home in Smyrna, southeast of Nashville. A neighbor told NBC affiliate WSMV that the officers arrived around 6 a.m. and demanded his surrender through a bullhorn.
When Conn didn't comply, officers fired smoke bombs through his window, the neighbor said. Conn was later taken into custody without incident, the agency said.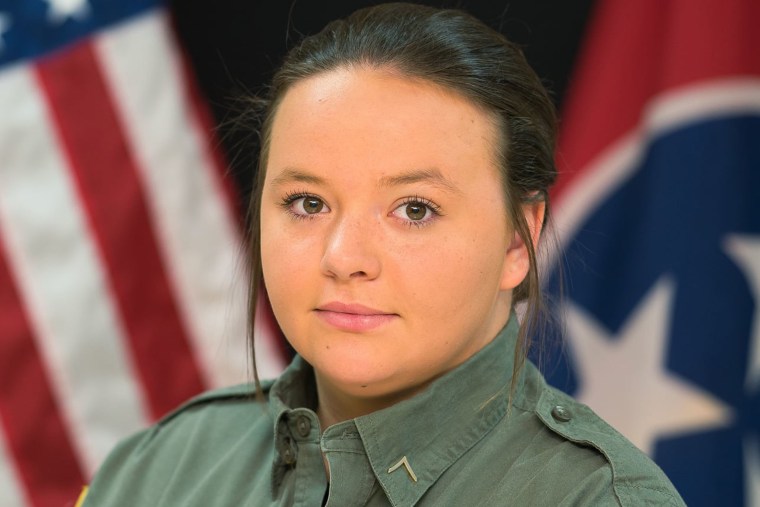 The agency described Conn as an "acquaintance" of Puckett's. The neighbor told WSMV that Conn said he was dating Puckett.
Puckett, who had been a deputy with the Robertson County Sheriff's Office for four years, was found by a colleague after she didn't report to her 5 p.m. shift Sunday, the sheriff's office said in a news release.
The colleague found her home "engulfed in flames," the agency said. The deputy tried to enter the home but couldn't due to the blaze. 
Firefighters arrived and entered the home, where they found Puckett shot, according to the sheriff's office. She was pronounced dead at the scene. 
"Words cannot express the sadness and grief that Savanna's family and her Sheriff's Office family are facing right now," Sheriff Michael Van Dyke said in a statement. "This is a tragedy that we are processing minute by minute. Please keep Savanna, her family, and the Sheriff's Office in your thoughts and prayers."
It wasn't immediately clear if Jackson has a lawyer. Efforts to reach relatives Monday were unsuccessful.