Tad Cummins, the former Tennessee teacher accused of kidnapping 15-year-old student Elizabeth Thomas, took out a $4,500 loan just before they disappeared and planned to flee the country with her, authorities alleged in court documents Monday.
A federal judge in Sacramento, California, ordered Cummins, 50, held without bond pending extradition to Tennessee on a charge of transporting a minor across state lines to engage in unlawful sexual activity. He was determined to be a significant flight risk after police found the pair Thursday in a cabin in Siskiyou County — more than 2,000 miles from Elizabeth's home in Culleoka, Tennessee.
Cummins entered no plea and could face life in prison if he's convicted of the federal charge. He faces a state charge of aggravated kidnapping in Tennessee, where he's expected to be returned in the next couple of weeks.
According to a criminal affidavit filed in support of Cummins' arrest warrant, Tennessee investigators said Cummins — who'd already been suspended by Culleoka Unit School for disobeying orders to steer clear of Elizabeth — stole his wife's car on March 13, falsely told her he was going to Virginia to "clear his head" and asked her to forgive him.
Instead, according to investigators, Cummins — toting two handguns, at least seven pills of the erectile dysfunction drug Cialis and $4,500 from a loan he'd just taken out — picked up Elizabeth and headed for Oklahoma.
Authorities learned that they had taken motel rooms in Oklahoma City on March 15 and 16 and in Guymon, Oklahoma, on March 16 and 17, according to the affidavit. At both motels, they rented a room with a single bed, investigators made a point of saying.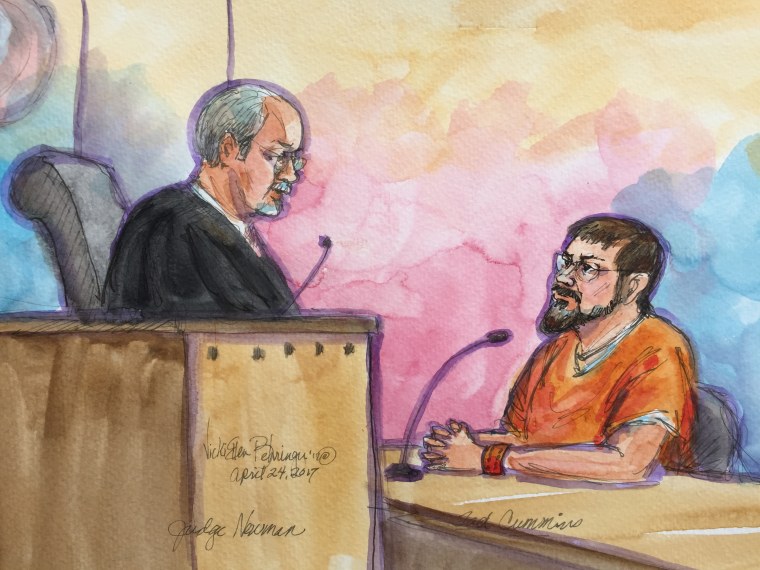 Cummins and Elizabeth were discovered last Thursday in Cecilville, in remote northern California near the Oregon state line.
"It is believed based on the investigation to date ... that Cummins, age 50, and VICTIM, age 15, are involved in sexual relationship and traveled in interstate commerce to continue their relationship and to engage in unlawful sexual activity," according to the affidavit.
According to federal prosecutors in California, Cummins told investigators that he had plans to escape to Mexico on the way to Central or South America. He even bought a small watercraft and took it on a test run from San Diego into Mexican waters, prosecutors said.
But Cummins' sister, Daphne Quinn, told NBC News on Sunday that she believed her brother had far less nefarious intentions.
Quinn said in an interview on NBC's TODAY show that she was able to speak with her brother three times after his arrest and that while "he's done this horrible thing that he has to pay for, he's still my brother, and I love him."
"I asked him why would he do this?" Quinn said. "What were you thinking? What could possibly make you do such a thing as this?
"And the answer he gave me was that [Elizabeth] wanted to run away and she wanted to leave, and he didn't want her to go alone, so he went with her so that he could know that she was safe," Quinn said.
"He couldn't stand the thought of her being out there alone and him not knowing she was safe," she said.
Authorities said Elizabeth has since been reunited with her family and was being evaluated for emotional trauma.