A Tennessee mother is planning to sue after she says the hospital where she gave birth accidentally performed a procedure on her newborn instead of on another baby.
Jennifer Melton, 31, of Hartsville, says a doctor did a frenulectomy — an incision in the tissue that connects the tongue to the floor of the mouth — on her 1-day-old son, Nate Harper, after a nurse encouraged her to put Nate in the nursery for a few hours so Melton could get some rest.
"The nurse brought our son back into the room, and she began to explain the care process for the procedure that he had done while he was away," Melton told NBC News on Wednesday. "I was like, what are you talking about? What procedure? She called it 'tongue clipping.' I had never heard of it."
Frenulectomies are performed on babies who have tight frenulums, a condition commonly known as a "tongue tie." Tongue ties can cause feeding issues, such as difficulty breastfeeding or gaining weight, and may result in speech impairments later in life.
"They took my innocent newborn. He doesn't have a voice for himself."
But Melton said a tongue tie wasn't an issue with Nate, who was born on Dec. 16 at University Medical Center in Lebanon, Tennessee.
"With a newborn, you're excited and you just want to make sure everything is in order, and they're nursing and feeding well. And he was," Melton said. "Everything was great."
Surprised to hear that a surgical cut had been done on her "perfectly healthy" baby, Melton said she double-checked to make sure the nurse had brought the right infant back to her.
"I grab my baby and I begin to examine him," she said. "I opened his mouth with my fingers and I can see bruising of some sort."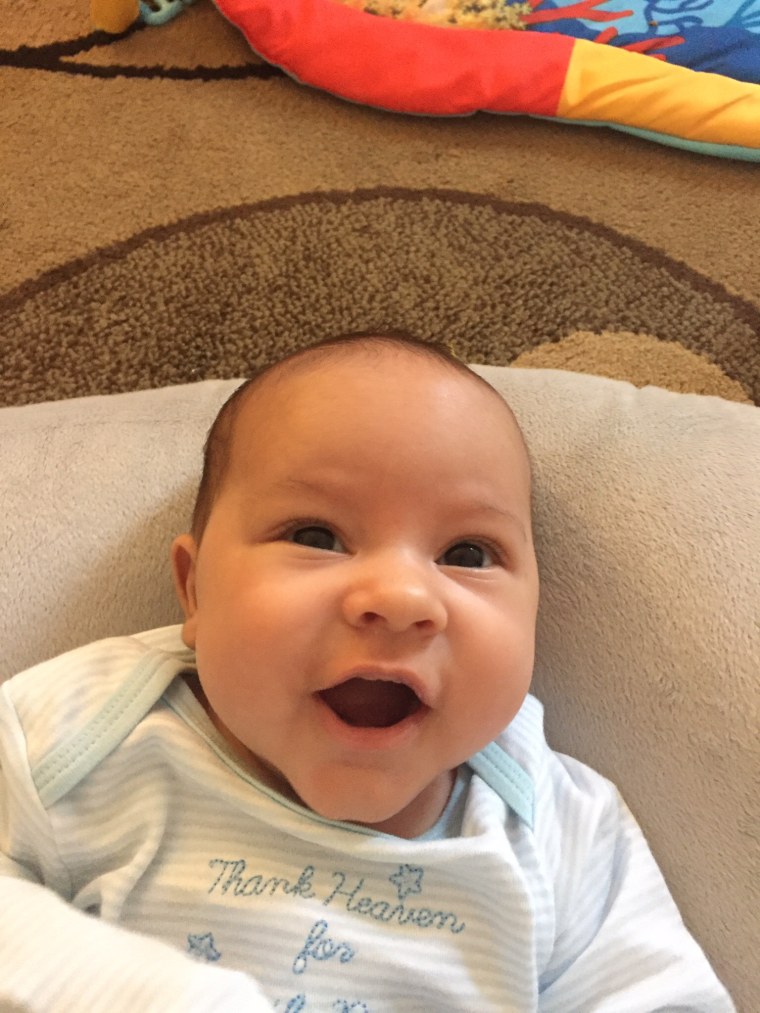 Melton said she panicked and demanded an explanation. For 15 minutes, she heard nothing.
"The in-room phone rings, and it's the pediatrician explaining to me that he did in fact perform this procedure, and that he had made a mistake, that he asked for our baby in error, and that he was sorry," she said.
Melton said the pediatrician added: "Don't worry, he barely cried."
"I just sat there and I cried and cried," she said. "They were completely reckless in what they did. They took my innocent newborn. He doesn't have a voice for himself to say, 'What are you guys doing? Not me, not me.'"
University Medical Center told NBC News it could not comment, citing patient privacy regulations.
"However, we can confirm that we take seriously any concerns brought to our attention, and those matters are reviewed pursuant to the hospital's medical staff by-laws. If made aware of a concern, we promptly seek to address it and take action as appropriate to prevent any future concerns," the hospital said in a statement.
Clint Kelly, a malpractice attorney based in Nashville who is representing Melton and her family, told NBC News he had "never seen anything this outrageous."
"I have never seen a doctor operate on the wrong person," he said. "Why didn't the doctor check to make sure he had the right patient, particularly in a nursery? Where's the safety protocol?"
Kelly said the pediatrician — who Melton had taken her older son to for five years — had been in another hospital room speaking with parents of a baby who did need a tongue tie, and "then when he goes into the nursery to perform the procedure, in his own mind, he transposed the names."
Tongue ties are believed to occur in about 5 percent of the population, but do not always need correcting, depending on their severity.
While Nate is fortunate "that there wasn't something more invasive done, it's going to be some time before we can actually tell whether there's speech involvement or difficulty eating from the procedure," Kelly said.
Nate's family plans to sue the hospital for unspecified damages once the baby is assigned a Social Security number, which Melton said should be issued by the state in the next couple of weeks.
Nate appears to be OK after the mistake — but Melton is hoping the lawsuit guarantees this doesn't happen again.
"I don't want anyone to ever have to leave a hospital with a newborn feeling the way that I felt on that day," Melton said.