The Tennessee mountain resort towns of Gatlinburg and Pigeon Forge were under mandatory evacuation orders as multiple wildfires swept through Great Smoky Mountain National Park Monday night.
Wind gusts up to 70 mph frustrated fire crews battling at least 14 fires burning around the towns in Sevier County, which are gateways to the national park and home to dozens of popular tourist attractions. Among them is Dollywood, the theme park owned by country music legend Dolly Parton.

Roads out of the towns were packed, and state emergency officials asked residents to stay off their mobile phones except for emergencies to prevent taxing emergency communications.
Evacuations were under way for all of downtown Gatlinburg, a town of about 4,000 permanent residents whose population swells significantly around the Christmas season, and for the southern part of Pigeon Forge, population 5,875.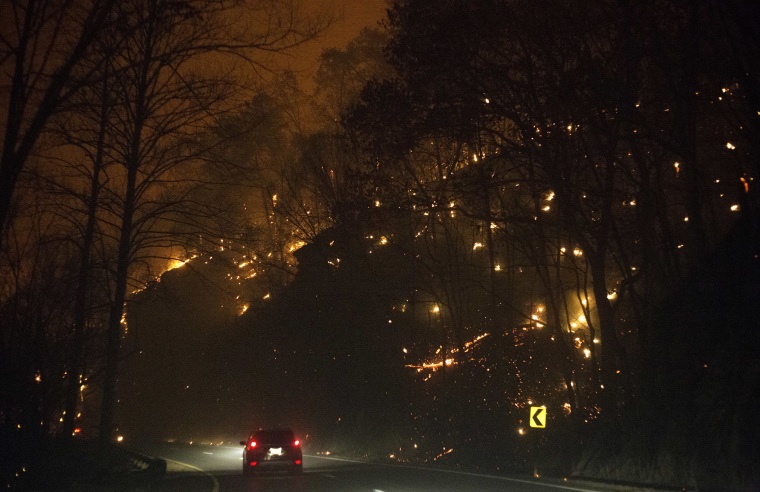 "Fire was coming over the mountains, and the smoke was so bad we could barely breathe as we were trying to pack up," Mike Gill, who was trying to leave the area along with his wife, Betty, told NBC News.
"The traffic is horrible. It's a mass exodus," Gill said. "A roller coaster is on fire at Goats on the Roof," a theme park in Pigeon Forge, Gill said.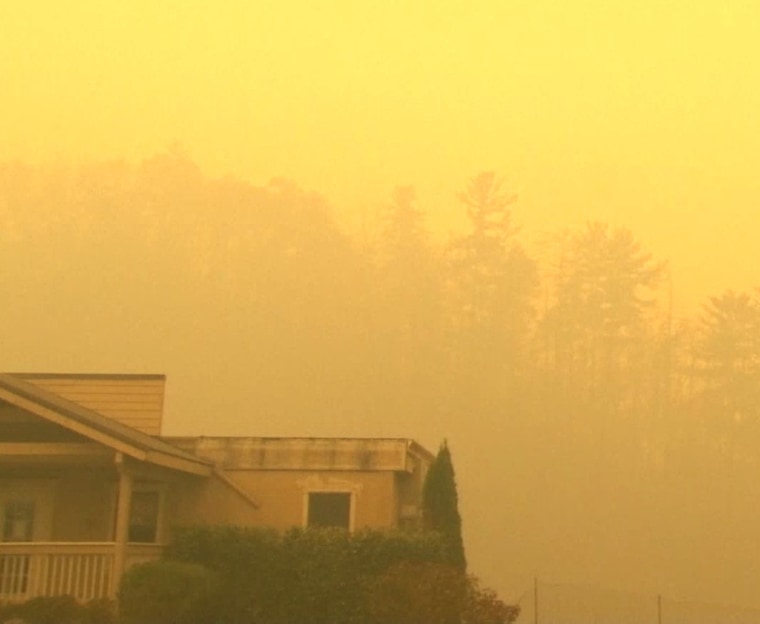 The Gills, who left the corporate world for a life traveling the country on their own terms, are living in an RV while they hold down Christmas seasonal jobs at Dollywood.
State Highway 441 heading into Gatlinburg was closed except for emergency traffic. Authorities said they were receiving reports of downed power lines and trees. An unidentified man was burned while trying to flee the area; authorities said they had no word on his condition.
"We urge the public to pray," Gatlinburg Fire Chief Greg Miller said at a news conference Monday night. "I know that it's hard to potentially think about losing a home or a place that you've worked your entire life to build, but we are dealing with a situation that is very dynamic."
The wildfire was at the edge of the Dollywood property Monday night, according to the joint local-state-federal incident management team coordinating the fire response.
Pete Owens, a spokesman for Dollywood, told NBC News that the park was undamaged but that all customers in 50 rooms staying at the DreamMore Resort and in 19 cabins at Smoky Mountain Cabins were evacuated Monday night.
All of the active fires are inside Great Smoky Mountain National Park, according to the incident management team. The main fire, a 500-acre blaze that grew rapidly throughout Monday, appeared to be "human caused," it said.